No matter how hot you get this weekend, and how badly you want an ice cold Orange Mocha Frappuccino, you probably don't want to head to a Starbucks and risk having to yell at an innocent barista when they try to engage you in a conversation about race in America. This past week, Starbucks announced that they will be surprising customers with such dialogue,in an attempt to start a nation-wide conversation about race. It's a well-intentioned and bizarrely misguided effort. Point is, here's a list of alternative activities to distract you from that scarringly awkward encounter. Of course, we know you wouldn't be caught dead at a Starbucks anyways. Right?
Charlemagne Palestine
Twentieth century composers tend to have really good stories about the genesis of their craft and their (relatively) big breaks. Brian Eno came up with ambient music in a hospital bed, unable to reach the volume dial. When Morton Subotnick physically repelled the president of Nonesuch Records, thinking he was a prankster, the label emissary interpreted it as hard bargaining and doubled his proposed advanced payment the next day. But Charlemagne Palestine, a minimalist composer who hates the term, tells a great origin story. Raised Jewish, he played the carillon, a bell-like instrument, at the synagogue across from MOMA in the 1960s. In a 2013 interview, he said, "I played two hymns before my cataclysms." The cataclysms endeared the city's fertile avant-garde community. The synagogue wanted to fire him, but an unlikely fan, the president of nearby CBS Records, protected his tenure. It initiated the oblique takes on sacred music that he's dished for decades. Only, sources at
The Lab
, where Palestine performs on Friday, said his show nowadays involves more teddy bears and booze.
— Sam Lefebvre
Fri., March 20, 7 p.m. $10-$20. TheLab.org
[jump]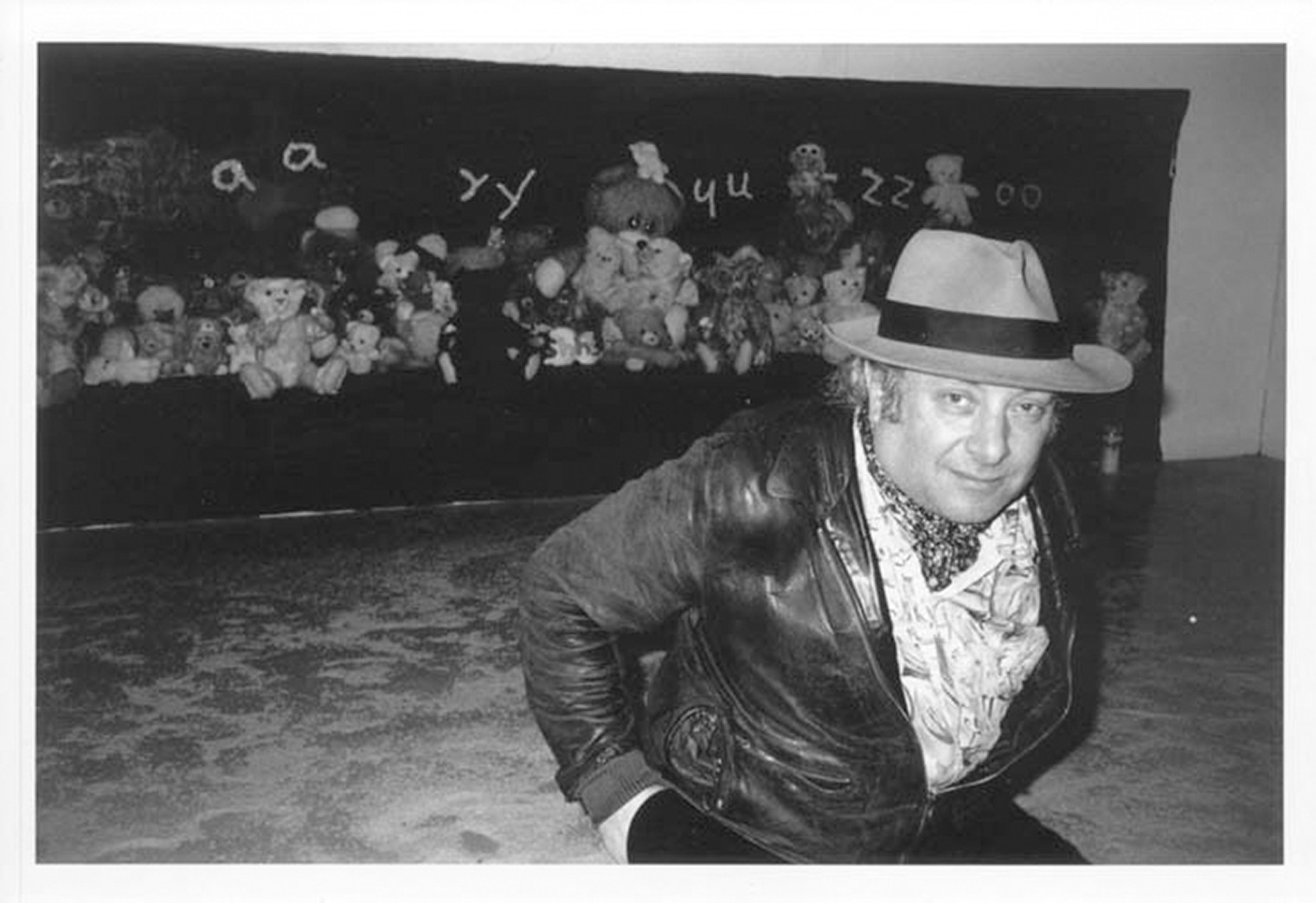 Her Resilience Mural Painting and Unveiling Ceremony
The Her Resilience project was brought together in response to the brutal murder of Kimberly Robertson last April. After leaving a bar at 2 a.m., Robertson was reportedly picked up by a stranger, and then raped, killed, and left on the sidewalk near the Lake Merritt BART Station. Since then, Her Resilience has been working to create a memorial and healing space for families of female victims of violence, like Robertson, by painting a mural dedicated to them at
Park Garden
, an urban farm in Oakland. Lead artist Nicole Gervacio and her collaborators based the mural on portraits of women from the surrounding area who have been lost to street violence. On Saturday, March 21, the organizers will be unveiling the mural and hosting a community dialogue on safety and resilience. The event will also feature healing circles, face painting, childcare, and coffee and donuts provided by Mamacita's Cafe. "We want this mural to be a component of a much larger discussion within our community about the violence that we witness and are reminded of every day," the project's description reads. "We hope to use this artistic expression as a platform for meaningful change in our community."
— Sarah Burke
Sat., March 21, 11 a.m.-3 p.m. Free. Facebook.com/HerResilience
Bench Projects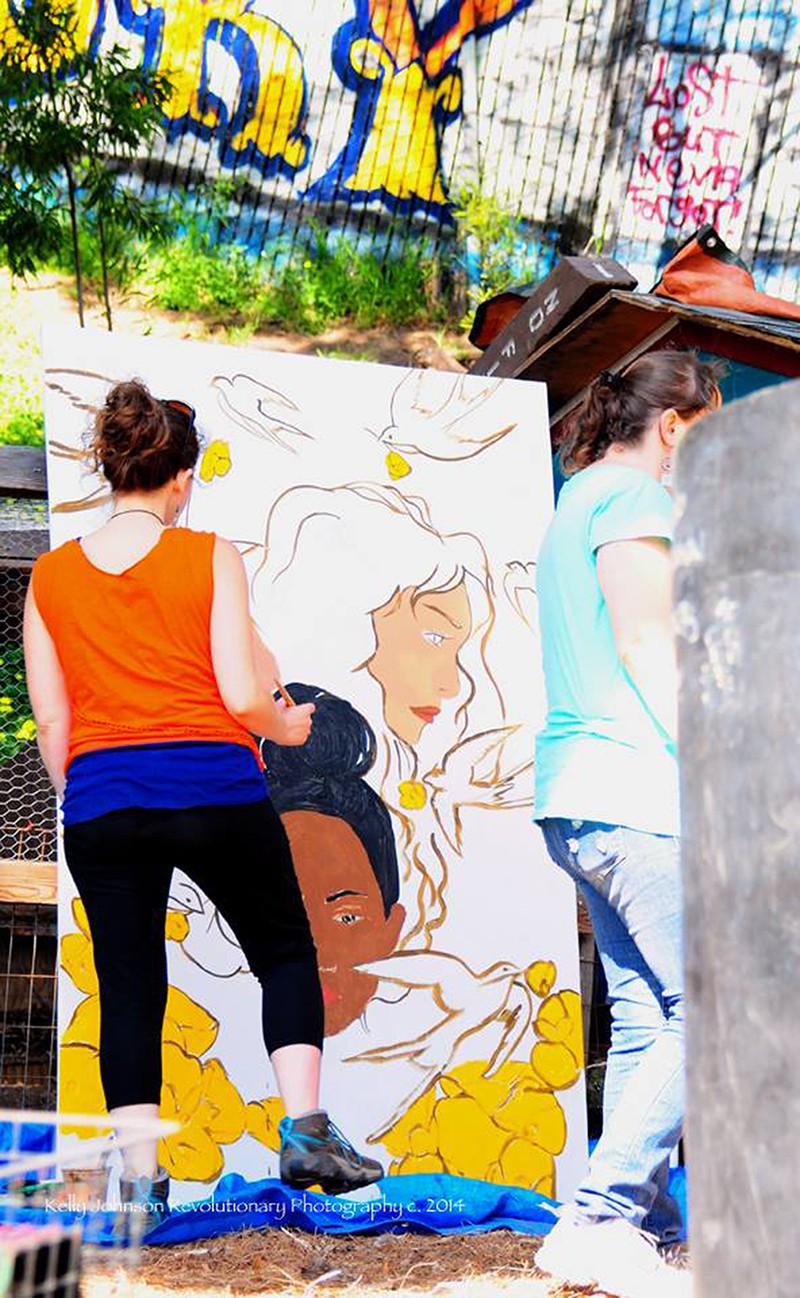 For years, Ellen Lake has been seeing the same ad on a bus bench near her home in North Oakland. "ADVERTISE HERE," it read. Finally, she decided that someone should be utilizing the space. With the help of an Alternative Exposure grant, she started Bench Projects, an artist-led initiative to occupy Oakland's bus stop benches with art. The first two artists featured in these new "bench galleries" are Steve Briscoe and Lynn Beldner. Briscoe created photo collage-like works at the stop on 55th Street and Shattuck Avenue, and Beldner made text art in response to violence in her neighborhood for the benches on Martin Luther King, Jr. Way and Aileen Street. In blue, black, and yellow, the benches read "Never give up" and "Don't think too much." These pieces will be up until May 1, when they will be replaced by new works contributed by other artists. Lake hopes to gradually expand the project, with the ultimate dream of turning every bus stop in Oakland into an outdoor art show.
— Sarah Burke
March 18-May 1. Free. EllenLake.com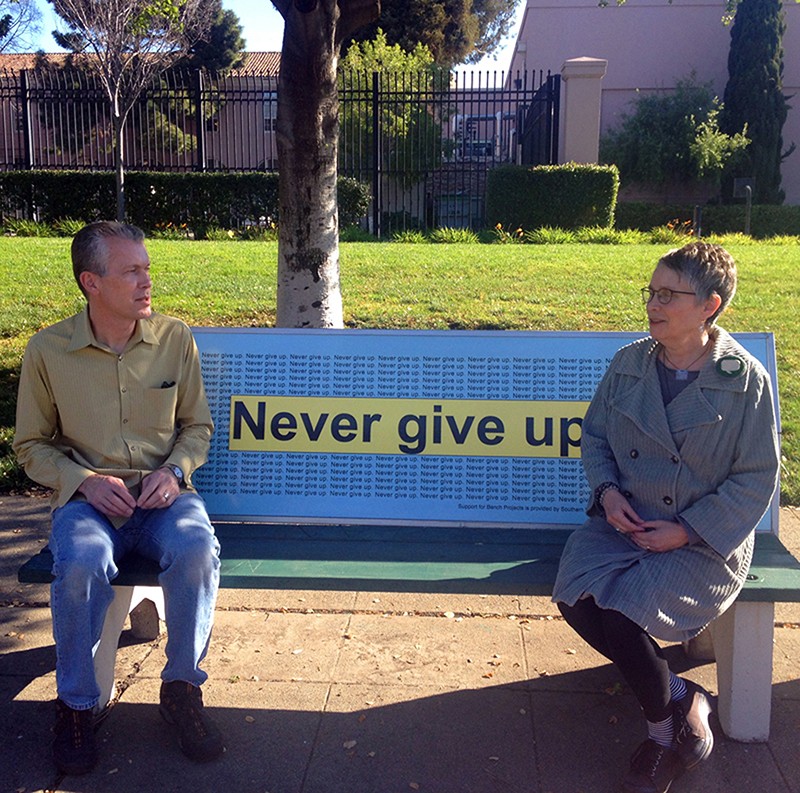 Marion Gray: Within the Light
Throughout the Seventies and Eighties, a certain sense of emancipation energized the Bay Area art scene. Art didn't have to be in a gallery anymore, and it didn't have to exhibit expertise in a specific technique. It could be site-specific, ephemeral, or social — an action or intervention. Beat, hippie, and conceptual art influences had jointly formed to create a cultural milieu from which a pioneering movement of performance art emerged, often drawing from the simultaneously arising movements of punk, feminism, environmentalism, mysticism — and, of course, the bourgeois precursors of gentrification.
Through it all, Marion Gray was an attentive witness. Not only was she present for many of the period's most crucial moments of conceptual and performance art, she was present with a camera — and has continuously been present to this day, as the work evolves.
Despite Gray's involvement with celebrated artists such as John Cage, Meredith Monk, and Christo and Jeanne-Claude, her work has never been showcased on its own in a museum until now. In Marion Gray: Within the Light, the Oakland Museum of California (1000 Oak St., Oakland) presents 23 of Gray's photographs that collectively represent her most memorable moments of witnessing, including Marina Abramovic and Ulay's 1986 performance "Tuesday/Sunday," and Merce Cunningham Dance Company's performance "Ocean" at UC Berkeley in 1996.
—Sarah Burke (Full story here.)
Through June 21. MuseumCA.org.
Black Artists on Art: The Legacy Exhibit
Dr. Samella Lewis is a prolific painter, art historian, critic, and art collector who helped define the way the Black Arts movement is perceived when she wrote the first volume of Black Artists on Art in 1969. The groundbreaking book profiled the era's black artists, including iconic painters such as Jacob Lawrence and Elizabeth Catlett, as well as others lesser known at the time. But the series never made it past the third volume. Now, her grandson, Unity Lewis, is teaming up with Oakstop founder and director Trevor Parham to lead an initiative to continue the series. Their goal is to recruit five hundred contemporary artists to be profiled, and contextualize them within the legacy of the artists that Lewis wrote about. Eventually, all of the info will be put into an online database that curators can use to connect with artists. Beyond the book, the goal is to bring people together to create both community and opportunity. To launch the project, Oakstop (1721 Broadway, Oakland) is hosting an expansive exhibit featuring more than forty black artists in a range of media and styles. The show features original work by legendary artists like Lawrence, Catlett, and George Clinton (yes, he paints!) along with a diverse range of work by local established and emerging artists. Plus, in March it will be reconfigured to focus solely on black female artists for Women's History Month. Black Artists on Art: The Legacy Exhibit offers a gorgeous and powerful glimpse into the depth of the project, and is only the beginning of the impact it will likely bring to Oakland's art community and beyond.
— Sarah Burke
Community gathering with conversation, creative workshops, African food, and an arts market featuring exhibiting artists on Friday, March 20, 6-10 p.m. Show runs through March 28. OakStop.com


If your pockets are feelin' light and you're still yearning for more suggestions, we've got a ton, and these ones are all
FREE!
We're Hungry: Got any East Bay news, events, video, or miscellany we should know about? Feed us at
[email protected]
.