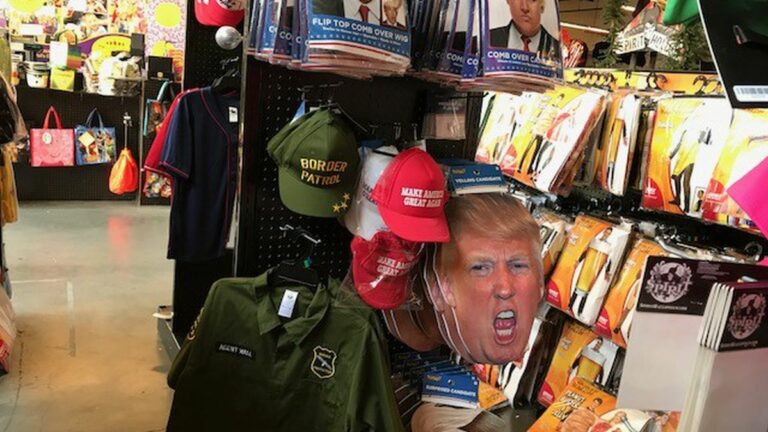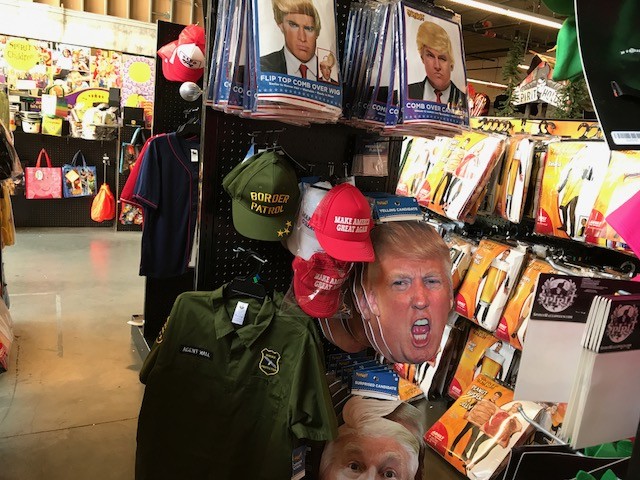 Halloween is just around the corner, and with the annual festivities comes an influx of costumes, from the funny ones, like the popular "
emojis,
" to the ones based on Hollywood blockbusters like
Disney's Beauty and the Beast
 and popular TV shows like
Netflix's Stranger Things
, to the downright racially offensive costumes, such as the "
beef taco
."
And the controversial costumes don't stop there.
During a recent trip to the Spirit Halloween store at Bay Street in Emeryville, a particular display stood out.
It included a "
Border Patrol
" costume placed next to "Make America Great Again" hats, cutouts of Donald Trump's face, and blonde comb-over wigs.
Political costumes are nothing new. In 2012, many men chose to dress as Mitt Romney and his "binders full of women," a phrase used by the presidential candidate during the
second debate
when addressing a question about pay equality.
This year, however, political costumes are no longer as funny as they once were. In fact, costumes like the Border Patrol are a painful reminder of the current political climate we are living in under the Trump administration. For many, the Border Patrol symbolizes the vigilant eyes targeting immigrants, including the more than 800,000 DACA recipients awaiting action from Congress to pass the Dream Act. The xenophobic rhetoric set forth by the current administration is affecting communities across the country.
Adding fuel to the fire, Spirit also offers the "
Okay Foam Hand
," which some believed to be a hand gesture used by white nationalists. But the Anti-Defamation League
said
: "The 'OK' hoax was actually just the most recent in a recent series of hoaxes in which 4channers (and members of other, similar places on the Internet such as 8chan and Reddit) have tried to take innocuous items, symbols or gestures and falsely attribute white supremacist meanings to them in order to fool liberals and get them to spread such false messages."
The
Express
reached out to Spirit, which released the following statement: 
Halloween, by its nature, takes on many issues and is often expressed in paradox. Costumes are inspired by a variety of sources, specifically trending topics. The costume available at Spirit Halloween pokes at the topical issue, and reflects the on-going headlines and hashtags surrounding the president. In context, this costume sits next to a piggybacking on Mr. President, a host of masks showcasing Trumps many personas and a cut out of presidential BFF Putin, all of which were created with the intent of being ironic to the current political climate.
But is it ironic or just insensitive?
Consider Party City's "
Wall
" costume. For many immigrants, the border wall represents deportations and the separation of families. The chants of "build the wall" at Donald Trump's rallies have translated to actual
wall prototypes
currently being built at the San Diego border.
[embed-1]
This Halloween, it's important to be mindful of what others are experiencing and exercise good judgment when choosing what costume to wear.