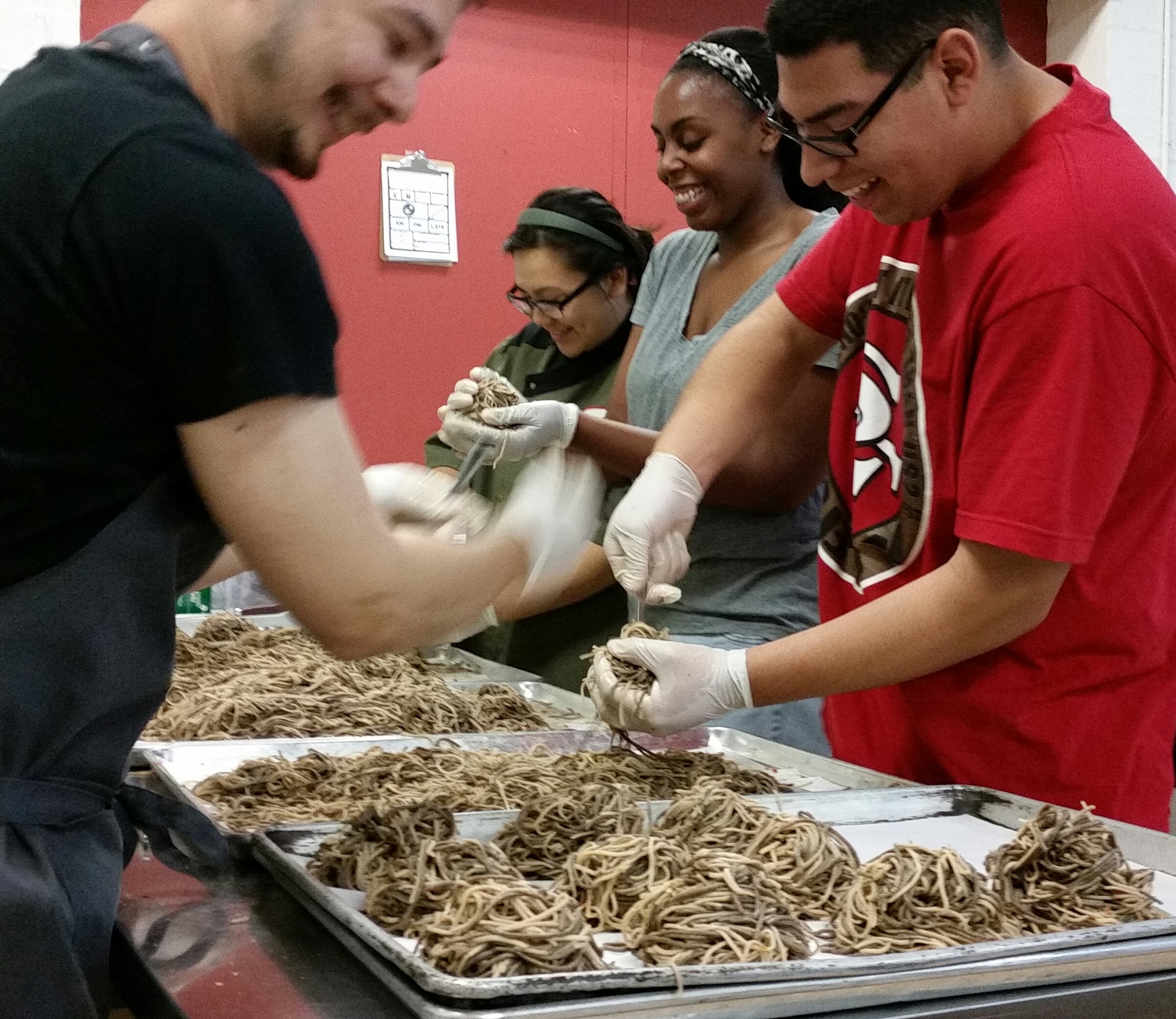 In the Bay Area's tech-driven, convenience-oriented, "Uberized" economy, food delivery services that shuttle gourmet meals to your doorstep at the click of a button are a dime a dozen. But Sabrina Mutukisna's new food delivery business,
The Town Kitchen
, is almost certainly the only one that is operated almost entirely by low-income Oakland youth — from cooking and packaging to  distribution and delivery. Not only does she eventually plan to offer steady employment to 43 Oakland youth between the ages of 15 and 24, Mutukisna said she also wants to offer employees the chance to receive college credit for participating in The Town Kitchen training program, which will equip them with skills for whatever career path they choose to pursue.
[jump] "We want them to have transferrable skills, not just start a jam company," she said.
Mutukisna is banking on the fact that customers will find that narrative compelling as The Town Kitchen kicks off a
$40,000 crowdfunding campaign
on Indiegogo. As of this printing, the company is nearly a third of the way toward reaching its goal, which it needs to do by December 20 in order to receive the funds.
A UC Berkeley graduate, Mutukisna said her interest in entrepreneurship stems from her own working-class upbringing — she was basically raised in her parents' dry cleaners. Subsequently, she's started her own
cupcake company
and worked as a mentor to low-income college students in San Francisco pursuing their teaching certification.
The Town Kitchen combines her passions for food and youth development. The company will be a for-profit enterprise — to make it more sustainable, Mutukisna explained — but the social mission will be at its very heart. Employees will be learning to cook and make deliveries promptly, but their formal coursework will also equip them with such marketable skills as web design, social media, and bookkeeping.
Of course, at the end of the day, The Town Kitchen is a food delivery business, not a charity, and the company will thrive or sputter on the merits of the service it provides. While it might be difficult to compete with a company like Berkeley's
SpoonRocket
in terms of sheer speed, Mutukisna expects that the quality of the food — along with the feel-good story — will draw the kind of corporate clients that should be the backbone of the business.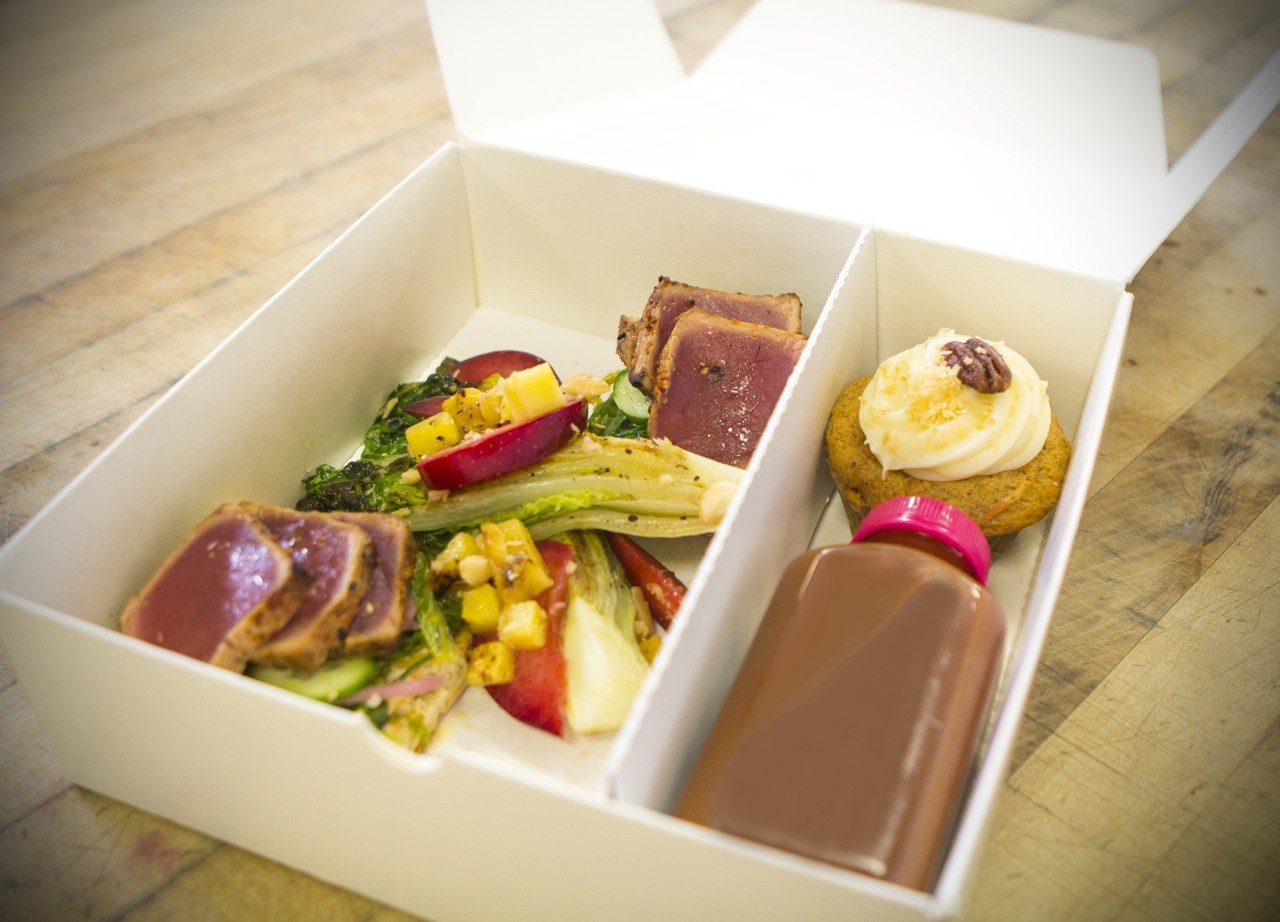 A typical Town Kitchen meal will consist of an entrée (say, an open-face smoked salmon and egg salad sandwich or a soba noodle salad with free-range chicken), a vegetable side dish, and two locally produced artisan food items (usually a drink and a dessert). For now, the company's head chef, Jefferson Sevilla, who previously worked for SpoonRocket, is doing most of the cooking. But the idea is that the youth employees will eventually get their food safety certification so that they can create the meals from beginning to end — and even contribute menu ideas. Once a month, The Town Kitchen will collaborate with a local "star chef" — a restaurant chef or food truck entrepreneur — on its weekly menu.
Since it launched earlier this year, the company has been hiring youth on a case-by-case basis for sporadic catering gigs, and it has made do with renting shared commercial kitchen space. The bulk of the $40,000 in funds will go toward securing a commercial kitchen space that The Town Kitchen will be able to call home. For now, the company is accepting large catering orders of thirty meals or more, with smaller orders available via the online marketplace
Good Eggs
starting in January. By the summer, though, Mutukisna hopes to hire The Town Kitchen's first cohort of youth employees and expand the service so that anyone can order a meal delivered to their home or office on demand.
If you'd like to sample The Town Kitchen's food offerings prior to its official launch, the company's young employees will be selling lunch boxes at the San Francisco Bazaar craft fair and holiday show on December 13 and 14, from 11 a.m. to 6 p.m., at the Fort Mason Center's Herbst Pavilion. And you can add The Town Kitchen's holiday artisan box, which features Bay Area food businesses such as Slow Jams and Sugar Knife Artisan Sweets, to your list of food-focused gift ideas. Make a $100 contribution to the I
ndiegogo campaign
by December 15, and the box will ship in time for the holidays.