In the days following Tuesday, September 29, West Oakland featured prominently in national headlines — a rare occurrence that, unfortunately, usually follows violence. That morning, 27-year-old artist Antonio Ramos was fatally shot while painting a mural in a West Oakland underpass as part of a community-fueled beautification project. The story was too tragic not to bite: A young martyr mauled by the monster he was charitably trying to tame.
In an October 3 New York Times article, "Mural Painter's Killing Reminds Oakland that Revival Can Be Slow," reporter Laura M. Holson framed the shooting as an omen that Oakland isn't yet prepared for the rapid development it's being graced with by companies such as Uber, which recently "agreed to transform one of the city's barren department stores into a gleaming technology beacon." The piece described Oakland as being in the midst of a culture war, referring to the shooting as "a reminder of the stubborn grit and crime that still cling to the city despite the gentrification boom that has fueled its reputation as Brooklyn by the Bay." And, further underscoring that violence and beautification lie at opposite ends of that divide, the article referred to the mural as a "peace" mural.
But the blanketing notion of peace is an ultimately simplistic description for the complicated community empowerment work that Attitudinal Healing Connection of Oakland, the force behind the Oakland Super Heroes Mural Project that Ramos was working on, has been doing in West Oakland for more than 25 years. And, based on a recent interview with leaders of the organization, to rhetorically align the group with Uber is to conflate two fundamentally different ideas about the kind of development that Oakland needs, and where it should come from.
Attitudinal Healing Connection (AHC) of Oakland is based out of a pink house just blocks away from where Ramos was shot. The organization runs various programs that engage youth and community members with creative engagements to promote empowerment, healing, and community transformation at the root level.
Amana Harris, executive director of AHC Oakland, formulated the Super Heroes Mural Project because she was disgusted by the neglected conditions of underpasses in West Oakland, the neighborhood in which she has lived for most of her life. The project utilizes an in-depth curriculum called "Self as Super Hero" that Harris developed about a dozen years ago. It engages youth in a process of identifying role models who are heroes to them — specifically for their positive impacts on society — then envisioning themselves as similar heralds of change and placing those imagined selves into narratives that involve fighting relevant issues in their community.
For the mural project, which has been underway since 2012, Harris brings that coursework into West Oakland elementary and high schools through the art education branch of AHC Oakland called ArtEsteem. She and ArtEsteem project manager Erica Wheeler-Dubin then hire a local lead artist to visualize a design for each mural based on the narratives imagined by the youth. The students then work with the lead and other muralists to bring the piece to fruition beneath an underpass near the school. The goal is for the students to recognize that they have the power to manifest the world that they envision. "That's really the idea, is getting our young people to dream about how to solve these problems," said Harris. "We're not these passive citizens here — victims of our communities. … This can't just be it for so many young people. We have to be able to create a better reality."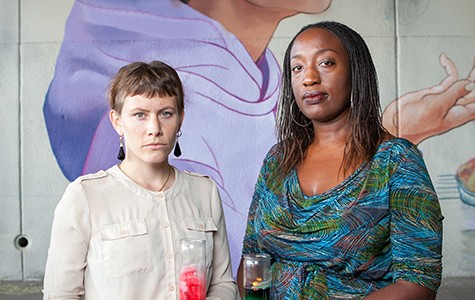 The mural that Ramos was working on is the third of six planned for the project — which has resumed. With the first two murals — and throughout the history of the organization — it's been difficult gathering funds, and frustrating waiting for the city to issue permits for the projects. But the third mural, in particular, presented extra obstacles even before Ramos' death.
The 4,000 square foot wall, which is on West Street underneath Interstate 580 between 35th and 36th streets, was covered in bird feces when Harris and Wheeler-Dubin chose it for revitalization. A small gap between the wall and the underpass offers a surface for pigeons to nest, so AHC Oakland needed the city to first clean the wall, then install metal guards so that the birds wouldn't return. They requested that maintenance in February, when the wall was initially slated to be painted. But for approximately seven months, their request was tied up in a protracted process of permitting between the City of Oakland and Caltrans — the California Department of Transportation — which must approve all maintenance that the city performs on its structures.
The city finally cleaned the wall at the end of August, which allowed AHC's artists to embark on their one month of allotted painting time in mid September. But the city has yet to install metal guards and didn't put in anything to ward off the birds until the end of last week, when the mural was nearly completed and was already being stained by bird feces. Instead of the guards, the city installed metal mesh around the gap — a solution that AHC Oakland staffers consider to be a haphazard Band-Aid fix that reflects a rushed job on the part of Caltrans and the city. "The city completely failed to go about this in a strategic fashion," said Wheeler-Dubin on Monday. "It's just been such a failed process from start to finish."
For Harris and Wheeler-Dubin, the slow response by the city is a too familiar matter of basic urban maintenance in West Oakland being pushed to the backburner. "This is not even about the [pigeon guard] job. This is about public spaces that are neglected by the city and the decrepit state of filth and neglect on the city's part as well as Caltrans," said Harris. "And I'm like, if this was Rockridge, this would not be happening."
For those at AHC Oakland, Ramos' death is not a reminder of a crime problem that is holding back Oakland from entering a shiny, new era of development. It's an example of ongoing issues faced by the community they've been a part of for decades. And it's an extension of West Oakland's complex circumstances of disenfranchisement that are, in part, manifested in inequities as seemingly mundane as the lack of pigeon guards in a freeway underpass as well as tragedies like Ramos' death.
The mural, which is near completion, features a joyfully colored row of houses with children playing among them, and a portrait of Ramos emitting a ray of light on one end. It now also holds a bed of candles and photos at its base, in remembrance of Ramos.
Moving forward, AHC Oakland plans to continue its fundraising for the three forthcoming walls. The next, which will be designed in conjunction with students at Hoover Elementary, will include a full super hero modeled after Ramos using input from his family. Eventually, Harris also hopes to raise money for the full narrative behind the latest mural, along with a dedication to Ramos and the names of the mural's other artists, to be engraved into the sidewalk, impressing a mark of permanence.
"The ultimate goal for this project is to really create a 'there, there,' for our city, for our citizens, for our young people," said Harris. "So it's not just about painting on the wall. It's about how to create a historical legacy for young people in our communities in times of gentrification and in transition and change."