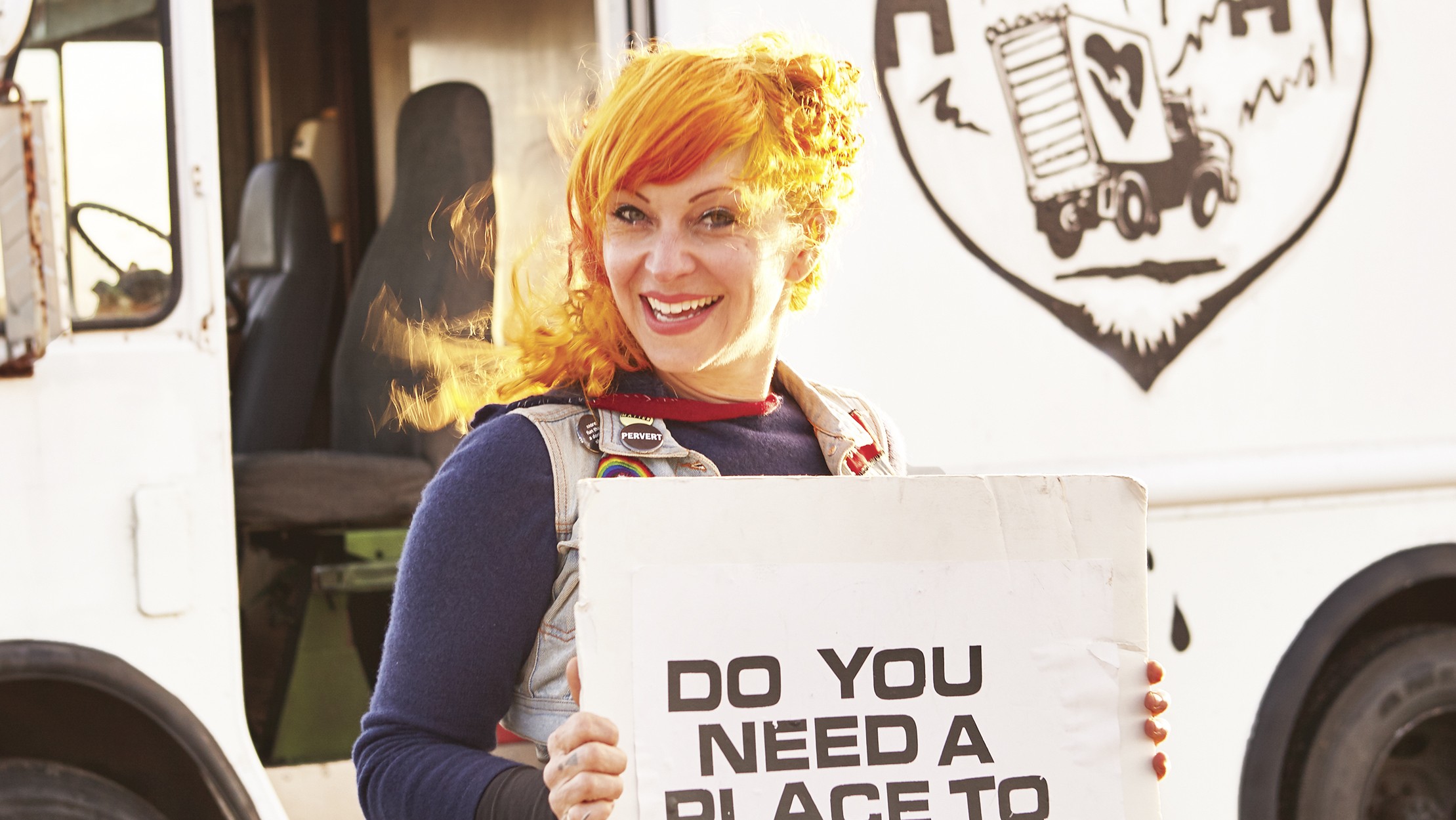 Performance and conceptual artist Spy Emerson is hitting the streets of the East Bay again with her "Hook-Up Truck," the rolling social experiment and mobile safe-sex adventuring space that sparked local, national, and social media frenzies several years ago. The Hook-Up Truck is exactly what it sounds like: a four-wheeled, short-term rental space for sexual trysts on-the-go.
After a feverish year of news coverage from 2014 to 2015, Emerson took a hiatus from the Hook-Up Truck for the next two years, turning down two offers from production companies wanting to option reality TV shows about her life. Now, she's back to tell the story of the truck and her unexpected departure.
"My horoscope told me to not sign any contracts," she joked. "But really, even though I was being offered total creative control over those projects, reality TV felt exploitative. It's a system of manipulation that I don't agree with at all."
A career Bay Area artist of the absurd, Emerson is lauded in the underground scene for her vaudevillian, burlesque-esque performance series Happy Forever and her conceptual art projects, like Dystopic Horizons Realty, dealing with greed and the housing crisis, and Gutterbunny in Chinatown, a spiritual performance about a rabbit that escapes a Chinatown butcher.
But it wasn't until her creation of the Hook-Up Truck in 2014 that she was thrust into the national media spotlight (she was featured on CNN and CBS and in Time, GQ, Glamour, San Francisco, and New York magazines, along with the San Francisco Chronicle, Huffington Post, Breitbart, and AOL). The problem was, at the beginning of the media pandemonium, Emerson didn't actually have a Hook-Up Truck, or any truck for that matter — just the idea. Her inspiration came from the stories her friends told her about their experiences using dating and hook-up apps.
"With apps like Tinder and Grindr, people resort to having sex in the street, in their cars, between their cars, in bathrooms, in alleys — putting themselves at risk legally and physically," she explained. "The truck is far more hygienic than a BART restroom, or an alleyway, or your average hotel room."
Emerson created a website pretending that the truck was already running, and within hours she was being contacted by CNN and Time. "I really needed to find a truck," she laughed. "I had all of these reporters asking me about my business, my employees, what they got paid — keep in mind, at this point, it was just me and the concept."
Emerson embarked on a frantic hunt for the perfect hook-up-ready vehicle. Soon, she found the perfect one: a decommissioned 1987 U.S. Postal Service mail carrier. Boxy, innocuous, and unpainted, the truck was rescued from the historic Ace Junkyard in San Francisco by none other than Burning Man cofounder "Flash" Hopkins — a friend of Emerson's. She offered to trade Hopkins her 1971 Volkswagen Bug in exchange for his postal truck, which she transformed inside and out.
Today, the Hook-Up Truck's cargo space, once meant to hold letters and parcels, is a red-lit room with a bench, condoms, hand sanitizer, lubricant, tissues, temperature controls, and a camera for couples who want to commemorate their experience — as you might on a theme park rollercoaster. On the left side of the truck is its logo and on its front end are emblazoned the words: "Make Love."
Emerson hit the road, though it would be a bumpy one. Word about the truck spread quickly in 2014 after the idea made the rounds on social media. Emerson planned to debut the truck at the Oakland First Fridays street fair, but when she arrived at the event, she was barred from entering. Parked on the street right outside the event, the truck was instantly mobbed by onlookers and reporters who had heard about "the sex truck."
Emerson operated the truck for one year, touring festivals, private parties, and public gatherings — even weddings and office functions, one time surprising a military husband with his wife inside. Everywhere the truck went, a flurry of cameras, couples, and cops followed — some curious, others critical.
"I was changing my routes all the time to avoid them," she said. "People were trying to take me down for the fun of it."
But during this time, she also received tons of fan mail and social media posts thanking her for the work she was doing, requesting the truck at parties, festivals, and art shows.
During the truck's year of action, police shut it down several times in Oakland, Berkeley, and San Francisco, but it kept on rocking and rolling.
Then, the truck suddenly died.
---

Emerson's own road in life has been rough. One of her most distinct memories was, at age 7, finding a dead body stuffed into a trash can at a nearby park.
"It was two legs, really stiff, sticking straight up out of a 55-gallon drum," she recalled. "When you find a dead body as a kid, it's hard to be like other kids — it wasn't scary, just weird. But I wouldn't change it, because it gave me a certain perspective on death."
At age 14, Emerson left her childhood home. She fell in with Manhattan's Club Kid scene, partying through the apex days of the infamous Limelight nightclub. Murdered celebutante Angel Melendez even sits smiling in the corner of a photograph snapped at her 18th birthday party.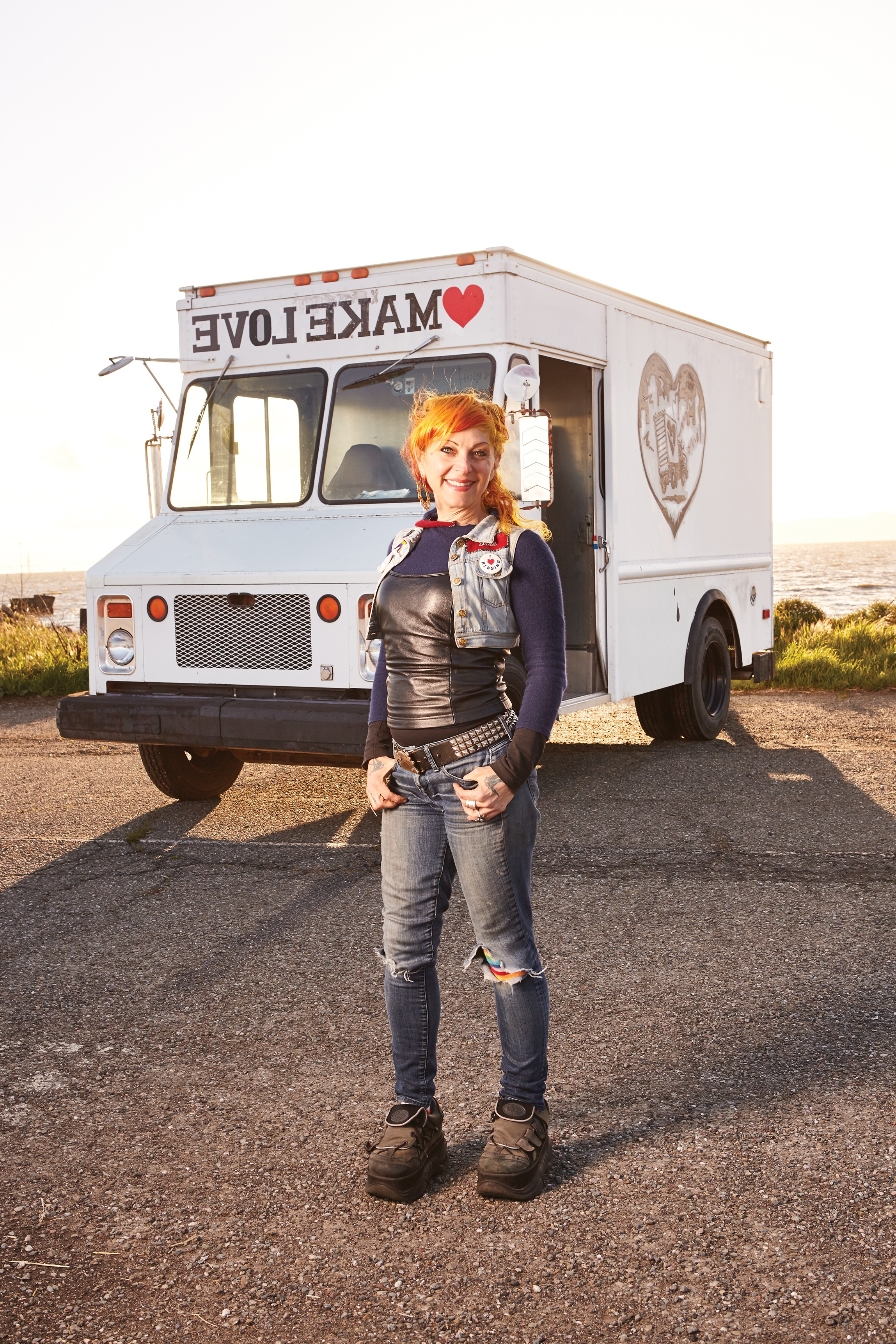 "As a kid growing up, I was weird — I got bullied, I looked different, I made my own clothes," said Emerson. "When I was in the nightclubs, I was rewarded for being weird — the weirder I was, the more I fit in. At 15, I became wild — really wild. Not mean: feral."
Self-educated, Emerson was raised in the nightclub culture. "I had cut ties with my family — I had no roots," she said. "It's where I learned how to be myself. It's also where I got the name 'Spy' — because I couldn't keep a secret."
In 1996, Emerson left New York and headed for the Bay Area. "As soon as I got a car, I was out of there," she said. "Things in New York started to get hot. The club scene wasn't the same. It was drugs, drugs, drugs — hard drugs. So, I left."
She settled in Oakland, where she fell in with a revolving corps of artists in the Town's warehouse art scene and the concomitant Burning Man culture. During the next 18 years, she would become a definitive presence on the Playa, a renowned performer and co-host of the main fashion show at the festival's Center Camp Café, meanwhile amassing a cult following in the Bay Area for her salacious sculptures, films, and performances.
In 2006, everything changed when she got pregnant with her son, Lucky, whom she would one day drive to school in a big box truck painted with the words: "Make Love."
"Having my son was just the right thing," said Emerson. "He made me a better person and a better artist. It opened up a whole new part of my identity — becoming a mother."
---

With the truck facing multiple mechanical problems, Emerson took a break and parked it indefinitely while she traveled to Tasmania, Malta, and France, volunteering and living for a month at the Calais Refugee camp, and then heading back to the states to North Dakota for the Standing Rock protests, where she cooked food for 10 hours a day in the communal kitchens.
"I went there to specifically be of service," said Emerson. "But I had to keep asking myself — why am I doing this? Am I here to make myself feel good, or to make a difference for these people?"
"It was a difficult and humbling time," she continued. "But I felt most like myself when I was in the service of others."
Emerson returned to the Bay Area in April 2017 and began work on a number of new projects, including a giant, 12-foot papier-mâché sculpture of a man having sex with a horse for the new film Sorry To Bother You, a surrealist satire written and directed by local hip-hop legend Boots Riley. Set and shot in Oakland, the film premiered at Sundance in January and quickly became a festival favorite.
"I had to install that in Monday morning rush hour in downtown Oakland," said Emerson. "It was crazy fun."
Emerson currently works with Survival Research Laboratories (SRL) in Petaluma, a group of artists headed by visionary Mark Pauline, who famously blew off his hand working on a rocket motor. Featured last month in The New York Times, SRL recently made its foray into the fine arts world with an exhibition at New York's Marlborough Contemporary.
"It's capital A art, blue chip," she said. "It's so exciting for me to work with Mark Pauline, who's a personal hero of mine."

Emerson spends most of her time in Petaluma working on her art from inside her vintage 40-foot furniture trailer (mold-free), complete with teak floors and skylights. It sits on a sprawling piece of property just outside town. "I've never felt happier and more empowered in my life," she said. "I've never compromised on the things that inspired me, and, in turn, inspired other people."

After crowdsourcing funds for truck repairs, Emerson made a few brief appearances with the truck since last November. Now, the Hook-Up Truck has a regular home at Albany's historic Ivy Room bar, 860 San Pablo Ave., where it's parked every second and last Monday of the month, 6 p.m. to 8 p.m., as part of Emerson's Happy Forever variety show, a kinky, otherworldly staging that reels the audience in, enticing them to become part of the performance. The next show is March 26.
Adventurous audience members can catch Happy Forever for a $5 suggested donation while they sip a drink at the Ivy Room bar.
Before the show, Emerson reads Tarot cards, and after the show, those curious about a romp inside the truck can request a rental. Previously, Emerson charged $75 to use the truck for 30 minutes, but she now negotiates the price on a case-by-case basis.
Emerson will also be part of an exhibition, with her truck, at San Francisco's 111 Minna Gallery, 111 Minna St., Friday, April 6, at 5 p.m.
"Sex is a language we all speak," said Emerson. "The truck fuels important conversations about sex and personal freedoms. It mimics the language of current advertising to sell something absurd, and it touches on the ways that we profane and commodify what's natural. It's a fun, powerful commentary. You may not want to fuck in a truck, but you should always have the right to do so."
For more information on her upcoming projects, visit www.patreon.com/spyemerson.