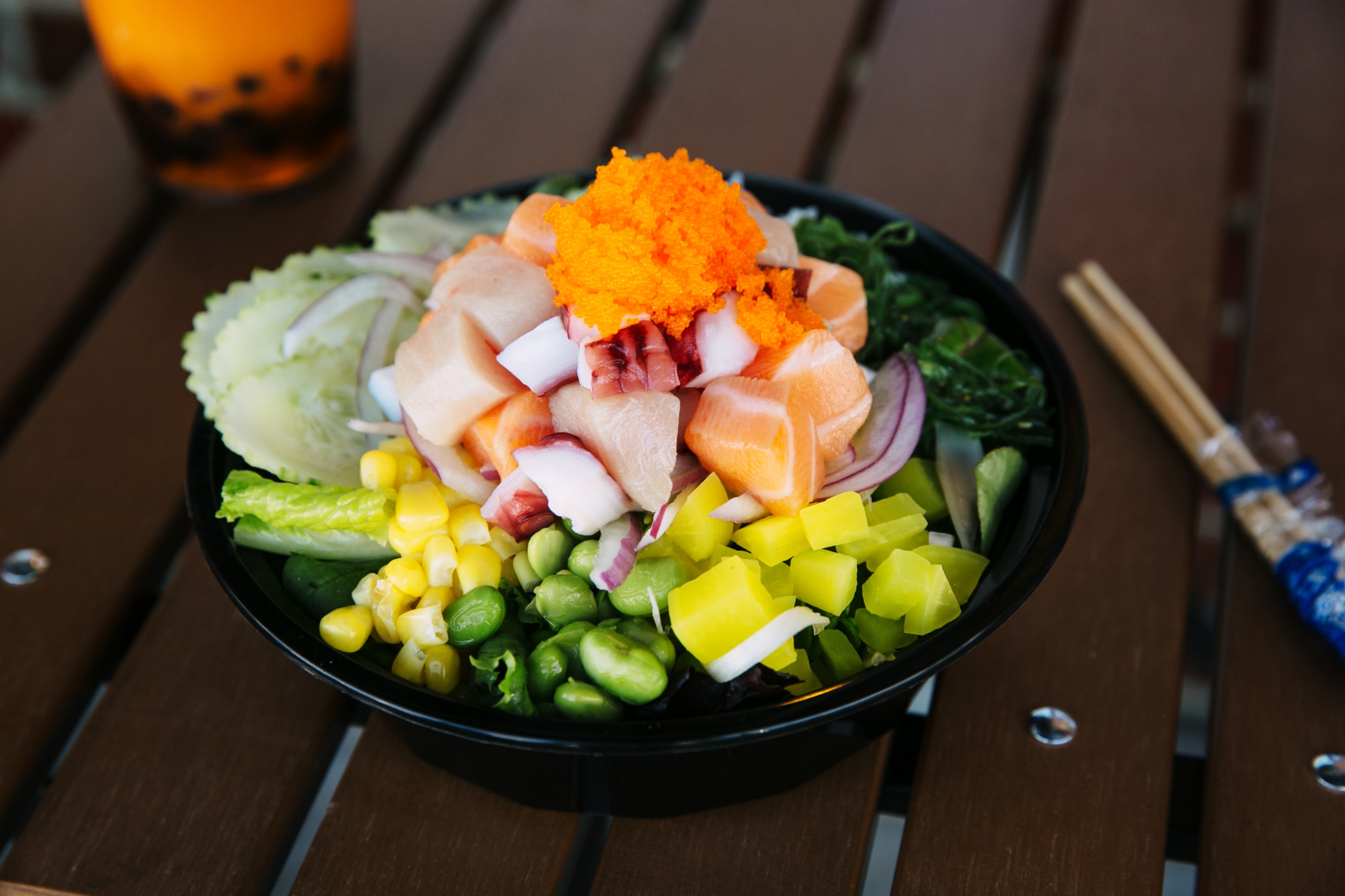 You know that feeling when you eat a heavy lunch and want to take a nap at your desk afterward? No fear, poke is here. In Oakland Chinatown, it's arrived in the form of not one, not two, but three new poke-bowl spots.
Poke became popular on the Hawaiian Islands in the 1970s, according to food historian Rachel Laudan. Fisherpeople would cut — "poke" means to cut — pieces of freshly caught seafood and eat them as a simple, healthy snack. Pieces of tuna or he'e (octopus) would be mixed with Hawaiian sea salt, limu (seaweed), and ground kukui nut. Nowadays, it's commonly a mix of seafood, soy sauce, and green onions, but there are endless ways to make poke.
But poke (rhymes with "OK") itself is a fusion dish, as Laudan noted in her book The Food of Paradise: Exploring Hawaii's Culinary Heritage. It melds "the existent Hawaiian taste for raw fish with the existent Asian, particularly Japanese taste for the same, but coming up with a new synthesis," she explained. Fast forward a few decades, and the poke craze has taken over California — both in its more Hawaiian form, and predominantly at takeout spots that serve poke in bowls.
[pullquote-1]A poke bowl is like a Subway or Chipotle version of poke — customized, with your choice of sashimi or cooked seafood, rice or salad, toppings, and a slew of fun sauces. Today, you can buy poke at the Safeway in Alameda and even at select Costco stores.
In Chinatown, poke seems to be the newest type of takeout spot, coming on the heels of the Taiwanese bubble tea shop proliferation of 2016. Poke Zone, Yaya Poke, and T&Bowl all serve poke bowls, and all opened around the same time this spring.
Building a poke bowl is like building a burrito or deli sandwich. At Yaya Poke and Poke Zone, you get a sheet of paper and check off what ingredients you'd like to include. First, you choose a base — usually sushi or brown rice or salad. Then, choose your protein — often raw tuna, salmon, hamachi, or cooked shrimp. For those who don't eat sashimi, there's cooked octopus, shrimp, or unagi. Next, add toppings, including edamame, corn, tamago, Japanese seaweed salad, and even strawberries and mangos. Finally, the sauces, which could include spicy mayo, ponzu, or soy sauce.
At Poke Zone, owner Karen Fong had been planning to open a poke-bowl restaurant for the past two years. Her restaurateur friends in Los Angeles noted that it was an easier way to run a business. Fong, whose father owns Shooting Star Café in Chinatown, hired a manager with experience in making sushi. (Fong's has been busy; she and her husband opened Tastee Steam Kitchen, next to Poke Zone, last year.)
Besides the fact that it's easier to operate, Fong says she was motivated to open a restaurant with healthy food, once she started seeing more Chinese Americans deal with health issues like high cholesterol and diabetes.
At Poke Zone, bowls run from $9 to $11; they also sell rolls. Fong notes that most elder Chinese people in the community do not eat raw fish or salad, so her menu includes things like Lion King rolls — baked salmon on a California roll cooked in a toaster oven, and then touched up with a handheld torch — for those who prefer to eat cooked fish.
For value, Yaya Poke a few blocks away is the spot. It's the smallest shop among the three, in the former Tutti Frutti location. One scoop of protein in a large-size bowl will only set you back $6. For those who remember Yaya Sushi on Franklin and 18th streets, it's the same owners. Dandan Chen says their lease ran out, so they had no choice but to close the sushi place. When the opportunity came up in Chinatown, they took the risk.
"We wanted to change the way we do restaurant business," Chen told the Express, noting that it's not a far cry from making Japanese food, which they have experience in doing. Chen also says it's much easier to hire staff that can help make poke bowls, but it was much harder to find someone to train someone to make sushi. In a nod to their Japanese restaurant days, you can also choose udon noodles as a base instead of rice or salad.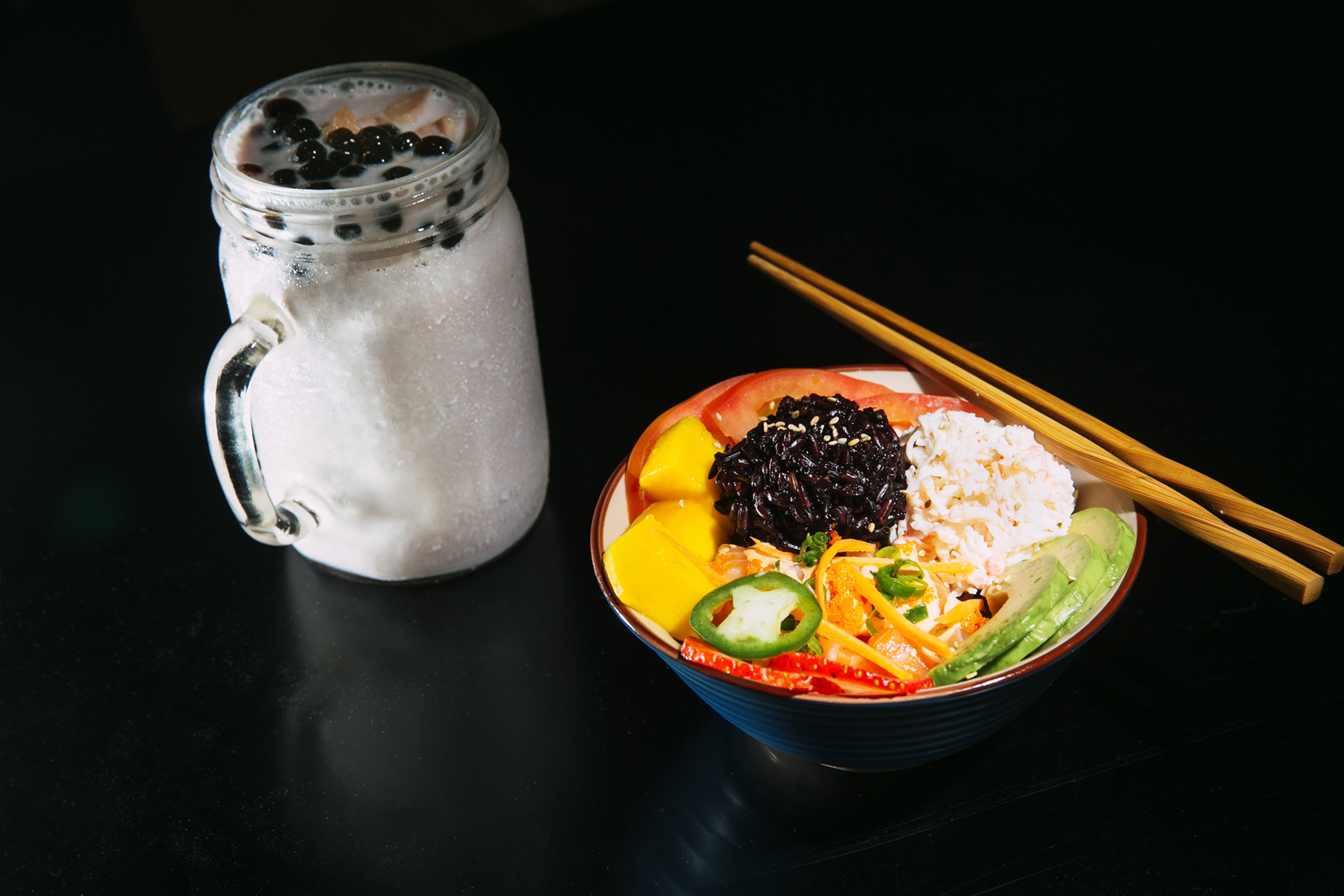 For T&Bowl owner William Wu, the poke spot is his first food business. Trained as a CPA, he took over Shiny Tea, which had been open for about a year. Wu is a tea aficionado and wanted to make Shiny Tea successful. He ran the operation for three months during the rainiest winter in recent years. But after three months of losing money, he closed, renovated the space, and rebirthed it as T&Bowl, serving bubble tea, smoothies, and poke bowls.
"I like milk tea myself, and sashimi," Wu said. T&Bowl is probably the largest of the three new Chinatown poke spots, complete with window front and bar seating, and individual bowls of beta fish as part of the decor.
T&Bowl's poke bowls are generous, and the shop offers different toppings and bases, such as a black rice and strawberries. The sauce for the salad is creamier than Poke Zone's, which is more of an Asian vinaigrette. The bowls run from $6.75 to $8.75.
The servers at T&Bowl were also accommodating when making the smoothies — they use real taro, which not all the bubble tea shops do, and obliged when I asked them not to add taro powder. Wu added that they serve off-the-menu items, such as cooked rolls and hand rolls, if customers ask for it.
Each of the stores varies with toppings, but all are about comparable when it comes to the fish. Even though sauces cover up much of the fish flavor, they all stressed that the fish is sushi grade and fresh.
So, for people who like sashimi, poke bowls are great deal for a light meal that won't leave you in a sleep coma.
Poke Zone
329 11th St, Oakland
510-628-0988

Yaya Poke
388 Ninth St, Oakland
510-986-1226

T&Bowl
901 Franklin St, Ste. 68, Oakland
510-817-4390