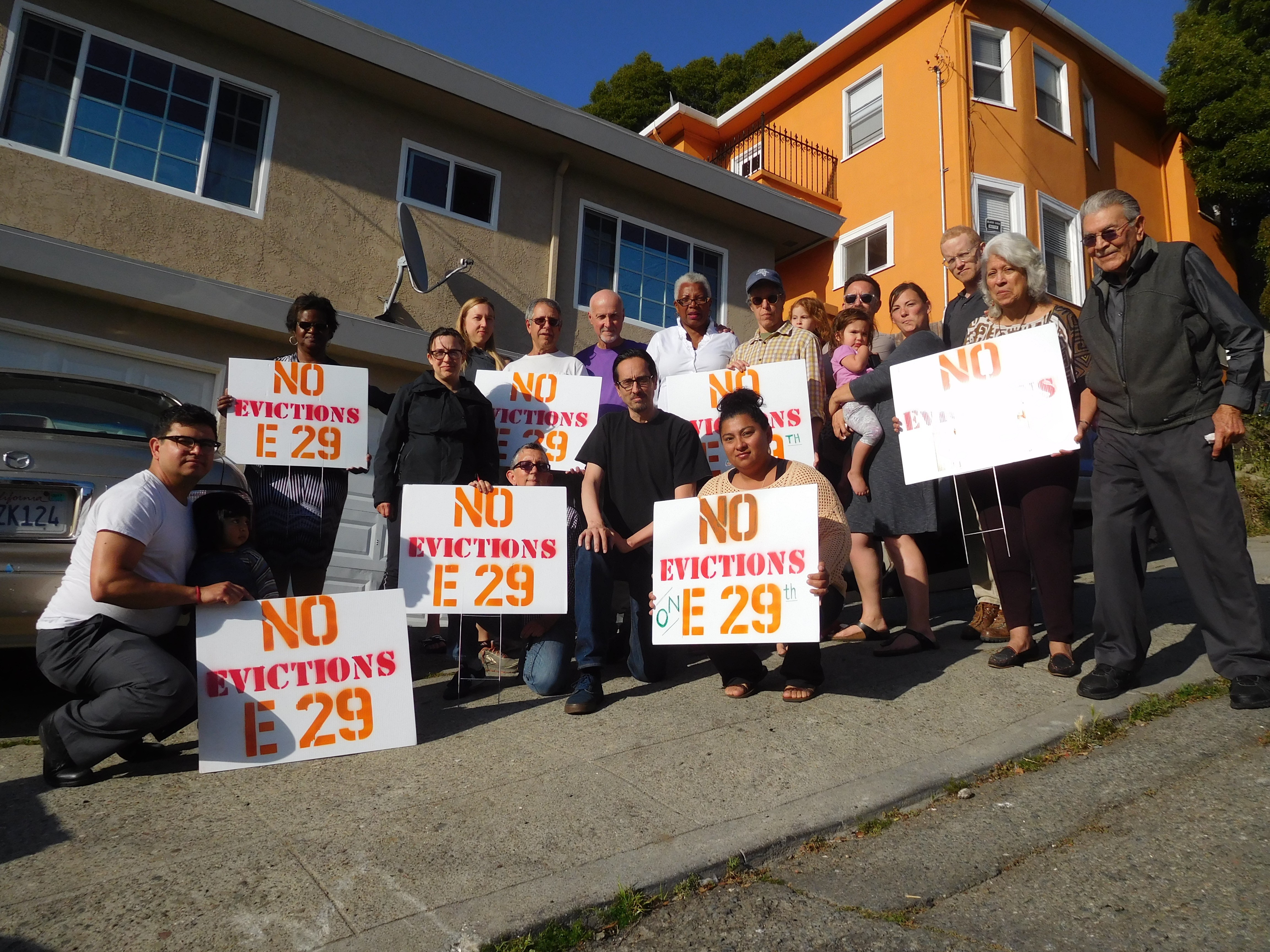 Ruth Ramirez, her husband Fernando Barcena, and their two kids have lived at East 29th Street in Oakland's Fruitvale neighborhood for seven years. The rent for their modest apartment is $1,628, just barely affordable for a working family in a rapidly gentrifying city. Their 61-year-old neighbor, Sokha Chhet, has lived next to them in the same three-unit building for about ten years, able to afford her place thanks to a Section 8 voucher.
But in January, an investor from San Jose named Osazee Edebiri bought their building. The tenants claim Edebiri is trying to use a loophole in Oakland's housing laws — the owner move-in eviction — to empty the property so that he can increase the rent.
Edebiri, who the
Express
spoke to this week, wouldn't discuss these allegations and his intentions for the property.
Under state law, rent control only applies so long as the same tenant occupies a unit. When they move out, willfully or by eviction, a landlord can raise the rent by any amount they choose.
A third household in the building, Yemeni immigrants who were paying $1,800 for their unit, already moved out, allegedly after Edebiri told them his parents would be taking over their apartment.
Oakland's housing laws allow landlords to evict tenants if their parents or children move into a unit. The Yemeni family relocated to deep East Oakland, where they're now paying $2,500 in rent, and their apartment has been empty for about a week.
But recent comments made by Edebiri on a real-estate investor website suggest that he isn't actually planning on moving his parents in to the building.
Shortly after he took over the property, the only one he owns in Oakland, Edebiri queried other landlords on the website
BiggerPockets.com
, looking for strategies when dealing with the city's rent-control and just-cause eviction laws.
"Wondering if anyone has suggestions for rent control units? Rent control Particularly in Oakland, California," he wrote on a public forum under his own name, using a verified account with his photo, in a post titled "Rent Control Strategies."
"I have a unit at an excellent rate, and like to get my other units that are at low rents to at least market rate," he explained.
One commenter recommended dubious tactics: "[M]ake their lives so miserable that they choose to move."
"Good to know," Edebiri replied to this comment. "Are you talking deferred maintenance, what else?"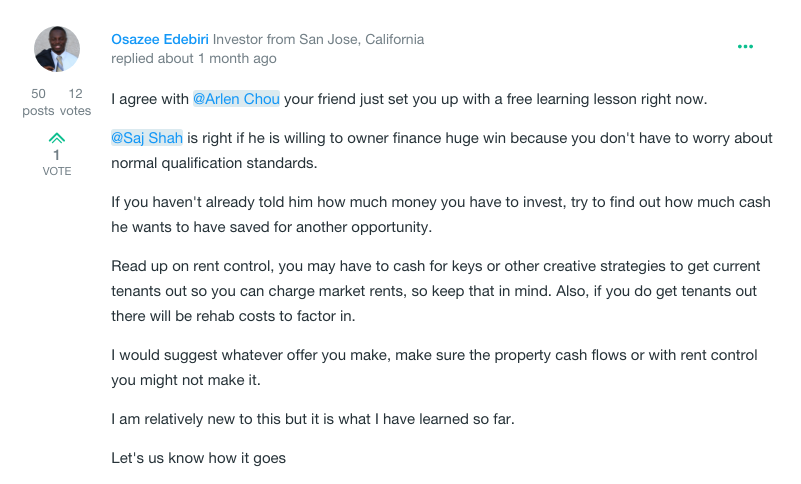 Another landlord suggested he work with an attorney familiar with Oakland's housing laws to devise a strategy to remove the tenants.
"I am going to try that route," Edebiri replied. "I will wait to see how they handle the rent increases first, obviously no need to pay if they help me get rif [sic] of themselves."
Since these posts, residents suggest that Edebiri is using the owner-move-in strategy to get them out of the building.
During the time when the Yemeni family moved out, Ramirez and Barcena said Edebiri offered a $5,000 "cash for keys" deal — but only if they would leave in 30 days and sign papers giving up their rights. They said the landlord told them his parents were going to move into their unit, therefore they would have to move out no matter what.
"We don't know what our rights are," Ramirez told the
Express
.
"He gave us a whole bunch of papers that he didn't explain and told us we had thirty days to move out," Barcena said.
Eventually, they signed an agreement to leave in 90 days — but now they want the agreement rescinded. They say they felt pressured to sign, weren't aware of their rights, and worried they wouldn't receive relocation assistance if they declined.
Suspecting the new landlord was trying to take advantage of their elderly mother — whose primary language is Cambodian — Chhet's children got involved after Edebiri allegedly told her she would have to move out at the end of April.
"Now he's saying my mother has to leave by the end of May," said Chhet's daughter, Vy Ear, during an interview last week. "But she feels safe here in this community." Ear said her mother has been stressed by the new landlord's demands.
Under Oakland's rules, a landlord can't conduct an owner move-in eviction on a unit occupied by someone who is above the age of 60, and Section 8 tenants are covered by the rest of the city's just-cause ordinance. It's unclear what reason Edebiri had for allegedly telling Chhet she had to leave.
The
Express
attempted to contact Edebiri via his BiggerPockets.com account, as well as his Facebook and email, but he did not respond. Reached by telephone this week, Edebiri told the
Express
he wants to "wait until everything gets settled as far the situation" before commenting on the allegations made by his tenants and neighbors about the evictions. When asked whether he told his tenants they had to move out because he intended to move family members into their units, he hung up.
Meanwhile, neighbors on the street are organizing to stop the evictions.
Luz Calvo learned about the situation when Ramirez visited to say good-bye one evening a few weeks back. But Calvo, and two dozen other residents of E. 29th Street, banded together to help Ramirez and their neighbors. They made signs reading "No Evictions on E. 29th," and stuck them in the windows and front yards of virtually every house on the block.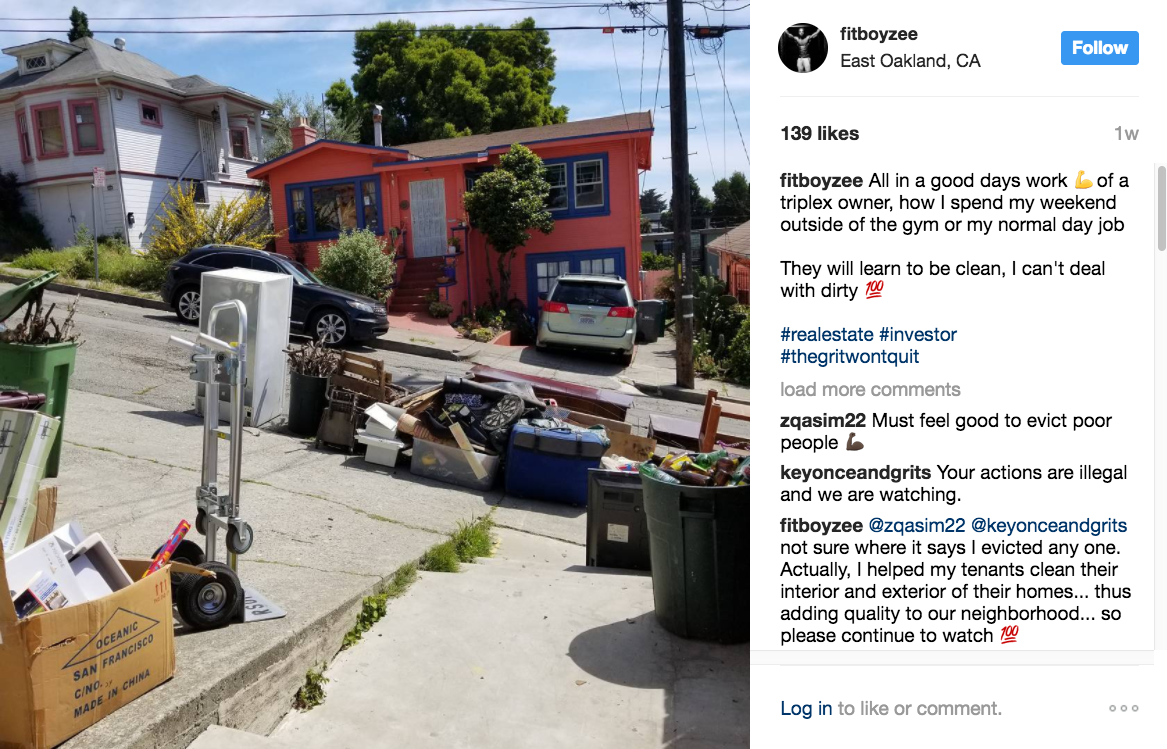 They also started communicating their concerns directly to Edebiri. Twenty-seven neighbors signed a letter to the landlord asking him to reverse course.
After Edebiri posted an Instagram picture of furniture and belongings left behind by the Yemeni family that he put on the curb as trash, neighbors started leaving comments. "Must feel good to evict poor people," one commenter wrote.
"Oakland needs better landlords…people who don't try to drive out hard working, low income families in chase of a few dollars," commented another.
Last week, two-dozen neighbors gathered in the garage of the tri-plex with Barcena, Chhet, and Ramirez. They served up sliced watermelon and hot coffee. Children played outside while the adults talked about gaps Oakland's rental-housing laws and the lack of city resources to help tenants understand their rights.
Ramirez and Barcena have also sought legal help from Centro Legal de la Raza, a local nonprofit. "We were waiting there in the lobby for about 45 minutes," Ramirez said. "And in that time, we saw five other families come in, and all of them had the same problem: Their landlords were telling them they needed to find a new place."
"It's a lot of people facing the same thing," Barcena said. "Friends of ours were told the move out for the same reason recently."
Leah Simon-Weisberg, the managing attorney for Centro Legal's tenants rights program, has on taken Ramirez, Barcena, and Chhet's cases. There appears to be an uptick in the number of owner move-in evictions taking place in Oakland, she said. And immigrant renters, or others whose primary language isn't English, are the most common targets of landlords, who rely on their tenants' lack of knowledge about their rights, and the city's lack of enforcement.
"Measure JJ fixed some of the loopholes in Oakland's rental laws," explained Simon-Weisberg, referring to a ballot measure approved by voters last year that strengthened tenant protections. "But this is what's left," she said of the situation with property owners allegedly exploiting the law's owner move-in clause.
Currently in Oakland, a landlord can legally evict a tenant for no cause if they personally intend to move into that tenant's apartment, or if an immediate family member moves in. And if a landlord moves in to a property that is three units or fewer, it immediately becomes exempt from the city's just-cause eviction protections, and after two years it loses rent control.
Simon-Weisberg suspects that a lot of owner move-in evictions are false. Instead, she believes many landlords never actually live in the properties, or that they only do for a short time — just long enough to get rid of their rent control-protected tenants so they can replace them with higher-paying newcomers.
Compounding the problem is the fact that there isn't a city agency tasked with making sure owner move-ins are legally carried out.
The city also doesn't require landlords to disclose when they remove tenants from buildings with cash for keys agreements by filing paperwork with the rent board.
Simon-Weisberg said she hopes the city council and mayor act soon to amend the law so that these kinds of abuses are stopped.
Back on 29th Street, a group of neighbors gathered this past Monday and shared updates about the evictions. They said they planned to take every possible opportunity to communicate with the new landlord and tell him they want their neighbors to be able to stay. And they plan to ask the city to close the owner move-in loophole.
"This is happening on each block in Oakland," said Janice Lord Walker, a longtime resident on the street. "But he picked the wrong block."
Ramirez said her neighbors' solidarity has given her family "faith that if we fight it we can win."
Barcena agree: "It's helping the whole block come together."
Correction: Simon-Weisberg is the the managing attorney for Centro Legal's tenants rights program, not it's legal director.