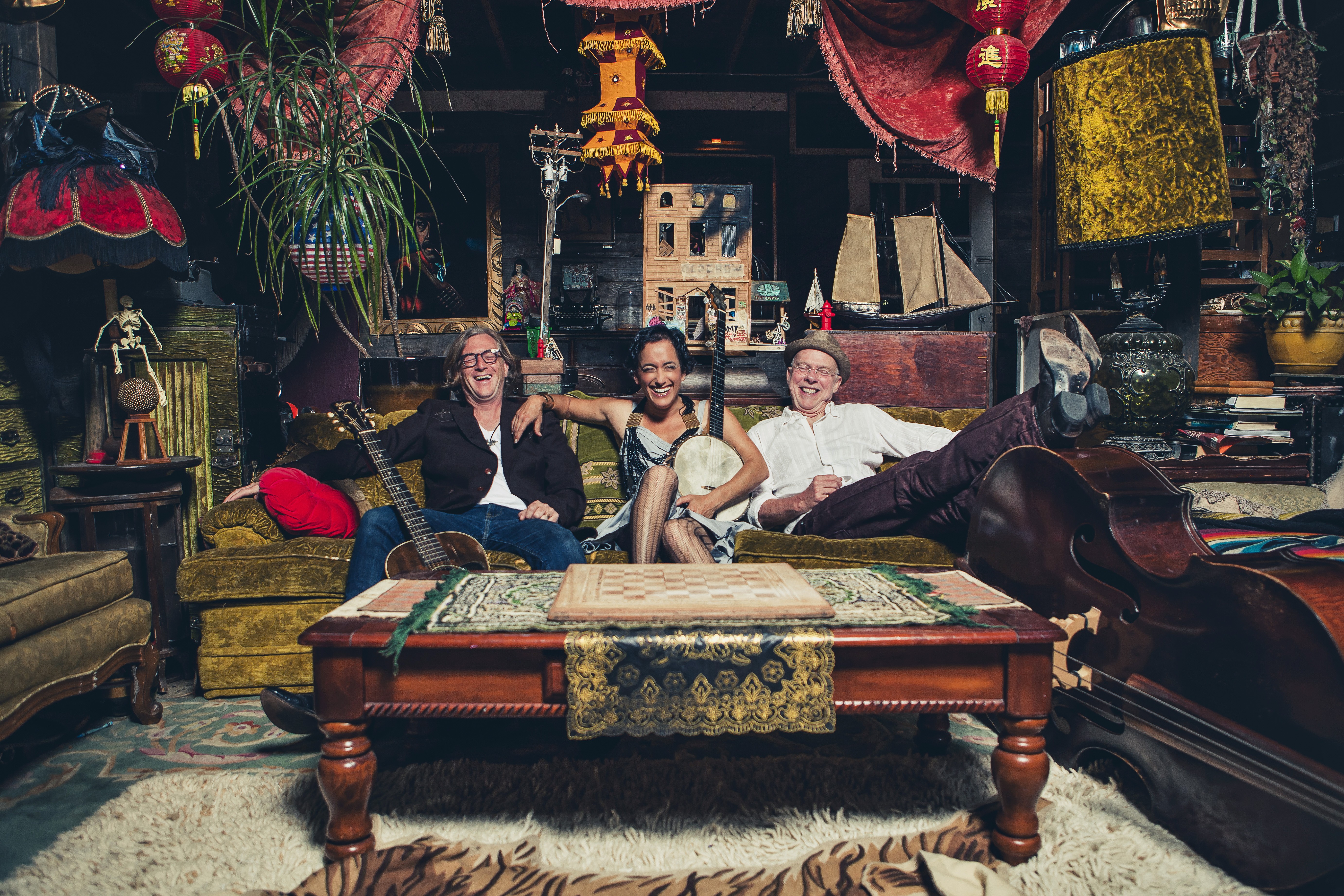 When the Evie Ladin Band launches into a song, you never know what direction the music is going to take. Her husband, Keith Terry, plays bass and percussion in the trio and brings his wide knowledge of world music and body rhythms into play. Guitarist Erik Pearson's unusual harmonic sense adds a deeper element to the trio's vocals and compliments the band's original compositions. Ladin leads the group with her banjo, but her approach is far removed from anything you'd expect to hear from and old time or bluegrass picker.
Ladin started playing banjo when she was eight. She had a brief flirtation with rock music in high school, but folk always was her passion. "My dad loved bluegrass and old time music," Ladin recalled. "My mother taught international folk dance. Folkies were always around the house. (New Lost City Rambler) John Cohen suggested I play banjo. My dad got my sister Abby and I banjos and lessons. We went to folk music camps and festivals. We got our first paying gig when I was eight. The promoter tried to stiff us for our five-dollar fee. It was a good introduction to the biz."
When she was growing up, Ladin's parents also introduced her to percussive dance. She was raised mostly on Southern Appalachian arts, that unique mix of African, European, and Native American cultures, and started clogging at square dances when she was still a child. Early on, Ladin was drawn to the African roots of American music and dance and went on to study in Nigeria and across the United States. She explores this confluence in her compositions and choreographies.
When she met Keith Terry — originally a jazz drummer – but most known for using body music in cross-cultural projects, she felt a strong musical and personal connection. They've been partners now for 20 years, collaborating on Terry's Crosspulse projects, and appearing in various duos and trios, including the Evie Ladin Band. "On stage, we mix in body music -stepping, clapping, snapping, singing – to the songs," Ladin said. "It adds another dimension, when we're performing live. It works equally well in my folk/Americana world and Keith's international body music projects."
When the Ladin Band comes into the Freight on Friday, it will be celebrating the recent release of Caught on a Wire, its forth album. It's the first time it has recorded with electric guitars and a full drum kit, a slight departure from its usual all-acoustic approach. "We all have foundations in traditional music, that we play as is, but we're experienced in indie songwriter stuff and world music as well," Ladin said. "The last album, Jump the Fire, was acoustic and sounded very much the way we do when we play live. This time, we fantasized about the kinds of sounds and textures the songs called for, with no limits – except for the amount of time and money we could spend in the studio.
"I had charts that we'd been working up for a while, but most of the arrangements came together in the studio," she said. "The three of us recorded the basic tracks acoustically, then layered on the electric guitars, drums and the other stuff. Our neighbor, Sundra Manning, who's played with Prince, MC Hammer, and Ledisi, came in on piano for three songs. She'll be sitting in with us at the Freight.
"The record was done old school, writing and recording at the same time," Ladin said. "We work together well and compliment each other in our skill sets. The drums and electric guitar gave it a different sound and the songs were more topical, a reaction to the stuff going on politically and environmentally these days. Now, we just have to figure out how to play them live."
"Luckily, the songs are really good," she continued. "I could sing them myself, at an open mic, and they'd work. In the studio, each person in the group adds another layer of emotion to it. I like that we created a full range of sound for the album. There's less body music than on past records, but our shows will still have a lot of body music in them. The music also has some world music influences, but that's just who we are and what we bring to it. If you have an arrangement that fits the song, then you can strip it down however you like, when you play it live, and it will still sound good. You can keep all the details in the arrangement, even with acoustic instruments."
Apr. 5, 8 pm, $18-$22, Freight and Salvage, 2020 Addison Street, Berkeley, 510-644-2020, TheFreight.org