Juana Flores is a leader in the movement for the rights of domestic workers. She meets with government officials, testifies in the legislature, speaks on TV. But nineteen years ago, she didn't know that workers such as herself had any rights.
At the time, Flores was a recent immigrant from Mexico working as a nanny for two children. "They paid me $75 every fifteen days plus room and board," she recalled through a translator. "The mother worked at night, so I lived in the house. Besides caring for the children, I was made to clean the house and wash clothes. And I was the childcare provider 24 hours a day. I had to be available for the kids all the time. She would just say, 'go to your nanny.' After a month, two more kids came from 3 to 8 pm but there was no increase in pay.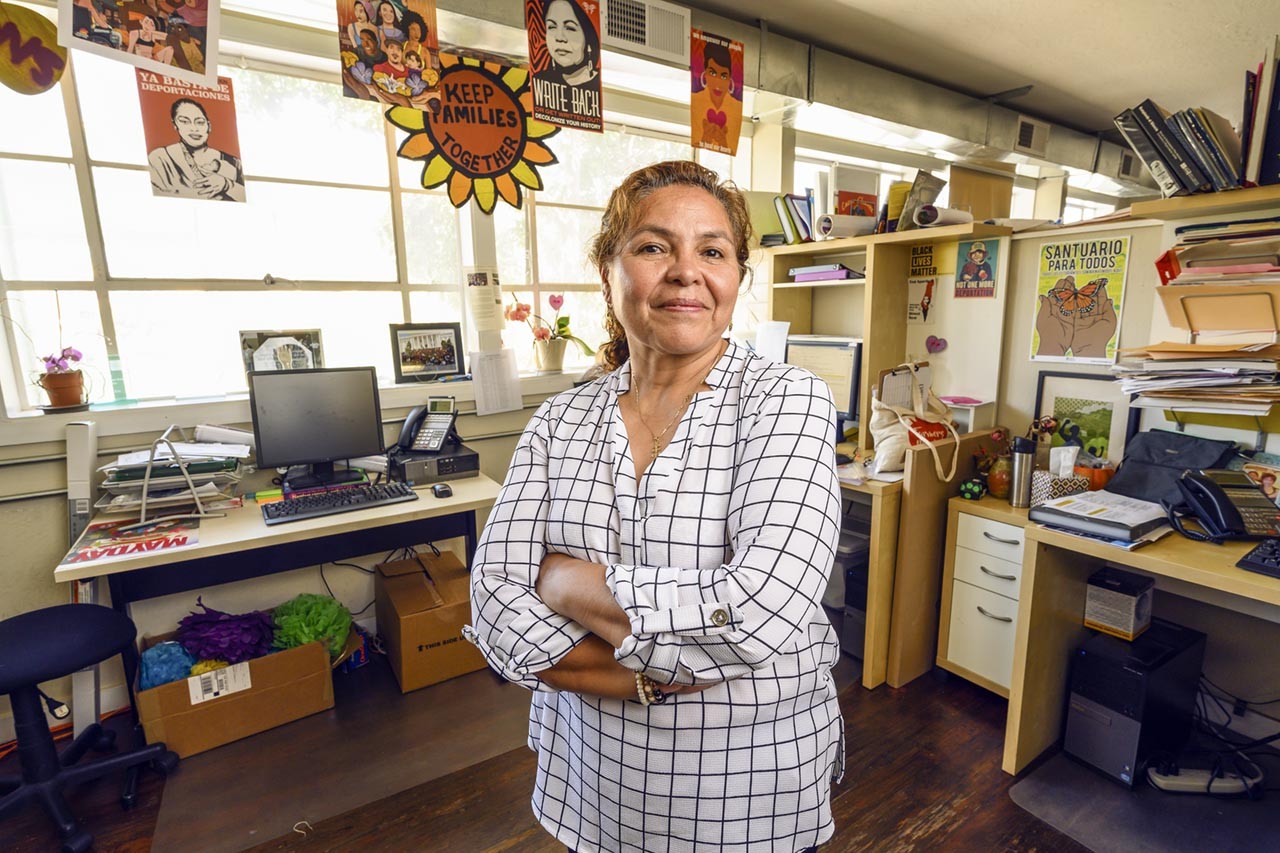 "The worst part was the father all the time was talking to me about sexual things. He never touched me, but he was always talking about sex.
"I didn't realize I had the right to say anything because they were doing me a favor by providing work. I thought what was happening was normal."
Then a friend persuaded Flores to go to a meeting of Mujeres Unidas y Activas (MUA), a Bay Area grassroots organization of Latina immigrants providing mutual support and policy advocacy on issues including domestic worker rights, immigrant rights, and domestic violence. "When I arrived at MUA my life totally changed," Flores said.
Flores left her former job. After she was trained in her rights, she was able to negotiate for better pay and started making $25 an hour. Before joining MUA, "I didn't know any of these rights existed," she said.
Like Flores, many domestic workers — housecleaners, nannies, caregivers for people with disabilities and the elderly — don't realize that they have legal rights as workers. The California Domestic Worker Coalition, which MUA helped found, estimates that one in four domestic workers are paid less than the minimum wage.
Because they often lack written work agreements and basic information about their rights, domestic workers "are uniquely vulnerable to workplace violations," according to a coalition fact sheet. "Because of the devaluation of domestic work as 'not real work,' many workers and employers do not consider that there are laws that apply to this industry."
That's why the coalition is pushing for $5 million in next year's state budget to create a Domestic Worker Rights Education and Outreach Program that would give grants to grassroots organizations like Mujeres Unidas y Activas (Women United and Active) to "provide education, outreach, and training to domestic work employees and employers on minimum wage, overtime, sick leave, record­keeping, retaliation," and the process for filing claims if a worker's rights are violated.
Along with Hand in Hand, an organization of employers of domestic workers, the coalition also is seeking funds for a study it hopes will pave the way for a program of state support for long-term care. These efforts are part of a national movement to provide more support for people who need care and better working conditions for domestic workers.
Since MUA, several other California groups, and a New York organization called Trabajadores Unidas formed the national Domestic Workers Alliance in 2007, these are only the latest in a series of campaigns in California and around the country. Eight states including California, plus the city of Seattle, have now passed Domestic Workers Bill of Rights laws, extending basic labor protections to people who work in private homes.
Historically in California, nannies and at-home caregivers were excluded from laws requiring workers' rights such as time-and-a-half pay for overtime, meal and rest breaks, health and safety laws, and more. For years the coalition and Hand in Hand campaigned for domestic workers to be included in these legal protections. Two bills passed the state legislature but were vetoed, first by Governor Schwarzenegger, then by Governor Brown. Finally, the California Domestic Workers Bill of Rights was signed into law in 2013, then made permanent in 2016.
The law established some of the rights domestic workers campaigned for — overtime pay, meal and rest breaks, workers compensation, and protection from discrimination and unjust firing. Yet other rights the advocates hoped to include — paid sick time and vacation, the right to eight hours of uninterrupted sleep, the right to cook your own food, cost of living increases — were dropped in negotiations before the bill passed.
Theoretically, house cleaners were already covered by some federal and state labor laws. Since 2015, all workers in California are entitled to up to three days a year paid sick leave.
"These rights exist on paper, but they're not being complied with," Flores said. That's why outreach and education are so important. With state funding, the work that organizations such as MUA and Hand in Hand already do could be extended.
That work is basic organizing. Housecleaner and active MUA member Maria de la Luz said she and other active members of MUA hand out flyers at schools, in parks, and on the street. "We also do outreach at food banks, set up information tables," de la Luz said through a translator. "We interact with people, ask if they know about their rights. Then we do calls to follow up, reach the workers and find out more about them. We invite them to participate in workshops on things like how to create a work contract, compensation, overtime.
"There are also workshops specific to house cleaning. We teach them how to work so they don't get injured and also teach them about less-toxic cleaning products. We show them how to read labels so they understand the dangers."
---
Asserting Their Rights
Rose Mejica, who works as a caregiver for elderly people in their homes, volunteers with Filipino Advocates for Justice in Union City, reaching out to domestic workers in her church and community and at "care homes" for small groups of elderly people.
Mejica knows firsthand what a difference it makes when domestic workers learn about their rights. In 2012 she was working in a care home where she and five other live-in caregivers routinely worked many hours of unpaid overtime. "One day, the daughter of one of the residents asked us why we seldom went out during the week," Mejica recalled.
When they explained, the daughter contacted a labor lawyer, who contacted Filipino Advocates for Justice. Twelve workers at four separate facilities ultimately filed a complaint of wage theft with the state and received compensation for their unpaid work.
A chance connection with a lawyer also led to back pay for a group of de la Luz's former co-workers. "Ten years ago, I was working as a housecleaner for contractor who sent us to jobs where there were no lunch breaks or overtime pay," de la Luz said. "She paid $7 an hour. I was doing an intense level of cleaning, concentrating on bathrooms, cleaning up to twelve bathrooms a day. It was grueling work.
"One day I called and said I couldn't come in because I was sick, and she said, 'You have to come in anyway.' For three or four days I worked while I was sick, because I said to myself, 'I can't lose this job.'
"I worked a year and a half for her, then when I got pregnant, I left, but I kept in touch with my co-workers," de la Luz recalled. "One happened to have a lawyer because she was involved in an asylum case. She told him about how there were no lunch or rest breaks and they worked overtime without pay. So he told her they could come together as workers and file a lawsuit. The contractor ended up having to pay for wage theft."
Lawsuits and legal complaints, though, are a last resort. Short of that, organizations such as MUA can help a domestic worker write a letter to her employer or make a phone call on her behalf. "But usually if it gets to the point where a group like MUA intervenes, the person isn't going to keep working for the employer," said Sarah Leadem, a staff member for the coalition. "They're just trying to get the compensation they're owed."
In many cases, the support and education a domestic worker gets from others makes it possible for her to improve her situation, either by talking with her current employer or by finding a new job.
"Members share their stories," Flores said of MUA. "One may say, 'I asserted my rights and am now receiving them.' Another may say, 'I was fired but that's OK because now I have a better job.' Some people hear this and say, 'I'm going to do that too.' Others not. It's their decision. We also hold clinics with lawyers where women can learn about their legal rights" on issues including work, immigration, and domestic abuse.
These issues often connect. The majority of domestic workers in California are immigrant women, according to the coalition, and many are undocumented. Flores said many of the women who come to MUA hesitate to speak up: "They are afraid of losing their jobs because are undocumented, they are the sole provider for their families, and they're sending money back home."
Theoretically the state guarantees these rights to all domestic workers regardless of immigration status. State policy is not to ask a person's immigration status when they file a complaint.
Short of filing a complaint, though, a worker may hesitate to bring up issues for fear the employer will report her immigration status to the Department of Immigration and Customs Enforcement. But state law specifically prohibits employers from retaliating against workers who claim their legal rights by reporting their employee's immigration status. The penalty is a hefty fine."My principal passion is that when a woman arrives at the organization, we make sure she knows she's not alone, that she has rights," said Flores. "All of us learn through the sharing process. The most powerful part of this work is that the woman herself values her work and wants to assert those rights."
Pride in her work is key to a domestic worker's ability to assert her rights. Activists often cite the National Domestic Worker Alliance slogan, "This is the work that makes all other work possible."
De la Luz of MUA gave some examples of how this support has benefitted her. "Now if someone offers me a salary that's less than fair, I don't accept. I'm also using products with less toxic chemicals because I know about the long-term consequences — they're dangerous. And I've had the opportunity to ask for more money. For example, when I worked for a contractor who asked me to clean two homes in one day, I asked for more pay and I got it."
---
The Role of Employers
Ariana Thompson-Lastad, who has hired nannies to take care of her two young children, said she can tell immediately when a prospective nanny is a member of MUA. "It's so different when people know their rights. If a person is a MUA member she comes to the interview with a folder, a contract, a sheet of what she charges, a paper listing her experience."
Education about domestic worker rights also is important for employers, Thompson-Lastad said. As a Hand in Hand member she leads workshops for people looking to hire nannies. "We say, 'My home is someone's workplace,'" she said. "We encourage people to think about their own experiences as employees — what makes you feel valued at work? And we talk about the legal requirements.
"The workshops are great. People show up with lots of questions about taxes, legal requirements, appropriate pay, sick time. At the end, people say, 'It had never occurred to me to me to think about sick leave, but I certainly don't want a sick person to take care of my baby. It had never occurred to me to have a written work agreement.'
"It's super affirming of our model to see that people do want that information. Most people want to do the right thing, especially with babies."
Many seniors and people with disabilities also are new to being employers, said Nikki Brown-Booker, executive director of Easy Does It, a Berkeley organization that provides emergency caregivers and other services.
"It's really complicated to all of a sudden need to have people working for you. They have no idea what it means to employ someone in their home — how much to pay, how many hours, sick leave, breaks — they have no idea how to do it." A state program of outreach and education, she believes, "would be a good step in providing education to employers who don't know how to be good employers."
Jessica Lehman, executive director of Senior and Disability Action in San Francisco, provides workshops on communication for employers of caregivers. And she tries to practice what she teaches in her relationships with her personal attendants. "I check in every once in a while," Lehman said. "What's really best is to set up regular check-ins so the people who work for me can talk about what's bothering them, or if there's something bothering me, there's a calm and fair way to talk about it."
Thompson-Lastad joined Hand in Hand, a national domestic worker employer organization, before she had kids, when she was working as a patient advocate and educator in a medical office. "I saw a lot of patients who were immigrant women and I got insight into domestic work," she said. "One woman told me she was getting sick because she couldn't take her diabetes medicine at work. She was not allowed to eat on the job and the medicine has to be taken with food. A friend told me about Hand in Hand. I wanted to do something to support people like my patients."
Hand in Hand, like the Domestic Workers Alliance, started as a collaboration between groups in New York and the Bay Area. Lehman, one of the California founders, said it began in New York in a group called Jews for Racial and Economic Justice. "Many of them hired housecleaners or nannies," Lehman said, "but they hadn't thought of themselves as bosses. The idea was that it was not one group pitted against another, but that employers of domestic workers should support domestic worker rights. It was a powerful collaboration, transformative.
"I have hired attendants since I was 18, when I left my parents' house," Lehman said. "I had never thought about the political and social ramifications of being an employer. I started realizing that my life's work is all about supporting rights and building community, working for justice for people with disabilities — and everyone. I thought, 'Here's an opportunity to make the personal political.'
"In New York, the focus was on nannies and cleaners. In California we expanded that to include attendants for people with disabilities. I started by having some house parties with friends who hire attendants and it immediately resonated with people. The devaluing of attendant work is tied to the devaluing of people with disabilities, immigrants, women."
Hand in Hand "follows the leadership of the domestic workers and supports them in trying to get their rights," Lehman said. "The federal government used to have an exemption from minimum wage and overtime rules for people who provided companionship in the home. We successfully pushed the Obama administration to get rid of that." Hand in Hand members also go to Sacramento to advocate for legislative action to benefit domestic workers.
Brown-Booker of Easy Does It said she got involved in Hand in Hand because the needs of domestic workers and employers are connected. "I've been an attendant user since I was 18; I'm 53 now," she said. "I work with a lot of people who use attendants."
She first joined Hand in Hand, she said, "because I'd gotten really frustrated that the attendants were not getting what they needed from In Home Support Services (IHSS)," a state program that pays for home care for people who qualify for Medi-Cal. "They had no benefits, they were bad about paying people on time, they had low wages, so I felt like I needed to do something."
People who need attendants are affected. "We find people have a hard time maintaining attendants," Brown-Booker said. "There's now a shortage of caregivers. It's a big problem. They're calling us more often. Lots of reasons. There's little sick leave, no paid vacations, low pay."
Many caregivers do this work, she added, "because they love the people they work for and they love the work. Some people are just natural born caregivers, they're really good at what they do. But now, every attendant I have does a minimum of two jobs just to make ends meet. Many work more than 40 hours a week but get no overtime because they have more than one employer."
---
Affordability is an Issue
Last year the legislature passed a bill that would have created a domestic workers' rights education program, but Governor Brown vetoed it. In his veto message Brown wrote, "I urge the legislature to tread carefully when adding more enforcement rules or costly mandates on ordinary families trying to do their best for their infirm or aging loved ones."
Megan Solis Whelan of the California Domestic Worker Coalition pointed out that the program would not create any new rights for domestic workers, just let them know about the rights the legislature already established. But the issue of affordability is a real one for many employers. That's why the coalition, Hand in Hand, and other organizations are not just promoting the Domestic Worker Rights Education program, but also another budget ask: to fund an "actuarial study to inform new long-term services and supports for California's families."
According to the California Aging and Disability Alliance, California has almost 8 million residents "who are either older adults or persons with … disabilities, many of whom struggle to afford the services and supports they need to live with dignity and independence." And as Lehman of Senior and Disability Action pointed out, that number is likely to increase as the Baby Boom ages. "These services are expensive sometimes. We as a society need to think differently about this and invest in this. More and more people are acknowledging, 'Some day I may need some support.'"
California's In Home Support Services program pays for care for people who qualify for Medi-Cal, but only after they spend down all their assets. Lehman said the study they're requesting would prepare for "a state program of long-term services and support. including home care to allow people to live in their homes [or residential facilities]. Anyone who needs assistance in the home would be able to get money from the state. People who don't qualify for IHSS but are struggling to pay attendants would be able to get the support they need. And to make sure the workers are paid fairly."
Interest in such programs is growing. San Francisco recently started a program called Support at Home, a sliding scale home-care voucher program for seniors and adults with disabilities whose incomes are below the area median. In April Washington State created the Long Term Care Trust Act. All residents will pay 58 cents on every $100 of income into a social insurance fund. When they need care, they can tap into the fund up to $100 a day, with a lifetime cap of $36,500.
Advocates say support for people who need care and rights for domestic workers are connected. Ai-Jen Poo, executive director of the national Domestic Workers Alliance, launched a campaign called Caring Across Generations, which seeks to change the culture and create policies to support "better care for our loved ones, better support for our families, and better jobs for caregivers." Her book, The Age of Dignity, Preparing for the Elder Boom in a Changing America, offers a vision of "a world where everyone can age with dignify and caregivers are supported and respected."
"We talk about the importance of this work and of treating the people who are doing it with dignity and respect," Lehman said. "There's more to be done but I have full confidence that we'll get there."