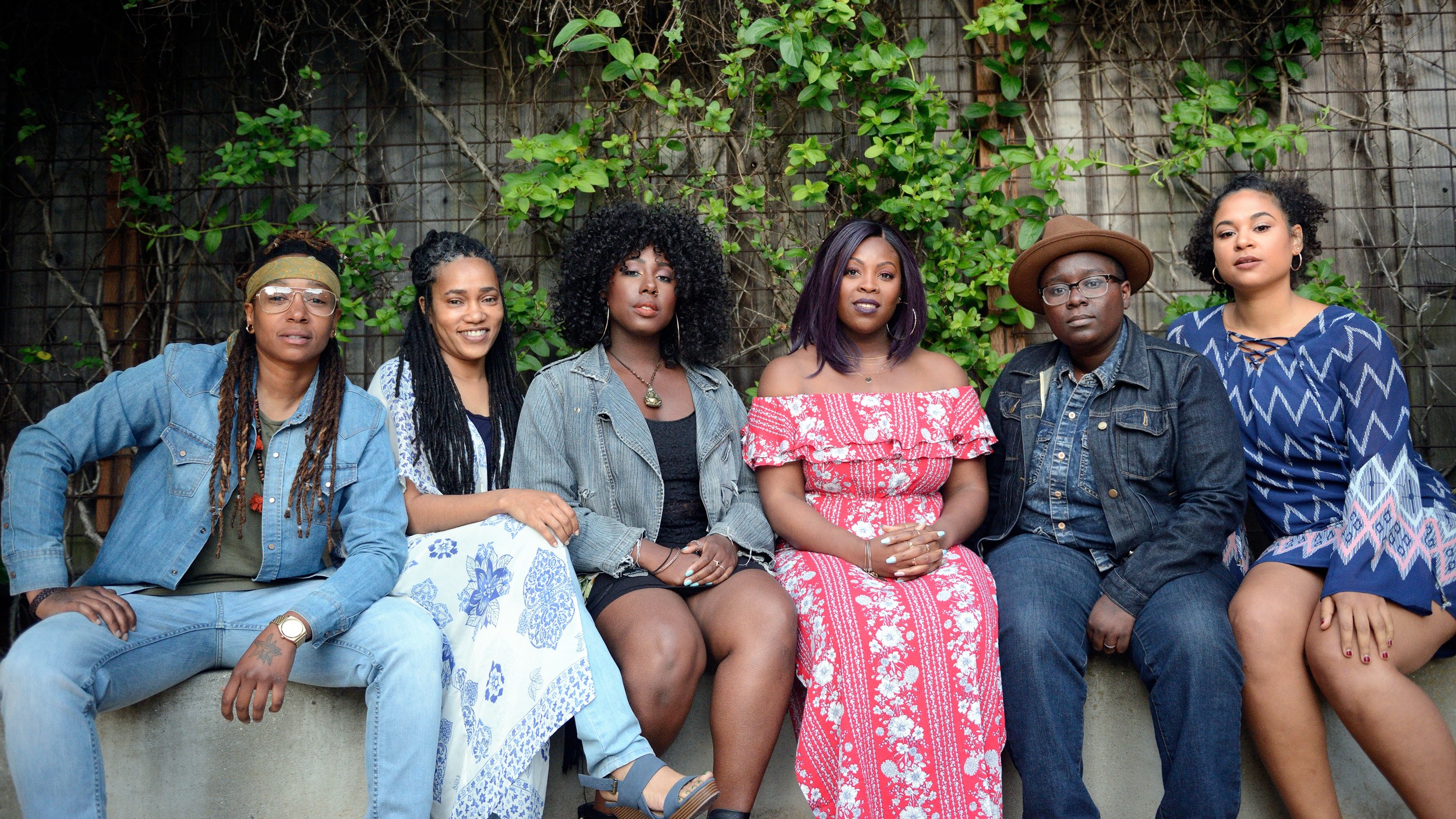 Magic is a word that sticks with The Onyx. Named after a stone rumored to have powerful protective and strength-giving qualities, the group has had a magnetic pull ever since the six members of the all-female, all-Black music collective were brought together for the first time by an impromptu show in need of local artists at the Starry Plough.
"It was like throwing a puzzle box in the air and when it falls, it literally just falls in the right place," said Dan'Nelle Emerson, one of the band's three vocalists.
From their very first performances, the members knew they'd captured a rare slice of something special. At an early show at San Francisco's Bar Fluxus, keyboardist Richelle Scales said she realized the power of The Onyx when they played their song "Black Girl Magic," and even the "white finance bros and tech people" in the audience sang along.
Combining its '90s/early '00s R&B girl group sound with modern tinges of rock, funk, and Latin music, The Onyx offers something for everyone. And while all six members identify as Black women, they each bring a totally different perspective to the table.
"Black people are not a monolith," said Yunoka Berry, another of the band's vocalists. "We all come from different spectrums and have different, diverse backgrounds."
Berry grew up in the Midwest considering herself more of a dancer than a singer. But with gospel influences from her mom and hip-hop from her dad, she soon picked up piano and guitar, refusing her grandmother's lessons in favor of learning by ear. After studying classical and contemporary music in college, she moved to Oakland two years ago — and ended up fulfilling a dream she'd had since she was little.  
"When I was 4 years old, I was like, 'I'm gonna have this Black girl, punk rock band named Black Nail Polish,'" she explained. The Onyx isn't exactly punk, but her family still calls the group by the clever name 4-year-old Berry crafted.
Emerson also grew up chasing a different life path before she realized she was a singer. She played basketball up until college, and her neighbors called her "Little Miss WNBA." The Onyx came to her at a point when she felt like she was pushing a reset button on her life in the aftermath of a serious breakup. She called this moment her "soul epiphany" — and now, since being in the band, she said, "Clearly I'm getting older, but I feel younger than I've ever felt in my entire life."
Holding down the rhythm section of The Onyx are drummer Jae Jackson, who grew up in Richmond with a gospel background, and bassist Rhonda Kinard, who hails from Oakland and cites funk, salsa, gospel, and Motown as influences, having learned guitar during lunch breaks from her high school algebra teacher. Scales plays the keys, and lived in North Carolina and Atlanta before moving to Oakland. Like many of the others, she's classically trained, but supplemented her studies with learning Prince songs by ear. Maya Vilaplana rounds out the group's vocals — a New York City native raised on Cuban rumba, Joni Mitchell, Simon and Garfunkel, and West African music.
Combined, the sextet is a force to be reckoned with. The simple existence of a band like this is rare, and in this political moment, revolutionary.
"I feel like it's really important in this day and time, during this administration, for this band to be as visible as it is," said Kinard. "I think being visible right now in our Black joy, our Black empowerment, and our Black celebration — and mastery of our instruments, even — is really, really important right now."

[embed-1]
The Onyx hopes to inspire little girls who look like them to pick up instruments, but also to impact those who don't look like them. Kinard pointed out that young boys seeing women doing what they're doing is a necessary step in beginning to dismantle the patriarchy.
The band has yet to release any professionally recorded music, but it is already being booked frequently at a wide range of venues across the Bay Area. The Onyx has played intimate living rooms via San Francisco's Sofar Sounds as well as festivals, and even the Apple store in Union Square in honor of SF Pride. "Remember Nicki Minaj was like 50k for a verse no album out? Like okay, we don't have 50k, but I'm just saying," Emerson said, giggling.
That's not to say recording music isn't in the works. The Onyx hopes to release something by the end of this year, around the one-year mark of the band's formation. Kinard joked that soon the group would be opening for Beyoncé — although she wasn't entirely kidding. All of the band members are incredibly confident in their abilities, as they should be.
"Eventually we are gonna hit the door of the industry," said Berry. "It's inevitable. We're already proving ourselves."
At July 19's Elbo Room Jack London show with fellow all-women bands Gringa and Gala, The Onyx took the stage like a hurricane. They breathed fresh air into a variety of crowd-pleasing covers, from Lauryn Hill's "Ex Factor" to Childish Gambino's "Redbone." But the climax of the set was, of course, original song "Black Girl Magic." Grounded by a whistling synth hook, anthemic lyrics soared to dizzying heights with the vocalists' commanding harmonies. Berry's and Emerson's deeper soul voices blended gorgeously with Vilaplana's softer, buttery tone, and there wasn't a body in the room able to resist joining in.
Just like its very first show, The Onyx once again had a whole bar — of people who looked like them, and those who didn't — under its spell, singing the praises of "Black Girl Magic."
Friday, Aug. 17, 7 p.m., $5, El Rio, 3158 Mission St., San Francisco, ElRioSF.com