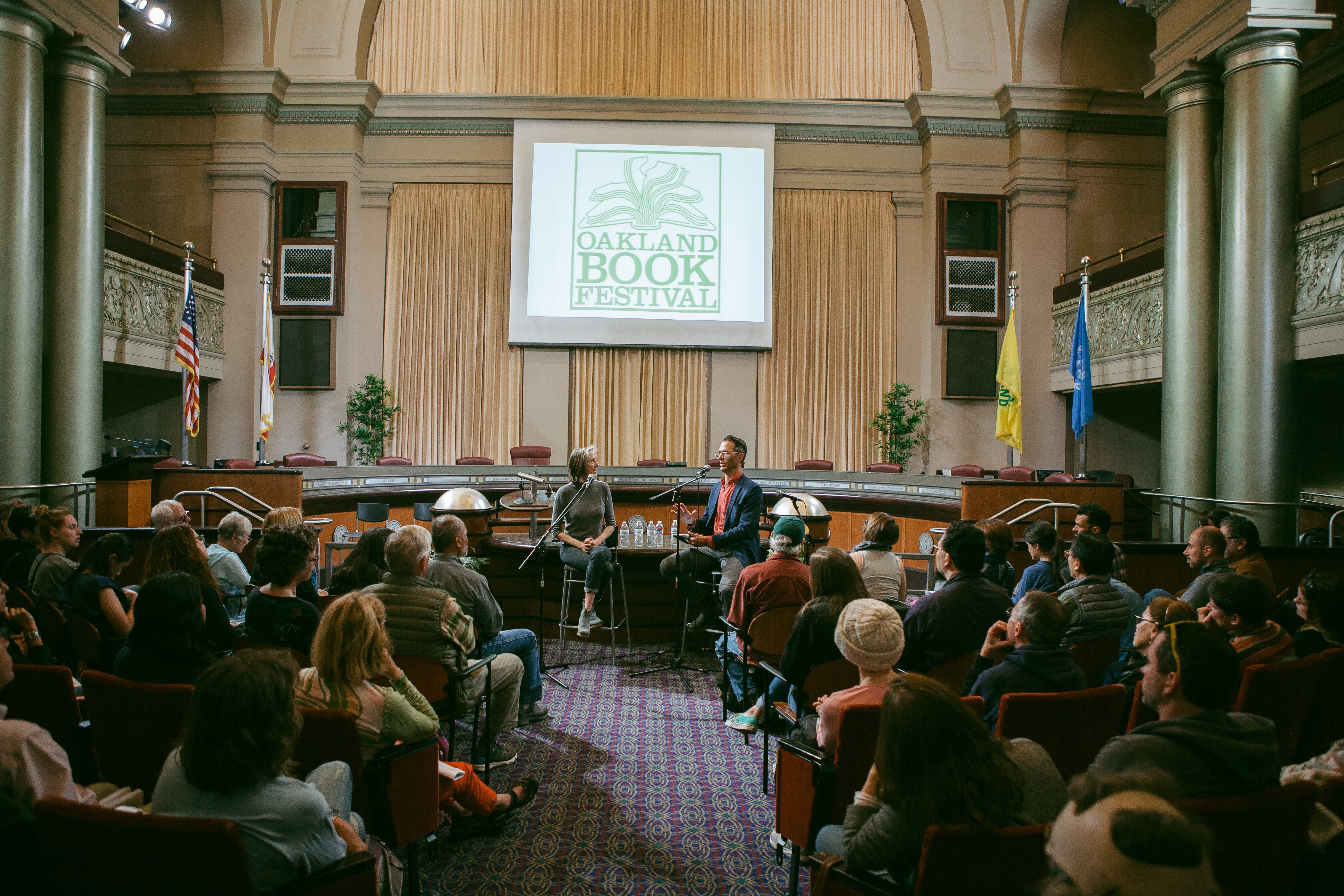 When literary veterans Kira and Timothy Don founded the Oakland Book Festival, they did so on the premise that the city's residents are sharp, culturally literate, and deserve a free festival where they can foster a dialogue on the issues that matter. "We really understand the life of a mind as cultural commonwealth," explained Timothy Don in a phone interview with the
Express
. He emphasized that the planning team for this year's festival wanted maximum accessibility to the conversations that will take place, which is why OBF remains free to all.
A notable addition to this year's planning crew is former managing editor of the
Express
and Anti-Lab co-founder, Sarah Burke who curated many of the panels with a local slant. "While I think one of the things that makes the festival exciting is the opportunity to see local intellectuals in conversation with public thinkers from across the country, I think my panels are also a testament to the fact that, at its core, the festival is intended to amplify the critical, urgent, productive conversations that are already happening here," Burke said.
Each year, since its inception, the festival juxtaposes two ideas as points of conversation. The 2015 inaugural festival explored "Cities" as utopias and dystopias. Last year's festival offered "Labor" as a means to freedom or oppression. This year, the festival continues that tradition with "Equality/Inequality."
"I really wanted to structure it around equality itself next to inequality … to unpack what we mean about equality," Don explained.
The festival kicks off Saturday afternoon with a keynote address from political theorist and Harvard professor Danielle Allen, who will consider equality through the lens of the Declaration of Independence. A conversation on inequality between Judith Butler and Angela Davis will complement her address on Sunday. Other writers, authors, theorists, and more will meditate on this year's theme, on both a local and global scale.
Consider the following an abbreviated preview of the weekend's rich program .
Race and ethnicity in contemporary American lit
11:00am-12:15 pm, Hearing Room 2
Presented by Before Columbus Foundation, the educational nonprofit dedicated to disseminating and promoting multicultural American literature, this panel features Chris Jackson, arguably the most impactful contemporary publisher (think works by Edwidge Danticat, Ta-Nehisi Coates, and Mat Johnson) in conversation with award-winning poet and playwright Ishmael Reed, who just wrapped a residency as Poet Laureate at SF Jazz.
Arts advocacy after Ghost Ship
Dalziel Building, 2–3:15pm
This panel will explore how the Ghost Ship fire exposed strengths and blind spots of arts and community advocacy in Oakland (featuring East Bay Times staff writer Erin Baldassari, who covered the tragic Ghost Ship fire extensively; co-founder of the Immediate Fire Relief Fund and local artist Sharmi Basu; musician and social-justice organizer Steven DeCaprio; and community organizer Van Dell).
"In-betweenness" and Asian-American identities
Hearing Room 3, 3:30pm-4:30 pm
Cultural critic and writer Jeff Chang authored an essay titled "The In-Betweens," which examines the complexities of Asian-American identity in this country and navigates privilege, stereotypes, and oppression. Chang and comedian/writer Luna Malbroux will further explore these themes in a conversation moderated by editor and curator Dorothy Santos.

Racial profiling and its impact on youth
Laurel Book Store, 3:30 pm-4:30 pm
Presented by Youth Speaks, this panel features Jada Carter, Lorenzo Lewis, Grace Mwamba, Isabela Vanier, all Bay Area youth of color who will speak on racial profiling, policing, and security culture.
Hip-hop's history with social justice

4:45 pm -6:00 pm, Dalziel Building
Moderated by former
Express
music editor Nastia Voynovskaya, this panel challenges the definition of "conscious rap" as a siloed subgenre with a distinct aesthetic, and will feature four locally based hip-hop artists including Mistah F.A.B. and Alia Sharrief.