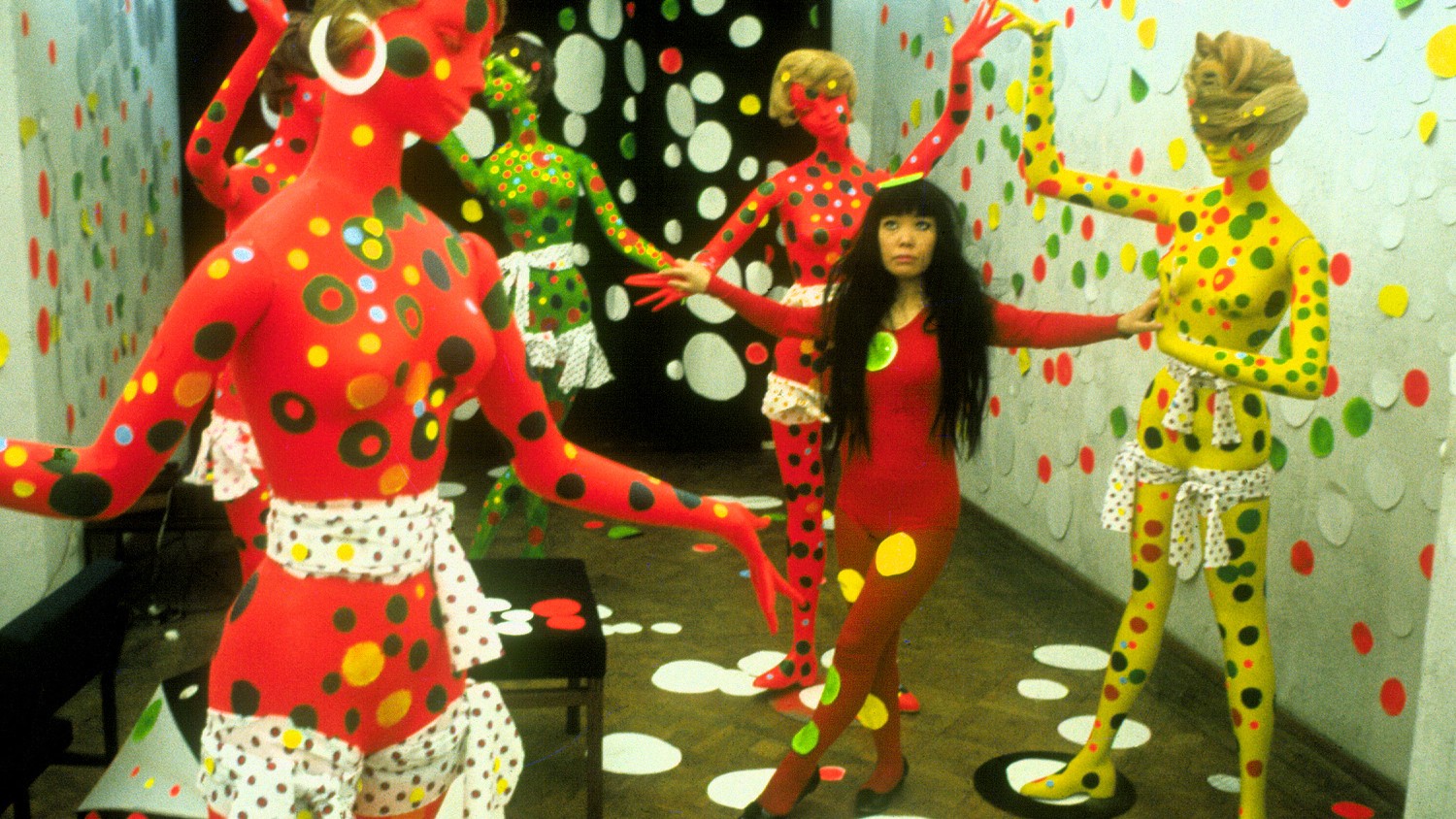 For moviegoers who do not follow the contemporary visual arts world, the sights in Kusama – Infinity are so dazzling that you may walk out of the theater thinking, "What an astonishing talent. Why haven't we heard about Yayoi Kusama before?" That's the major point — but certainly not the only one — of filmmaker Heather Lenz's wondrous documentary profile of the Japanese painter-sculptor-installation creator-performance artist-writer, who is billed as the most successful living female artist in the world.
Kusama was raised in a conservative family in the provincial city of Matsumoto in the years before World War II. A painful early memory is the panic she felt when her mother snatched one of her drawings out of her hands — young Kusama's parents disapproved of her artwork and wanted her to marry and settle into prosperous conformity. They had no way of understanding the hallucination she experienced when she walked into a field of flowers and lost herself in the lush organic universe. Nor her need to evoke that feeling with her beautiful, highly detailed nature artwork. Kusama rejected all marriage proposals, began showing her paintings in a gallery above a movie house, and eventually summoned the courage to depart Japan for New York City, after first writing to artist Georgia O'Keeffe and expressing her admiration. (O'Keeffe became her spiritual mentor from then on.)
New York was the hothouse in which Kusama's extravagant visions flourished. She took a giant step away from representative nature studies into something more akin to science fiction — strange new worlds that nevertheless seem familiar to anyone who has closely observed the lives of plants and flowers. She called her painstaking, minutely rendered abstractions "dots of the universe," and the fields in which they existed "infinity nets." Kusama produced her startlingly textured, arguably psychedelic work at a feverish pace, but in the 1950s, solo art shows by women were virtually unheard of. This petite Asian woman was not taken seriously by the art establishment. The rejection hurt her deeply.
And so in the midst of director Lenz's gorgeously colorful biopic, with its talking-head testimonials by admiring curators, gallery owners, and art historians, as well as Kusama herself, a gray cloud of emotional gloom hangs over the artist's efforts. She entered into Freudian analysis in New York, and rationalized her career as a means of "developing my psychological problems into art."
We observe Kusama as she is today, in a bright-red wig, granny glasses, and a red-and-white polka dot chemise, creating a hand-drawn pattern of radiating lines filled in with dots and cross hatching with a black marker. She explains herself and her large-scale works in careful Japanese: "Accumulation is the result of my obsession, and that philosophy is the main theme of my art." Lenz's camera reveals that Kusama currently resides in a psychiatric hospital and commutes to her studio daily. In the 21st century, long lines form to view her art, and her pieces sell for millions.
It wasn't always that way. In the turbulent art scene of the 1960s, Kusama relied on increasingly provocative behavior to get her avant-garde creations noticed. "Nobody bought them, and yet everybody was talking about them," notes one collector. Claes Oldenburg reportedly turned to soft sculpture after seeing Kusama's installations, and Andy Warhol imitated her repetitions. Outrageous ventures into performance art, nude body painting, anti-Vietnam-war protests, and publicity stunts — she ran naked through Central Park for one film and performed gay marriages years before anyone else — caused her work to be dismissed and her contributions to modern art to be largely forgotten.
But now the world has finally caught up to Yayoi Kusama. Kids come to see her work, and her installation Infinity Mirrored Rooms draws crowds to museums. This marvelous biodoc opens the door to a unique, massively prolific talent. See it immediately.

[embed-1]