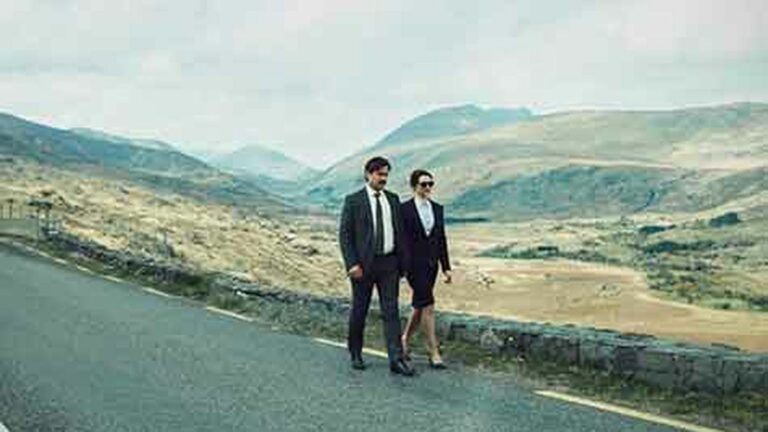 We seem to be in the midst of a flurry of dystopian fantasies. Blame it on our global situation or the vogue for extravagant CGI, but movies that predict a terrible future have proved remarkably sturdy. (Maybe "sturdy" isn't exactly the best descriptor.) At this point, the prospect of watching another movie about an absurd future is only slightly more appetizing than being forced to sit through an Adam Sandler retrospective.
But The Lobster is different. In Yorgos (Dogtooth) Lanthimos' international sci-fi film — made with money from Greece, Ireland, the Netherlands, France, and the UK — we get involved with the plight of David (Colin Farrell), a mousy, mustachioed architect who checks into a state-run country "resort" with his border collie. He's not there by choice. The subdued, highly regimented inmates/guests of the Hotel are all people who have lost a significant other in some way, and they're expected to pair up with another guest within a set amount of time in order to get back to the City. If they can't manage that, they're taken to a special room and magicked into an animal.
One of David's fellow guests, an unnamed man with a lisp (John C. Reilly), has already picked out his animal alter ego. Likewise, David; he wants to be a lobster. Better that than be branded a loner. Loners are banished to the forest, where they are hunted down by cold-eyed, ultra-fit women, such as the one (Angeliki Papoulia) on whom David sets his matchmaking sights. Meanwhile, the armed loners and their leader (Lea Seydoux) are every bit as severe as the partnered-up folks.
Fans of George Orwell, The Hunger Games, and the long list of similar ugly-things-to-come scenarios may well get itchy feet in the first quarter of filmmaker Lanthimos' tale — written with frequent collaborator Efthymis Filippou. After all, there's nothing in the world quite so tedious as a labored allegory about how cruel the future is going to be, especially one in which the hero's brother is a dog. But the excellent cast of mostly British actors — also including Rachel Weisz, Ben Whishaw, Olivia Colman, and Jessica Barden — lends the story weight, beginning with Farrell's rigorously innocuous David, and extending inevitably to Weisz' character, a short-sighted woman. Combined with the gorgeous cinematography of Thimios Bakatakis and the director's not-quite-hopeless tone of quiet despair, the character acting lifts the film up all the way into the realm of the unforgettable.
The dour, unsettling beauty is not in the story, but the telling. Among the recent crop of dystopias, The Lobster is quite possibly unique — an actors' workshop exercise that relies almost entirely on dialogue and situations instead of kinetic displays of heroism. After all, when you can be sentenced to life as a Shetland pony at any moment, the only rebellion left is true love. That sour romanticism lingers after the film ends. Do you dare to see The Lobster alone?