Axel Void requested that his portrait not accompany this story. "The show is about Alvie, not me," the artist insisted while seated in his temporary downtown Oakland studio. The travelling, internationally recognized muralist and painter was referring to Nobody, his upcoming solo show with Athen B Gallery. And, indeed, the show is not about him. The titular "nobody" is actually a San Francisco man named Alvie Morris. Nobody is a forty-minute film, concrete bust, and a series of oil paintings that tells the story of Morris' quotidian life.
Void was born in Miami but grew up in Spain. He's been painting since he was a kid, having been brought up in an artistic family. (His great-grandfather was a portrait painter who worked for the Spanish dictator Francisco Franco.) When Axel was around twelve years old, he started painting graffiti. As he grew up, his love of graffiti and figurative oil painting merged. Now, he travels the world painting massive aerosol murals that resemble impressionistic oil paintings.
Typically, to prepare for a mural, Void first gets to know the neighborhood. He walks the streets and asks residents for their stories. Then, he chooses a subject. Sometimes it's a comment on the political climate of the place, the history behind it, or a cultural idiosyncrasy specific to that location. But most often it's a portrait of an ordinary person who lives there — a symptom of Void's nearly obsessive interest in everyday people.
In Chennai, India, he chose a homeless elderly woman who slept at the train station he painted. In Paris, it was Elsa, a baby that had just been born in the district where the wall stood.
Three years ago, Void was participating in a mural festival in Atlanta called Living Walls. But the wall he was assigned presented some obstacles: It was secured last minute, and it was in a slightly gentrified neighborhood where he felt it difficult to grasp a sense of the community. So, instead, Void used a photo that he encountered online as his reference: a young blonde boy wearing a striped shirt, with a patch over one eye, and thick rimmed glasses over both. To finish it off, the artist wrote "Nobody" in white letters across his chest.
Not long after, Void received an email from a stranger named Alvie Morris. Attached was a playful photo of the Bay Area native clamping the original source image for Void's Atlanta mural between his teeth. Morris had seen his mural printed in the pages of the street art magazine Juxtapoz, and he wanted to know why Void had painted his childhood portrait onto the side of a building halfway across the country.
In typical fashion, Void responded with a few answers — and many of his own questions. Over the next few years, the duo remained pen pals and Void began collecting details about Morris' life: He was born in Tulare in 1970; he used to sing in a metal band and dressed up as Jesus for all of their performances; he struggled with alcoholism, but has been sober for five years; he works as a butcher; and he often cares for his niece, Zoe, who is the center of his world.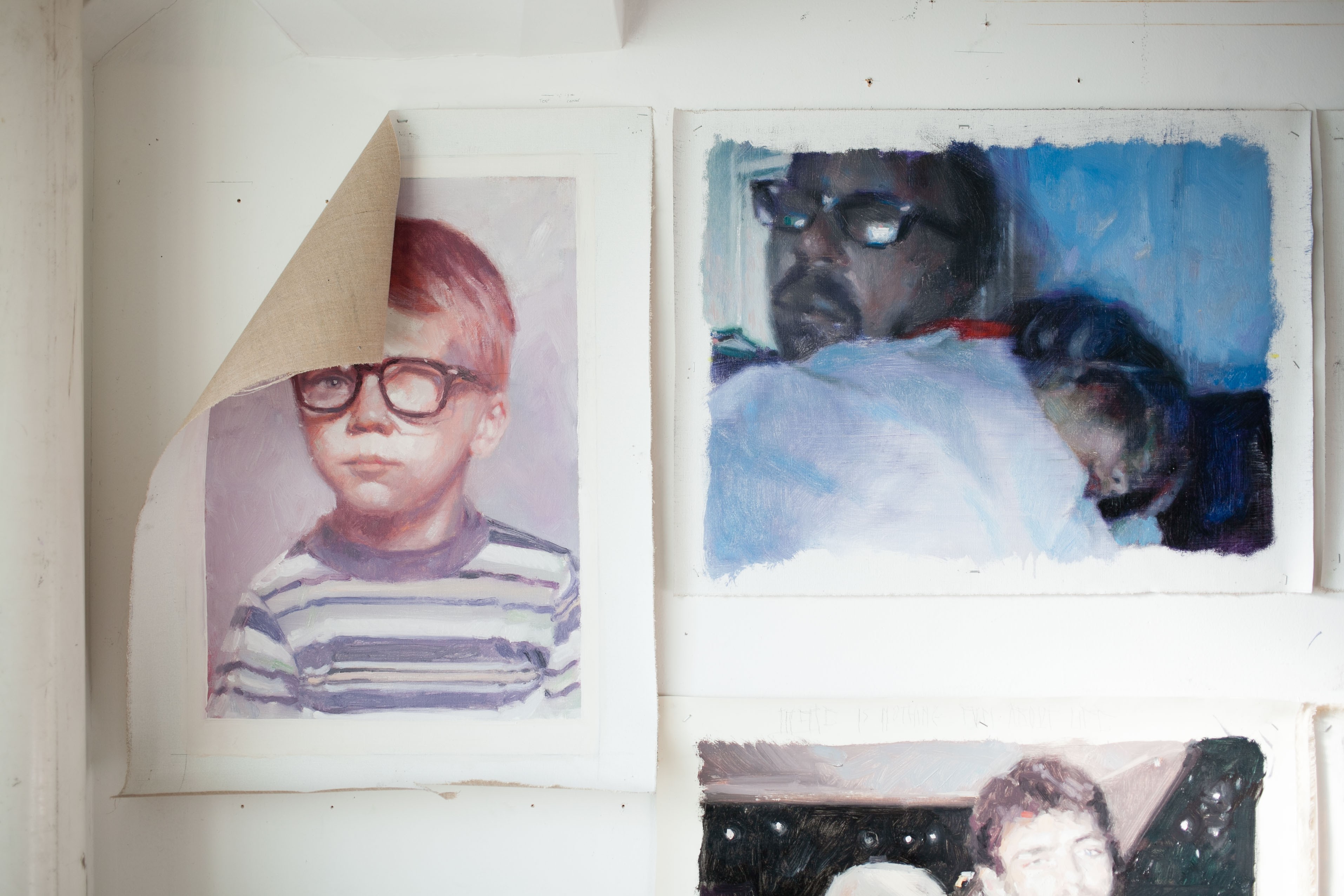 Three weeks ago, Void came to the Bay Area to learn even more about Morris, and to work on a show honoring his life. Titled Nobody, it will treat Morris as an important historical figure.
A stately concrete bust, akin to the kind made for world leaders, will sit in the center of the show, surrounded by exquisitely rendered classical oil paintings of pictures from throughout Morris' life. Plus, a forty-minute film — half shot by Void and half shot by Morris — will offer an example of a typical day as Morris. The show will open on Saturday, May 7, at 7 p.m. in a vacant storefront near Jack London Square (222 Broadway) where Athen B Gallery is preparing a pop-up specifically to host it.
This isn't the first time that Void has done a whole show about an ordinary person. In fact, Nobody is just the latest addition to a series that he's been working on for the last ten years called "Mediocre." By pairing artistic techniques reserved for high-brow portraiture with mundane subject matter, the endearing works celebrate ordinariness. It's not an entirely original artistic mission, but Void's earnest selflessness and long-term commitment to elevating others makes his work stand out — especially within the street art world, where egos are often infamously bloated.
"Nobody" is also a subseries within "Mediocre," of which the work around Morris is merely the latest. Last year, Void did a "Nobody" mural in Montreal. To abide the locals, he used French: "Personne." But used in different contexts, "personne" can translate to both "nobody" and "somebody." Void relished how the double meaning captured his intention: that calling someone a "nobody" is but an abstraction of their rich and complex character — an entry into finding out who they actually are.
"That's the play. As soon as I write 'nobody' across the face, everybody is gonna want to know who this person is," he said. "It's the same idea with 'mediocre.' It's not mediocre. It's the quotidian life. It's very relevant."