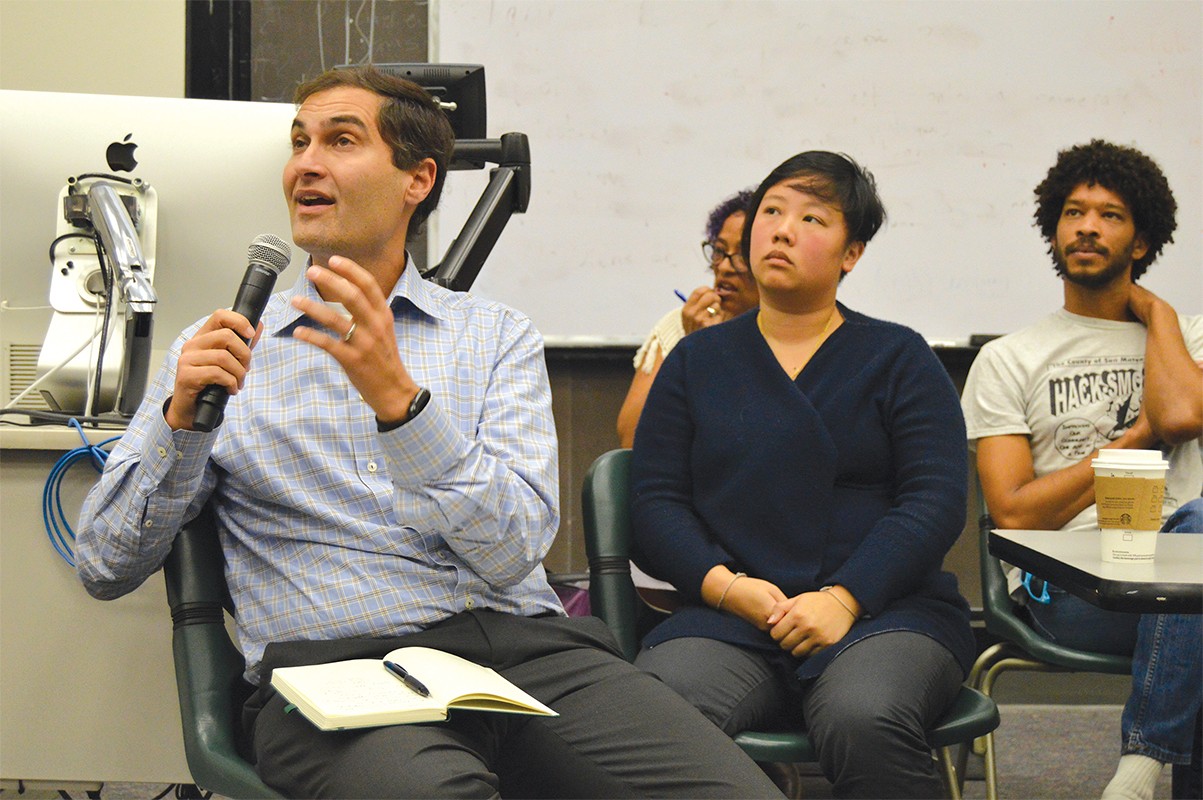 To date, perhaps the most vocal opposition to the Oakland A's' plan to build a ballpark on Peralta Community College District property has come from the nextdoor Laney College campus. Officially, Peralta college district officials have yet to take a position on the team's proposal to build a 35,000-seat stadium on East 8th Street, but many faculty members and students are either skeptical or completely against the plan. Their concerns range from traffic and noise impacts to fears about gentrification and displacement.
Kimberly King, a professor of psychology at Laney College, is worried that the noise and pollution caused by the ballpark's construction would disrupt campus life for several years. "A lot of our students are the first in their family to go to college," said King. "They even come from a home environment that might be disruptive. They see Laney as a safe place and as a quiet place where they can get work done. I believe that having the A's stadium would really impact that negatively."
She also sited potential fireworks on game nights after the ballpark opens, music amplification, and even possible concerts as reasons to oppose the A's' plans.
Although the A's have yet to say whether they intend to host concerts at the stadium when the ball club isn't playing, the Oakland-Alameda County Coliseum — the team's longtime home — has hosted numerous concerts over the years. The Mercury News reported in 2012 that a dance festival at the Coliseum called "Beyond Wonderland" prompted 1,500 calls to the Alameda Police Department.
In an interview with the Express, A's President Dave Kaval said he's aware of the concerns that faculty have raised. And he said the A's understand the importance of protecting the classroom experience at Laney and will make sure the school "is not affected by the games in a negative way."
"I think there is a wide variety of ways to do that, in terms of laying out the urban design of how people approach and enter the ballpark, where people park, how many people take public transit versus driving or ride sharing," he said. "All those things together can create an ecosystem that can kind of insulate the college and allow people to continue their studies in a real positive way." Kaval spent last week attending forums at all the Peralta colleges — which include Laney and Merritt colleges in Oakland, Berkeley City College, and the College of Alameda — answering questions and addressing concerns from teachers and students.
However, many at Laney are unsure if it's possible to mitigate problems of congestion and noise, given how close the ballpark would be to the school. The college is in-between the Lake Merritt BART station and the proposed ballpark, placing it on the footpath of potentially thousands of fans walking to and from BART on game day.
"If you have to count for 30 extra minutes for transportation, or 20 extra minutes to find parking, or there is a game going on and you have to wait three BART trains before you can get to class, it just becomes really inaccessible," said Laney student Lauren Jelks, 20. Jelks is also a member of "Laney Land for Students," a group of students and faculty that opposes the ballpark.
"We're worried that with this construction and the other challenges that will come with the coliseum that we might lose further enrollment," said King, who organized the Nov. 1 forum on the A's' plans at Laney.
The college's budget is based heavily on the number of students enrolled, according to Blake Johnson, a history professor at Laney. So, if the ballpark decreases enrollment, it would hurt Laney's finances.
Peter Brown, a machine shop teacher at Laney, said he also has concerns about more development around Laney. He said it isn't just the stadium that he's worried about, it's also the businesses and real estate deals that will crop up around it and displace local mom-and-pop businesses and families.
While few teachers have come out in favor of the stadium, there are some who think that a beneficial deal with the A's could be the answer to Laney's infrastructure woes. Louis Quindlen, a machine shop teacher and department chair at Laney, said that if the district could negotiate a deal to help repair campus buildings and grounds, he thinks it would be good for the school. "We need large amounts of money to fix this campus," said Quindlen, at the faculty forum at Laney.
The community college has sizeable issues with its facilities that could cost the district anywhere from $30 to $50 million dollars to fix, according to a memo released by the Laney Infrastructure Working Group subcommittee in January. Other fix-it estimates are even higher. At the forum, speaking in front of other faculty and students, Quindlen estimated the school needs $300-$500 million in repairs. "If we don't get serious investment here, Laney will disappear because it will not be viable," Quindlen said. Quindlen described his position on the proposed ballpark as, "Yes, if," meaning his support depends on whether the ballpark benefits Laney economically.
But others believe that the school should rely on public bond money to repair Laney rather than private finance. "We are a public institution, and we should be funded by public sources," said King.
Because Peralta has not yet officially decided to negotiate with the A's, there are no concrete examples of how the stadium could benefit the college. But some perks could include revenue streams for the district and work force development connections with students, according to Jennifer Shanoski, president of the Peralta Federation of Teachers union. The union has not yet taken an official stance on the ballpark. "The union will take a position following forums at each Peralta community college, which aims to educate faculty about the ballpark, as well as take questions," Shanoski said.
The union would only support negotiations around the ballpark if potential revenue streams would go to "support faculty in their support of students," Shanoski added.
According to a memo released by Chancellor Jowel C. Laguerre, Peralta Trustees will discuss their community engagement process concerning the ballpark at their meeting on Dec. 12. On Oct. 30, Laguerre released a memo that stated there was "no commitment, no decision, and no deal," regarding the lease or sale of Peralta land to the A's.