In the fall of 2014, two grand juries failed to indict white police officers in the deaths of unarmed Black men. The decisions in Ferguson, Missouri and Staten Island, New York were a clarion call for many who were fed up with the repeated loss of Black lives at the hands of police. Ferguson burned. The East Bay seethed. People took over city streets, shut down highways, and blocked public transit. Oakland police, in a report issued to the city council in March, counted 23 protests during a 38-day span, from November 24 to December 31, drawing nearly 10,000 people — not including demonstrations in Berkeley.
Though the heat of the uprisings has since cooled, the clamor for accountability has moved to city council meetings, community gathering spaces, and public forums. During the past year, activists have won policy changes, built and fortified community organizations, and kept the demands of the Black Lives Matter movement at the forefront of political conversations and popular culture. Despite this progress, all of the activists I spoke to recently said their work was far from over.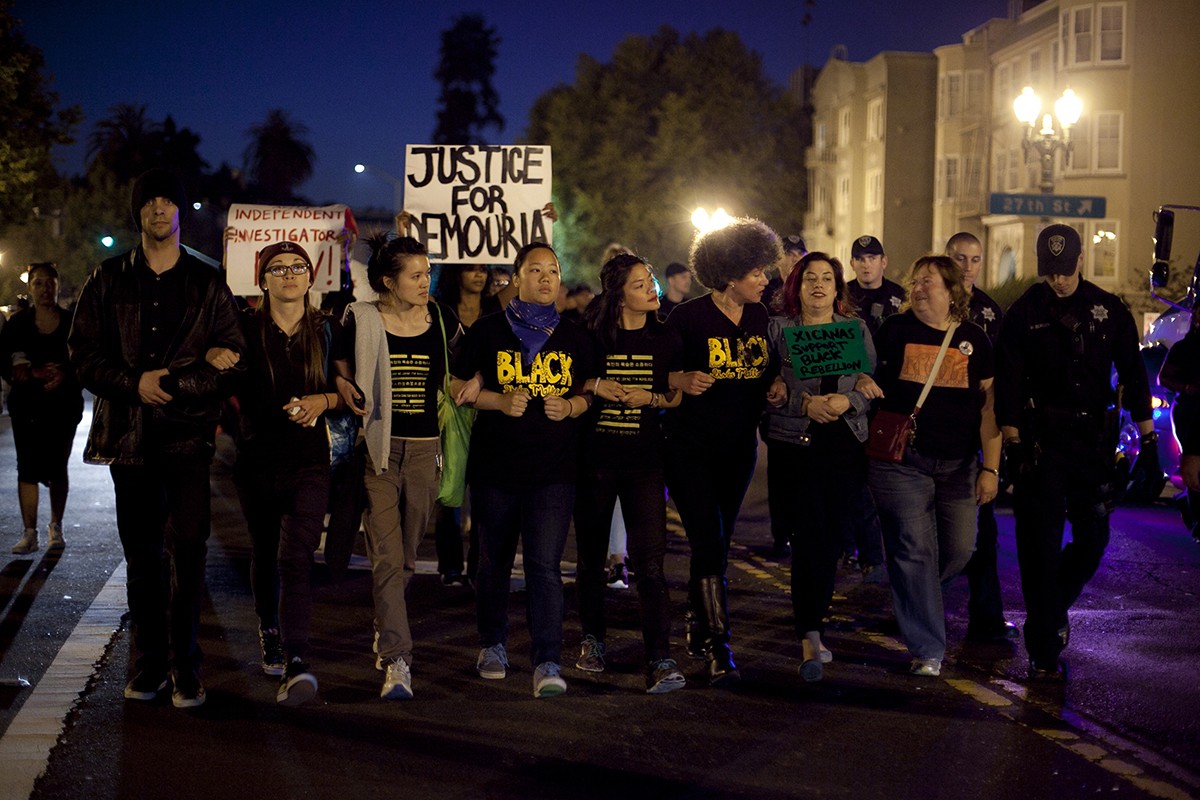 For Sanyika Bryant, national secretary of the Malcolm X Grassroots Movement and member of its Oakland chapter, the uprisings last year were just part of a series of demonstrations nationwide that began in the mid-Aughts with the response to the Jena Six — six Black teenagers who were arrested following the December 2006 beating of a white high school student in Jena, Louisiana. Five of the teens were initially charged with attempted murder, and more than 10,000 people rallied to condemn what they saw as unduly harsh treatment within the justice system. Bryant said that since then, incidents nearly every year have brought demonstrators out to the streets, including in the East Bay, where demonstrators protested following the 2009 shooting death of Oaklander Oscar Grant by BART police.
"Every year we've had something that's popped off. It's been building and building and building," Bryant said. "So, we look at it as a continuation of events, but more and more people are really starting to see what's going on."
An important outcome of the surge in protests last year — which began locally in November when a Ferguson grand jury decided not to indict Officer Darren Wilson in the death of 18-year-old Michael Brown — was the growth of community organizations focused on advancing racial justice that are more inclusive for women, queer, and trans people, Bryant said. He pointed to the Black Lives Matter group, which began in 2012 with an all-female leadership, as one example of women taking on high-ranking positions, traditionally dominated by men, in the Black liberation movement.
In Oakland, the group Black.Seed formed out of the Black Brunch protests — several demonstrations that harkened back to the sit-ins of the Civil Rights movement and were a response to the non-indictments of Wilson and New York police Officer Daniel Pantaleo, whose chokehold of 43-year-old Eric Garner led to the Staten Island resident's death. The Black Brunch protests were a way to channel outrage over those events in a direct, nonviolent way and call attention to the lack of accountability for the officers involved. But the primary focus of Black.Seed has been to nourish its members and the community both spiritually and emotionally, said member Michal Jones. "Some of that work is invisible and won't make headlines," Jones said. "It's about cultivating community."
Black.Seed later did make headlines by shutting down an Oakland City Council meeting in May, along with several other groups, to protest a proposed development at East 12th Street that would have allowed luxury housing on public land. The council approved the deal but then scuttled it after the Express revealed that the pact violated state law.
Like many of the activist organizations involved in the broader struggle for racial and social justice, Jones sees the fight for parity as not just a law enforcement or criminal justice issue, but one that manifests along economic, educational, and social lines.
The Malcom X Grassroots Movement was one of several organizations that sponsored the first State of Black Oakland, a Black community forum focused on methods for addressing racial justice from a holistic point of view. The March 2015 event hosted several hundred people who were split up into nine listening sessions. Next year, Bryant said the forum will aim to draft a Black people's agenda for the city, which will include actionable outcomes that community groups and individuals can work toward advancing.
"We've seen time and time and time again that the government is going to do the exact opposite of what is in the interest of Black lives — or any oppressed people," Bryant said. "In order to combat that, we're going to have to make decisions for ourselves and build leadership in a way that we really rely on ourselves."
Bryant pointed to the Anti Police-Terror Project as an important example of an independent grassroots organization. Rather than rely on government institutions, the group sends representatives to respond immediately to officer-involved shootings and gather witness statements, provide legal support, and offer emotional counseling.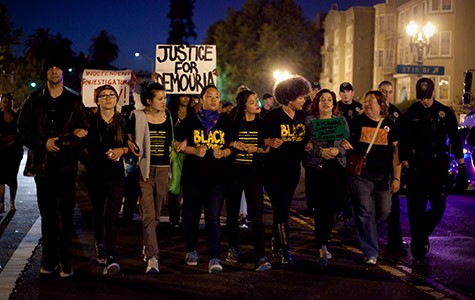 Within local government in Oakland, perhaps the most salient response to the Black Lives Matter movement has been the creation of the Department of Race and Equity. Councilmember Desley Brooks first proposed the new department at a January 29 rules committee meeting, and the council voted unanimously to establish it in June. Brooks looked at what other cities were doing to address what she saw as systemic problems relating to racial and social justice nationwide and then modeled the proposal on similar departments in Portland and Seattle, she said. "It was about watching what's going on in the community both nationally and locally and feeling like something has to change," Brooks explained.
The department will be tasked with reviewing city policies and coordinating with other departments to ensure they align with the goal of racial and social equity, among other responsibilities. In November, the council voted to hire the head of the Portland Office of Equity and Human Rights, Dante James, on an interim basis to help establish the department. Brooks said James would likely begin working in Oakland early next year.
Cat Brooks, a member of the Black Lives Matter group and co-founder of the Anti Police-Terror Project, lauded the move, though she remained cautiously optimistic. "What I hope is that the department is able to actually address the other ways people of color face oppression," Cat Brooks said. "But you know, once its in the hands of government, who knows what will happen?"
With trust in the government's ability to keep people of color safe running thin, Frank Tucker, president of the Bay Area chapter of 100 Black Men, drafted a series of resolutions in April aimed at addressing police accountability and systemic racism. The eleven resolutions include provisions that range from instituting regular psychological screenings for police officers to reviewing the effectiveness of the department's use of force policies. One of the resolutions, adopted by the council in September, called on the city to affirm the public's right to photograph, videotape, and audio record police officers and dovetailed with a state law that the governor signed in August.
Another resolution went a step further, calling for a "Do Shoot" public service campaign to urge anyone seeing someone pulled over by the police or being arrested to shoot video of the incident with his or her cellphone camera. Tucker said the city will begin advertising the campaign, renamed "100 Cameras," sometime in the new year. And though Tucker said his group wasn't able to institute regular psychological screenings of police officers, the city did dedicate $400,000 to establish a "wellness center" within the police department, which officers could access on a voluntary basis. Councilmember Brooks said the police department is still determining where to site the "one-stop shop" for mental wellness but said it would "be up and running, hopefully by the beginning of the next year."
Tucker's group also called for the police department to review its use of force policies. US District Court Judge Thelton Henderson, who has been overseeing OPD reforms since a 2003 settlement of a police misconduct lawsuit, ordered the department to the do the same. Henderson set a deadline for this week for the department to strengthen its review of fatal officer-involved shootings.
Earlier this year, the city hired a consultant to review the department's stop data and recommend possible changes. The council also established an ad hoc committee on police recruitment and retention that is specifically tasked with determining ways to attract more African-American, Asian, Latino, and Oakland-dwelling officers. Council President Lynette Gibson McElhaney said that more than anything, the movement has raised critical questions on bias and allowed people to connect in ways that ensures the movement will be sustained.
"When you start dealing with racial injustice in policing, it opens up the conversation around disparate treatment in all other sectors — like employment, education, and housing," she said. "It allows us to talk about how there's not yet equal treatment in all of these other various systems."