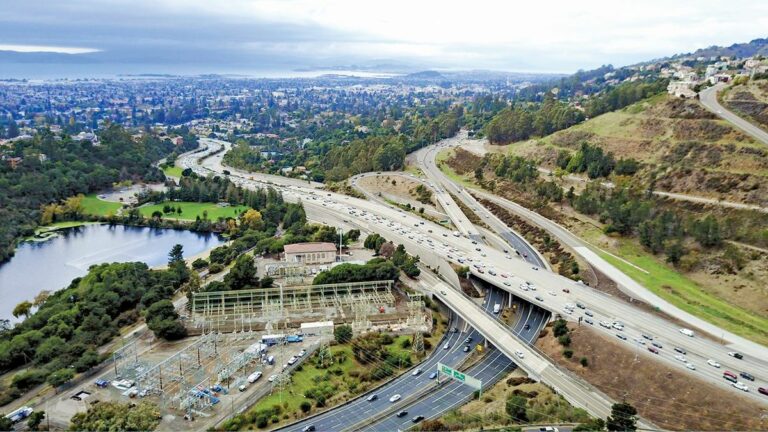 The earthquakes that rocked Kern County in early July are a potent reminder of the East Bay's own seismic risk. Last year, the U.S. Geological Survey imagined what could happen during a 7.0 quake on the Hayward Fault, which stretches 74 miles from north San Pablo Bay past San Jose. This so-called "HayWired Scenario" envisioned 800 people dying, 18,000 more being injured, and widespread damage occurring to property and infrastructure. The study also predicted that the surface of the earth would rupture in places "where the fault is currently creeping."
Some fault lines, which mark the edge of plates in the earth's crust, only move during earthquakes. But not the Hayward Fault; it moves slowly between earthquakes, "creep" that can be seen along area roadways and was notoriously visible at UC Berkeley's Memorial Stadium before its 2012 reconstruction. Like the stadium, which was reengineered to withstand such creep, Lake Temescal in Upper Rockridge sits atop the Hayward Fault, which passes underneath the right abutment of the manmade lake's aged dam. Experts agree that creep has been observed near Lake Temescal Dam, but disagree on whether this indicates the area is at risk of suffering major damage during a strong quake.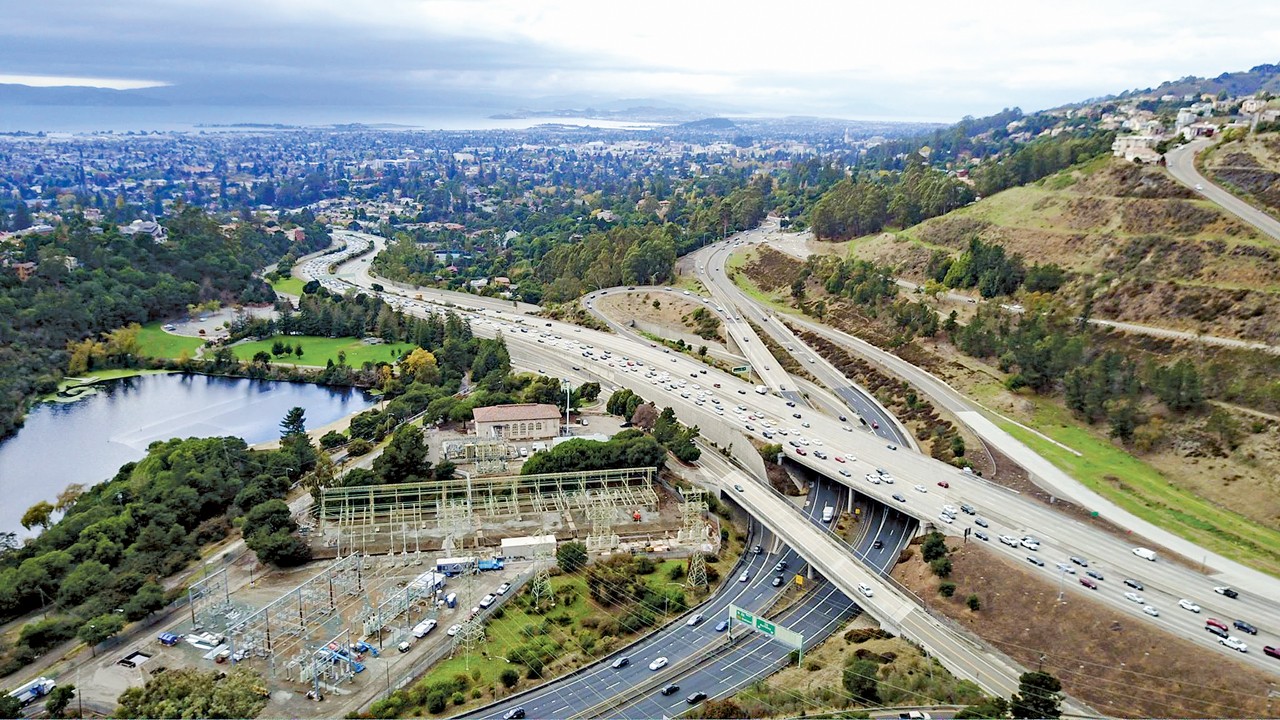 Scientists say the Hayward Fault experiences a large earthquake with a magnitude exceeding 6.5 approximately every 100 to 220 years. The last major quake on the fault occurred in October 1868, in the middle of the construction of Lake Temescal Dam, which did not start holding back water until 1869. The dam has since survived two major earthquakes, the 1906 earthquake and the 1989 Loma Prieta quake, but both of those occurred not on the Hayward but the San Andreas Fault, which runs to the west of San Francisco.
While many East Bay residents have pondered the impact of a strong quake on infrastructure such as highways, gas lines, and water mains, few may have considered the consequences of such quakes on the region's dams. But the East Bay Regional Park District has studied this eventuality. And according to a document titled "Ch-6_Earthquakes_DRAFT_2-2-2017" downloaded from the district's website, several dams on park property could be at risk of failing during a major earthquake. Lake Temescal Dam is one such structure. Other inner East Bay structures judged to be of similar concern include C. L. Tilden Park Dam and tiny Jewel Lake Dam, both on Wildcat Creek in Tilden Park.
Standing 116 feet tall, Lake Temescal Dam is situated at the intersection of Highway 24 and Highway 13. Built by Anthony Chabot between 1868 and 1869, the structure dams the waters of Temescal Creek, which starts in the Oakland Hills and flows down Thornhill Drive from Montclair to the Temescal Regional Recreation Area, where it is dammed. Below the dam, the creek moves primarily through closed, man-made culverts on its sad journey to San Francisco Bay, following Highway 24 before briefly emerging at the Rockridge Temescal Greenbelt, passing under Telegraph Avenue at 51st Street, veering sharply west, then briefly reappearing again at Temescal Creek Park before finally ending its travels at the Emeryville mudflats near Emeryville's Bay Street shopping center.
C. L. Tilden Park Dam stands 88 feet tall and is located on the north side of Lake Anza, near the parking lot. Built in 1938 to provide a swimming area and the means to water Tilden Golf Course, the dam and the lake sit about mile east of the Hayward Fault. Upon spilling over the dam and exiting the lake, Wildcat Creek flows north in its natural creek bed, above ground through Tilden and Wildcat Canyon Regional Parks. It flows into Jewel Lake and past Jewel Lake Dam, a structure that doesn't hold enough water to warrant monitoring by the state's dam safety agency. About four miles from Tilden Park Dam as the crow flies, the creek starts to flow past the houses of McBryde Avenue in Richmond. It continues its journey downhill into residential areas, passing under I-80, skirting the border of San Pablo and Richmond, then flowing north through San Pablo past the San Pablo Library before veering west at John Herbert Davis Park, into North Richmond and, ultimately, San Pablo Bay.
The California Division of Safety of Dams has classified both Lake Temescal Dam and Tilden Park Dam as having an "extremely high" degree of "downstream hazard risk." According to spokesman Chris Orrock of the Department of Water Resources, the division's parent agency, release of the dams' waters when full would be "expected to cause considerable loss of human life or would result in an inundation area with a population of 1,000 or more." That is not necessarily as scary as it sounds, since it implies nothing about the circumstances under which a dam could suffer an uncontrolled release of water, nor that it is at risk of doing so.
In fact, despite the February 2, 2017 park district document expressing concern about the dams, it remains unclear just what level of risk an earthquake would pose. The California Division of Safety of Dams lists Lake Temescal Dam and Tilden Park Dam as satisfactory, and state dam safety experts say they have never shown any issues related to seismic activity. But another geologist found evidence of creep in the dam's spillway, which the HayWired Scenario says could lead to surface rupture. The concern is that if these dams failed in an earthquake, they could potentially flood the neighborhoods downstream of them, causing property damage, injury, and even death.
---
Size matters when it comes to dams. Lake Temescal holds about 200 acre-feet at capacity, or about 98 Olympic-sized swimming pools worth of water. Lake Anza holds 268 acre-feet of water at capacity, or about 132 pools worth. In comparison, the tallest dam in the United States — Northern California's giant Oroville Dam — holds 3,537,577 acre feet of water at capacity, or roughly 1.7 million Olympic-sized swimming pools of water. But while these local dams are not remotely close to the size of Oroville Dam, they are still considered dangerous if they were to release uncontrolled water.
Shortly after the East Bay Regional Park District appears to have created the dam assessment found online, a major dam-related failure changed the course of the park district's plans to evaluate its dams. In early February 2017, a spillway at Butte County's Oroville Dam was damaged by heavy flows, prompting the evacuation of more than 180,000 downstream residents at risk of flooding. Following the incident, the state legislature passed a law requiring all California dam owners to submit an emergency action plan for each dam they own. These plans detail where flooding would occur if a dam was damaged, who would respond in case of an emergency, and how they would do so.
Owners of dams with a "high" downstream hazards rating were required to submit an emergency action plan by January 1, 2019. Vanya said the district submitted plans for Lake Temescal and Tilden Park Dams. The district was unwilling to provide a copy of those plans. Citing fears about terrorism, state law says that emergency action plans should be treated as confidential. "In order to keep this information from individuals with improper motivations, who could use the information maliciously to expose a dam's vulnerabilities and to disrupt a critical emergency response," the law states, "it is in the state's interest to limit public access to this information."
When the East Bay Express submitted a public records request seeking a copy of the newly-submitted Lake Temescal Emergency Action Plan from the agency to which the plan was submitted, the California Office of Emergency Services, a spokesperson declined to release a copy, saying the plan is still in draft form. The state is currently experiencing a back-log in reviewing and approving all these plans, Division of Safety of Dams spokesman Orrock said.
Both plans included an inundation map of which areas would flood if there was for any reason an uncontrolled release of water. These plans are being made public as they are approved, and can be viewed online at the Division of Safety of Dams website. The Office of Emergency Services has approved both of the inundation maps, Vanya said.
The approved inundation map for Lake Temescal shows that a wide area could flood if the dam failed. Immediately west of the dam, the map shows flooding north of Highway 24 and south of Chabot Road. But starting at College Avenue, the inundation area expands southward, as far as 20th street, with many surface streets flooding. The map represents an approximation, and does not go into detail about how many feet of water different areas could see. As per the law the state passed following the Oroville incident, people acquiring property in inundation zones are required to be informed of that risk. Meanwhile, the inundation map for Tilden Park Dam shows water fanning westward in two main strips near I-80 and the San Pablo Lytton Casino.
The agency returned the Lake Temescal emergency action plan to the park district for revisions, Vanya said, but has yet to return the Lake Anza plan. But the two plans were only required to outline what will be done in the case of an emergency. Neither one addressed what changes need to be made to either dam — if any — to prevent it from failing in the first place.
---
Meanwhile, the 2017 East Bay Parks document found on the agency's website outlined a list of actions the park district could take to address earthquake safety, including evaluating its dams for earthquake risk. It allotted a timeline of one to three years for this assessment. Parks spokeswoman Jennifer Vanya said she could not confirm how official the two-year-old draft document's conclusions were, adding that the district was unaware the document was publicly available.
Compared to retrofitting a house, if a dam needs fixes to make it safe in an earthquake, it requires a much larger study to come up with a proper retrofit scheme, said Khalid M. Mosalam, the director of UC Berkeley's Pacific Earthquake Engineering Research Center. And given how long ago many of the dams were built, he thinks it might be worth taking a look at some of these older dams.
"Something that was designed many, many years ago, at least a careful assessment considering nowadays knowledge seems like a must," he said.
Consider the case of some other dams in the East Bay — the East Bay Municipal Utility District reservoirs, which provide drinking water to millions of customers. Most of these dams shore up reservoirs that are larger in capacity than Lake Anza and Lake Temescal, including the San Pablo Dam, the Briones Dam, the Upper San Leandro Dam, and the Chabot Dam. Following a request from the Division of Safety of Dams, the utility district went through the process of evaluating all of its dams for earthquake safety and upgrades were made where necessary, said Nelsy Rodriguez, a public information officer with the district. Chabot Dam, built by Andrew Chabot, the same builder as Lake Temescal Dam, got a makeover thanks to this process. Though it was not expected to fail in a quake, it was determined that it might settle, losing three feet of height during a major earthquake, which would require it to be drained and then repaired. It underwent retrofitting between 2016 and 2017, and afterward, it passed the Division of Safety of Dams' inspection "with flying colors," Rodriguez said. San Pablo Dam also got some updates as a result of this process, said Tom Boardman, an engineer with the utility district. Today, all of East Bay MUD's dams are considered safe to withstand a strong quake.
The East Bay Regional Parks District was not asked by the division to do a large-scale evaluation of its dams for earthquake safety, Orrock said. Based on past reports, the district's dams are not considered in need of updates, he added.
Vanya said Lake Temescal Dam and Tilden Park Dam are inspected every other year for earthquake safety by the Division of Safety of Dams. But Orrock said that the dams are inspected annually by the agency. And both dams are listed by the division of dam safety as being in "satisfactory" condition, meaning that "acceptable performance is expected under all loading conditions," including earthquakes.
Orrock said that even though Lake Temescal Dam lies partly atop the Hayward Fault there is no indication that there has been movement or shifting in its structure. Geologists with the Division of Safety of Dams placed what are called "monument markers" at the dam — devices used to measure fault creep, often amounting to only millimeters per year. Orrock said the markers have not moved from where they were placed. If they had, and the movement had impacted the dam, that might indicate that the dam would need additional improvements to withstand an earthquake. "The instrumentation and physical inspections of the dam have never shown any issues related to seismic activity," he said.
But James Lienkaemper, a retired geologist with the U.S. Geological Survey who has studied creep along the fault, quarrels with that assessment. He said that he has measured creep in the spillway of the Lake Temescal Dam — on average, 4.4 milimeters per year — between 1976 to 2018. The creep does not cause significant damage to the dam or the spillway, he said.
When presented with this information, Orrock conceded that engineers with the Division of Safety of Dams have observed creep in the spillway of the dam, but not at a rate that gives the agency any cause for concern. The spillway begins as a concrete culvert, which then turns into a 94-inch steel pipe, and division employees have not observed an amount of creep in either of these areas that would cause them to think that the dam is unsound in any way, he said.
Dr. David Schwartz, emeritus geologist with the U.S. Geological Survey, who studies the fault and contributed to some of the documents in the HayWired Scenario, said that the agency had already worked with BART on how to address the creep that has been observed in the Antioch line BART tunnel where it crosses the fault, roughly a quarter mile north of the Lake Temescal Dam.
---
Even knowing that the Hayward Fault is not like other faults, it is still difficult to pinpoint exactly what will happen in a large quake.
"Let's say, for example that the next quake is a 6.8," Schwartz said. "If the fault ruptured completely and broke the surface all at once, there might be four or five feet of offset at the surface."
Alternatively, he said, there might just be some cracks at the surface at first, and then the creep will accelerate and create four or five feet of surface offset slowly over time, he said. This is what makes a fault like Hayward especially complicated to plan for and earthquakes particularly tricky to recover from.
Parts of Napa experienced this hardship first-hand in the aftermath of the 2014 South Napa quake, a 6.0 quake on the West Napa Fault, which is considered to be part of the Calaveras Fault. That fault also experiences creep between earthquakes. After the quake damaged a road, crews repaired it, only to discover it needed repairs again five days later due to continuing shifting and settling of the ground, Schwartz said. He believes communities along the Hayward Fault could be destined for the same complications.
"In some ways, it's alarmist, but in other ways, I think we really don't know what is going to happen when we have that major event along the Hayward in a densely populated area," Schwartz said. "I think we are going to see a lot of surprises in terms of the amount and styles of damage."
But Orrock says that even if a quake caused intense ground movement and shaking, or even if huge cracks happened along the fault, the dam and its abutments are so thick that they wouldn't experience damage that would lead to dam failure. First off, it is an earthen dam, an older style of dam that tend to weather quakes better than concrete or hydrofill dams. Second, the dam itself is so thick — over 500 feet at its base — that even if the quake affected the ground in some way beneath it, it still wouldn't likely affect the dam. Though he noted no structure is guaranteed to be completely safe.
---
The park district did not return a request for comment regarding if the district's plans to make public the results of its emergency action planning once each is approved by the state, whether they plan to share the contents of the emergency action plans with households that could be affected by dam failure, or how many households would be at risk if either Lake Temescal or Tilden Park Dams fail.
Despite some unknowns on how stable the dam is, some entities are already prepared for the worst. The Rockridge BART station is located a little over a mile and a quarter downhill from Lake Temescal Dam. James K. Allison, a spokesperson for BART, said the agency has protocols in place to respond to earthquakes, including flooding caused by earthquakes.
"We've been preparing for earthquakes for about 15 years now," Allison said. "Rockridge is one of those stations that has been upgraded, as has the aerial trackway in that system," Allison said. The station sits just north of where Temescal Creek passes underground at the intersection of College Avenue and Shafter Avenue. At the Rockridge station, the station itself sits on the ground and the tracks are above.
But general knowledge of even the existence of these dams and how their failure could impact local communities seems low overall.
"I don't even think that most of us even had an awareness that this is an actual dam," said Chris Jackson, operations manager of the Rockridge District Association, in reference to Lake Temescal Dam.