After two years of unsuccessfully trying to appease city inspectors, Josh Harkinson tore down his cedar split-rail fence along Glen Echo Creek on Sunday. Harkinson built the fence by hand because the old city fence that used to separate the street from the ravine was broken in many places. He was concerned that people could fall into the creek, which is filled with fast moving water in the winter.
But the city received complaints from some neighbors and sent inspectors to check if the three-foot-tall fence was on the city right of way. They concluded it was, and told Harkinson he would have to move it, and take other measures to "legalize" the rustic barrier. What ensued, according to Harkinson, was a seemingly endless list of expensive and overly bureaucratic demands.
"I really don't know what they are looking for," said Harkinson over the phone last weekend. "They are disputing every little detail."
See also:
The Oakland Fence Saga
"The city fence wasn't in the same location [as the new one] and probably wasn't in a good shape," said Lesley Estes, the city's watershed program manager. "But there was no problem with the existing fence that he [Harkinson] removed."
The city initially asked Harkinson to get an encroachment permit which also required him to purchase private insurance. Then city officials asked him to get professional plans for the fence.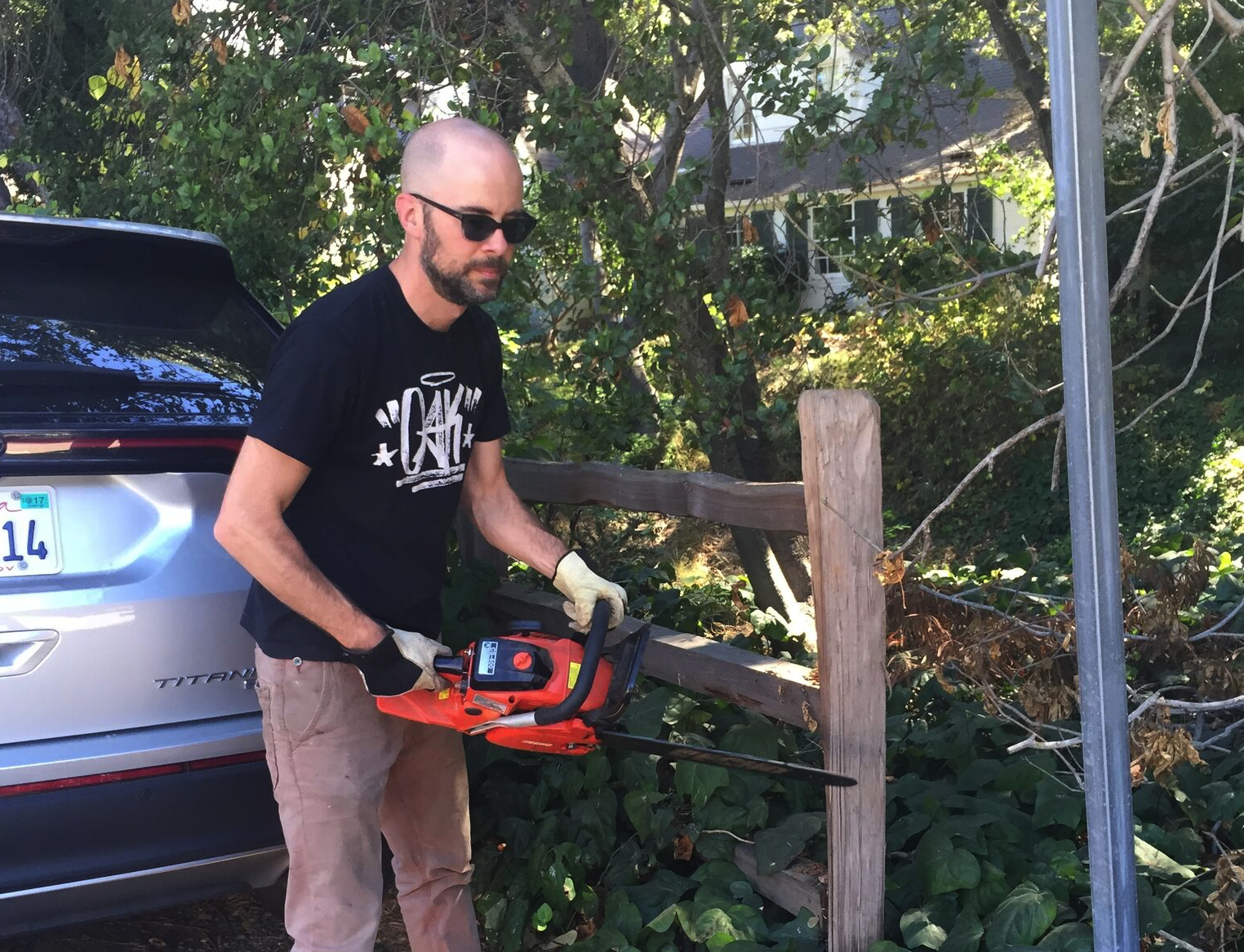 Harkinson was working back and forth with the city assigned inspector, Ed McNair, on the drawings of the fence and the property line boundary, but because Harkinson started working with Google Maps, his plans were rejected, and he was asked instead to use the assessor's map.
After not hearing back from McNair for a while, he received a letter from the city that stated his case has been reassigned to a different inspector.
The new inspector, Kevin Kashi, added a new requirement to legalize the small, simple structure: Harkinson would have to hire a professional engineer to come up with the drawings. Harkinson declined as it would've cost him hundreds of dollars on top of getting an encroachment letter.
"It's not worth it to spend thousands of dollars to legalize it," said Harkinson.
Using a chainsaw
on Sunday, Harkinson cut out the fence posts, re-opening the steep face of the creek to the street.
"We appreciated the work that was done along the creek," said Estes. "We just requested that it should be legalized."