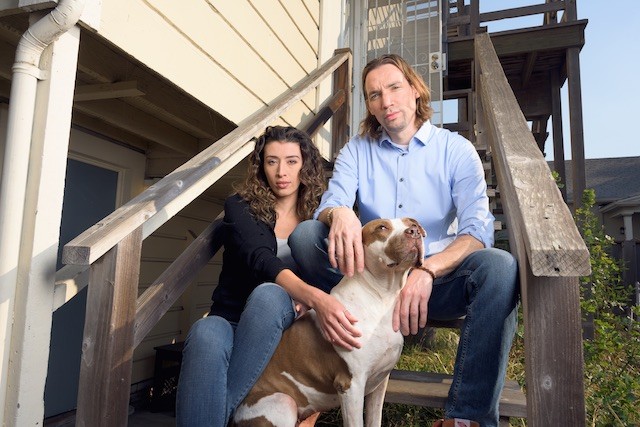 When Coyote Bryant and Kristina Thesken stopped by Calafia Taqueria in Alameda one night five months ago, they didn't expect to be there long. The couple parked their car in the open lot of Discount City and walked across Webster Street to pick up dinner for themselves and some friends visiting from out of town. It took maybe 30 minutes, but within 11, their car was gone.
Private Property Impound Inc., or PPI, which has a contract to tow cars from Discount City, had towed the couple's Toyota Corolla, and when they arrived at PPI's lot in East Oakland, it cost them $470 to retrieve their car.
Bryant and Thesken said PPI did not provide a copy of the written authorization for the private tow, a copy of their towing fees, or the company's motor carrier identification number — all of which is required by law.
The couple has taken the tow company to small claims court — one of more than a dozen lawsuits brought against PPI in recent years — to recover the fees they allege were illegally obtained, as well as extra damages for the inconvenience, according to Alameda County Superior Court records. But Bryant said that he and Thesken are one of the lucky ones. "They are essentially stealing people's cars," he told the Express. "And if they don't have the resources to get their car back, then it gets sold."
Over the years, the problem of people having their cars towed from private lots, often illegally, leaving many stranded and on the hook for hundreds, and sometimes thousands of dollars' worth of fees has earned several names: bandit towing, pirate towing, and predatory towing.
And the Express has found that oversight of the East Bay towing industry is limited. As of mid-October, at least 19 towing companies in the region were operating without valid permits; people's cars and personal property are being illegally confiscated. In addition, data from the Oakland Police Department shows that tows initiated by law enforcement are disproportionately impacting low-income people of color in East Oakland.
And one of the worst offenders in the East Bay is PPI.
---

California law establishes clear parameters for towing companies: They must have valid registrations with the U.S. Department of Transportation, as well as all of the necessary permits, notably, an active Motor Carrier Permit, or MCP, with the state of California. MCPs require that the permit holder provide proof of insurance coverage, workers compensation, and, if they are a business, registration on the state and county level.
Records reviewed by the Express indicate that PPI Towing, owned by the Wayne Daniel Russo, does not have a valid MCP and is thus operating unlawfully. Russo and PPI officials did not respond to requests for comment for this report.
When towing companies contract with private businesses, like Discount City, it is known as a "general authorization," which gives the towing company permission to remove cars that have been parked for more than one hour as long as it is authorized by the property owner or an agent of the property owner.
California Vehicle Code Section 22593 makes it clear that the only times a car can be towed from private property without an authorizing signature from the property owner or their agent is when the car is parked within 15 feet of a fire hydrant, in a fire lane, or when it interferes with points of entry and exit.
But that didn't stop PPI from towing Philip Ferguson's car from an apartment complex on 167th Avenue in San Leandro in February 2017. Ferguson said he saw the white PPI tow truck waiting in the parking lot when he arrived but that he received permission from the manager of the complex to briefly park so he could deliver groceries to a friend of his who was bedridden.
He said it took less than 10 minutes to drop off the groceries, but when he returned, he found that his car was gone, along with the PPI tow truck. A friend picked him up and immediately took him to the PPI's lot on San Leandro Street in East Oakland, but it still cost him $370 to get his car back. On top of that, his car was towed in gear, which he said screwed up the vehicle's alignment.
Ferguson took PPI to court shortly after, and a judge awarded him $500 in restitution, according to court records. That was in late May 2018, but PPI still hasn't paid him, he said.
Diane Jones had slightly better luck. Less than two weeks before Ferguson had his car towed from his friend's apartment complex, Jones was stopping into Lena's Soul Food Cafe on High Street in Oakland after just having finished settling her mother into a convalescent home.
She admits that she forgot to show her disability placard, but said she wasn't in the restaurant for more than six minutes when her car was towed. But there were no signs or notices to indicate that PPI had taken it. She said that other business owners in the complex told her that PPI frequents the lot and recommended she call.
It would end up costing her roughly $380 to retrieve her vehicle, so Jones disputed the tow and took the company to court. The judge ordered PPI to reimburse Jones $400 for the tow and court filing fees, but, for almost a year, the towing company refused to pay, she said. Earlier this year she finally got her money, but only after filing a request with the Alameda County Sheriff's Office to enforce the court order.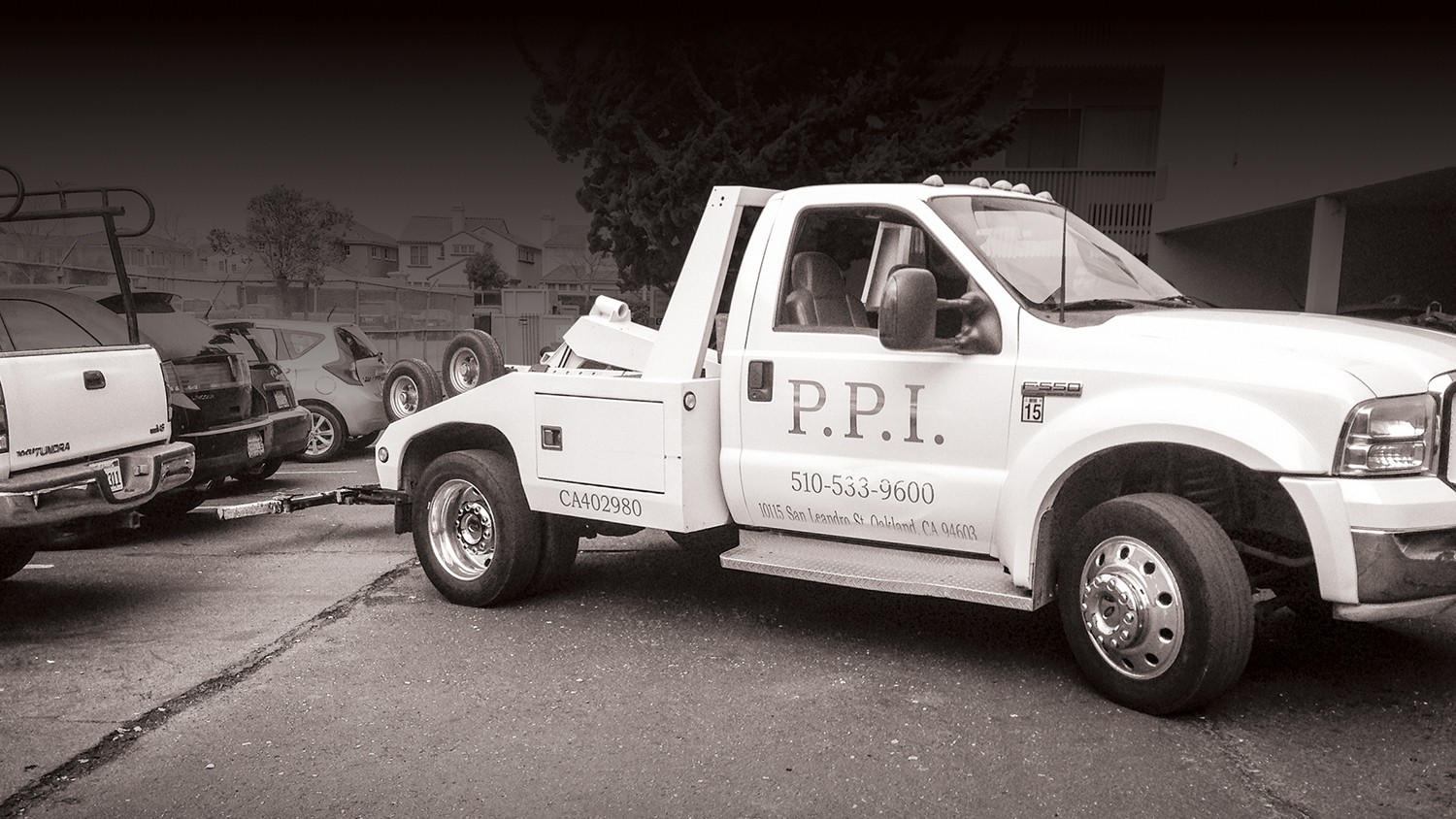 "I feel sorry because everybody doesn't have $400 on hand," Jones told the Express. "Now that I'm aware of the color of their trucks and the name of their trucks, I see them towing people all the time."
---

PPI's Yelp page features nearly 30 1-star reviews of the company, with many users commenting that they believe their cars were illegally towed. But the Yelp page also shows PPI's trucks operating with two distinct MCP identification numbers: one registered to the company and another to it its owner, Russo. However, an Express search of state DMV's active MCP registry found neither identification number, indicating that the company is operating illegally.
But PPI is not the only company to do so. The Express identified 42 towing companies operating in the East Bay, from San Leandro to Richmond, and found that 19 of them were not listed as active motor carriers with the DMV, as of mid-October.
Identifying these companies was a multi-step process. Using a database operated by the federal Department of Transportation, the Express found DOT numbers for the towing businesses and then entered those numbers into a California Highway Patrol database for the towing company's state-based MCP identification number. The Express then used that number, in addition to business names, owners' names, and phone numbers, to search for active permits in the DMV's MCP database.
When the Express contacted towing companies that appeared to be operating illegally, the answers varied. Dispatchers and operators for several companies simply hung up when questioned. Others, such as Affordable Towing in Oakland and Vasquez Towing in San Pablo, said that it must have been a mistake by the DMV and that they had filed their annual renewal, but could not remember when.
At least six of the towing companies that appeared to be operating without active MCPs were connected to 24 Hour Towing, which is located at 616 Derby Ave. in Oakland and also does not appear to have an active MCP.
All six of the companies have similarly designed websites, and photos submitted by Yelp users clearly show 24 Hour Towing trucks picking up vehicles. Calls to the various companies were routed to a call center for 24 Hour Towing, where several dispatchers and representatives declined to comment on the company's inactive MCP or its association to the other businesses.
When approached for comment and further details regarding the oversight of towing companies, a spokesperson for the DMV directed inquiries to the CHP, which they said was responsible for "all enforcement activities."
Monica Christopher, who oversees site inspections for the CHP's Golden Gate Division Motor Carrier Safety Unit, said that companies operating with inactive MCPs present regulation challenges because the law enforcement agency can't track the liability and workers compensation insurance that is required by law. Aside from it being illegal, it's also unfair to legitimate businesses that pay all of the required permit and licensing fees, Christopher said.
If a tow truck, or other motor carrier, is operating without a permit and encountered by a CHP officer on the road, the officer can impound the vehicle, which has happened several times in the last few months, Christopher added. But if a towing company doesn't cross paths with law enforcement, she said, the CHP's computer system is not set up to identify businesses that operate with expired MCPs.
In February 2017, the Alameda County District Attorney's office brought felony charges against Eric Courtney Corey and Douglas K Hiram for illegally towing vehicles from the 1300 block of 5th Street in Oakland, as a result of a complaint. Corey owned ACT Towing, which was based in Oakland.
One of the cars they towed belonged to Matthew Foley, a deputy district attorney who is listed as one of the plaintiffs in the criminal case. After Foley's car was towed on the Dec. 4, 2015, six other plaintiffs alleged that their cars were illegally towed in the subsequent days.
According to court records, Corey demanded $390 to release the cars, which were parked in proximity to the Red Star Housing complex that it had a general authorization agreement with. A judge ordered Corey and Hiram to refund six of the plaintiffs more than $3,500 in restitution, along with any other victims who come forward until next July who can prove they were towed between October 2017 and March 2016.
Teresa Drenick, spokesperson for the DA's office, said the investigation was by the office's consumer division, which currently also has an open investigation into PPI.
In other instances, though, towing companies and operators work in conjunction with law enforcement.
---

In July 2016, Auto Plus Towing began its 5-year contract with the city of Oakland to provide vehicle removal services for the Oakland Police Department. APT was the only bidder, and, in exchange for contracting with the city, agreed to pay an annual $172,000 fee, as well as a $54 referral fee per car.
APT replaced B&B Vehicle Processing, which had been granted consecutive 5-year contracts with the city since 1979 without a competitive bidding process. When a 2014 Alameda Grand Jury investigated the city's tow contract oversight, it found that "OPD lacks sufficient oversight and well-defined policies concerning the towing of vehicles and, as a right, the rights of vehicle owners may not be adequately protected."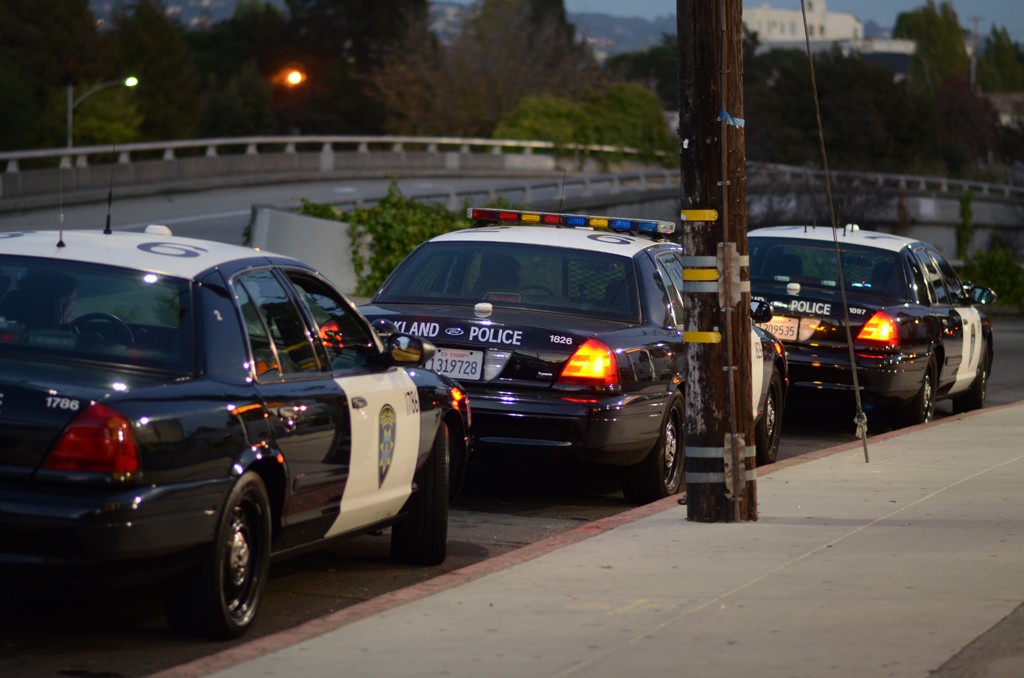 The grand jury made eight recommendations regarding proper mechanisms for oversight and accountability, such as creating a compliance director position, an audit of the towing contract with B&B, and the ability to track complains, which the city and OPD agreed to in late 2014. The grand jury also recommended that the department keep better records related to its towing operations.
The Express obtained more than three years-worth of data for department-initiated tows in Oakland and found that, between Jan. 1, 2016 and May 30, 2018, nearly 36,500 vehicles had been towed. APT did approximately 22,000 of them, netting the city more than $1.5 million in revenue.
According to California law, vehicles can be towed off the street by law enforcement for a variety of reasons, but a breakdown of the total tows reveals that OPD appears to be targeting low-income motorists from East Oakland. Approximately 11,750 cars, roughly one-third of the total, were towed for having an expired registration over six months. Roughly one-fifth of those tows included additional citations for violations such as blocking driveways and being parked for more than 72 hours. The second most common tow was for vehicles identified as a hazard to traffic (approximately 5,780). Stolen vehicles, by contrast, constituted the third most common reason (approximately 3,845) for being towed.
The details included in the tow records allowed for 26,000 of them to be placed on a map of Oakland, which, when analyzed for frequency, revealed that OPD tows cars more often from neighborhoods in East Oakland, which are predominantly Black and Latino communities, than anywhere else in its jurisdiction.
Officer Johnna Watson, spokesperson for OPD, said that this is because of an unusually high rate of cars that are abandoned in those neighborhoods, adding that residents of East Oakland have voiced their concerns about the issue during community meetings.
"We have a tremendous amount of abandoned vehicles in the city, and we're not sure why," she said. "They're essentially being dumped here."
Watson added that the department understands some residents might not have the resources to cover their registration fee, which is why cars are given 72-hour notice before they are towed.
Some car owners, though, don't get the benefit of a three-day grace period.
---

Due to the regular travel in her job as a real estate appraiser, Frankie Hartwell makes it a habit of taking pictures whenever she parks in Oakland. It served her well when she, her fiancé, and mother-in-law went to enjoy themselves at First Friday in August in Uptown Oakland.
Hartwell said that when they parked by Kingston 11 near West Grand Avenue sometime after 6 p.m., there were only two tow-away signs, at either end of the street. Still, they took pictures of where their car was parked and went out to enjoy their night. When they returned around 10:30 p.m., she said their car was replaced with a mobile police station, including office desks and computers.
The car had been towed, and despite the fact that she had photos proving the car was parked in an apparently open area, Hartwell said OPD officers told her there was nothing they could do. So, the next morning, they went to the police station where she said she was told to expect to pay $285 to retrieve her car from APT. It ended up being over $700, she said, after the tow company charged her mother-in-law several additional fees.
The tow was successfully appealed, Hartwell said, after they showed the photos she took to the city, but it's being reimbursed piecemeal. Regardless, she thinks the whole system is designed to criminalize poverty.
Other individuals the Express talked to who had their cars towed by APT said that their cars were damaged in the process and that personal property has been stolen from their vehicles as a result of police-initiated tows.
"I've lived in Oakland my whole life, and I know a hustle when I see it," Hartwell said of the towing contract between OPD and APT. "And this is a hustle."