Jay Very, one of the three co-producers (along with D. Faust and Apaulo Hart) of the rock opera WildcardXFaust, described its music as such: "if Queen, Depeche Mode, Garbage, Magnetic Fields, Sigur Ros, Zoë Keating, Nina Simone, and Tom Waits were all listening to psychedelic metal and had a baby." The production, which is a celebration of queers, kinksters, and sex workers, unfolds in two parts: The first consists of an adaptation of F.W. Murnau's film of Goethe's Faust, written and envisioned by Fabienne Delacroix (aka D. Faust), a burlesque performer and founder of the Cult of Gira, an organization dedicated to the preservation of African traditional religions in Brazil. Her portion of the play was inspired by the notion of striptease as a form of psychological revelation, and of the double life of a performer. The "wildcard" portion, written by Very, involves a comedic tale of a transmasculine sex worker seeking connection.
"Wildcard was six years in the making, and I composed most of the songs from a place of isolation-crying in the shower, waiting for my train, or walking through desolate neighborhoods to get home," said Very. And though the lyrics may take audiences to "some very deep places," Very noted that the darker elements are tempered with fun dialogue and a sense of campiness. "There's lots of pies in the face, furry vests, mustaches, and stripper fight scenes," he said.
The Oakland-based Very, Delacroix, and Hart (who designed the costumes, masks, and created the production artwork) were able to put the show together with the help of sponsorship from the Intersection of the Arts, a Queer Cultural Center grant, and adult filmmaker Courtney Trouble, but they're also running an Indiegogo campaign through March 14 to cover costs. The campaign's goal is $3,000, but they hope to raise $9,000 so that they can bring the show to Oakland, and "so that we can pay everyone involved for what they're worth," Very said.
One of the main impetuses for engineering WildcardXFaust was to create a trans/sex worker narrative that had a happy ending, as opposed to the typical death and violence that is often portrayed in stories involving those marginalized communities. "We need more heroes," Very said. "I'm actually in a PhD program in human sexuality at CIIS [California Institute for Integral Studies] right now and I am working on many scholarly papers that discuss why trans/sex worker narratives end tragically. … It's more than a trend. It's the bane of our existence."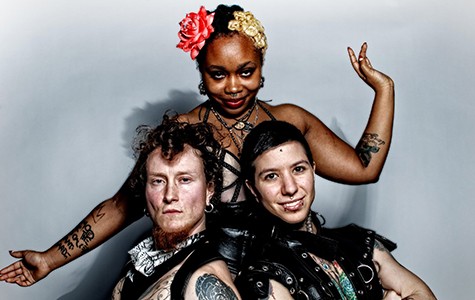 Very said it was important to him and his fellow co-producers to hire a cast and crew made up of sex workers, kinksters, people of color, and trans folks, and to "show the complexities and diversity that make up these communities" in order to "build solidarity among these identities and groups" and to instill a sense of hopefulness.
Friday, March 13 and Saturday, March 14, 7:30 p.m. at the Center for Sex and Culture, (1349 Mission St., San Francisco), $12–$20 (sliding scale, no one turned away for lack of funds). WildcardXFaust.com