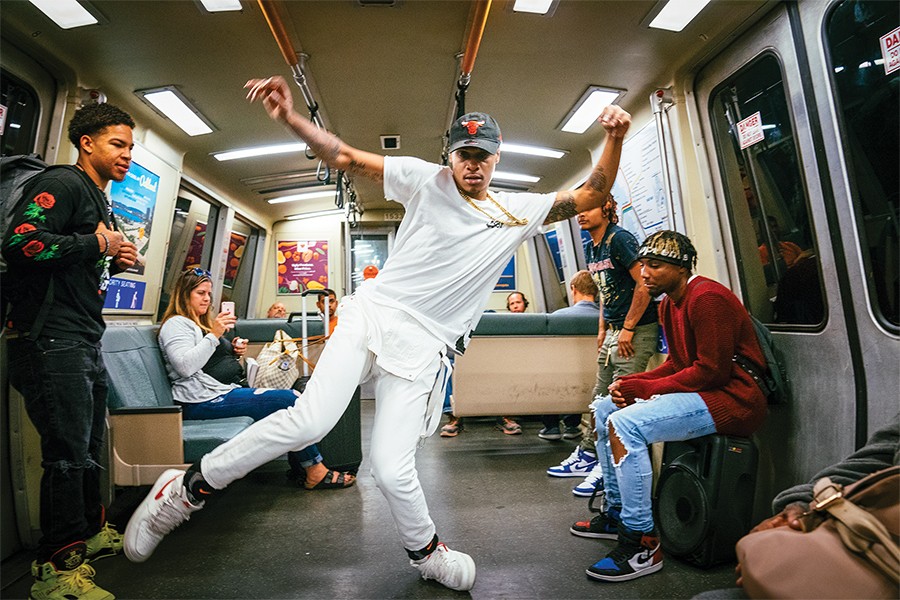 On a recent Friday, Yaameen Muhammad stood on the West Oakland BART platform, the afternoon sun reflecting off his neon-yellow high-tops. He and his friends were waiting for a train to San Francisco, but they are not your standard commuters. Just ten minutes earlier, the young dancer, who goes by the name Yaya, was doing flips on the train and hanging upside down by a passenger bar.
They're members of an Oakland dance crew called the Turf Feinz. In recent years, turf dancers have become a fixture on BART, along with their acrobatic skills and tricky footwork. For these young men, dancing on BART is part of a complex hustle: It provides them with steady income, publicity, and a place to hone their skills for upcoming dance battles, video shoots, and live performances.
"There's always somebody on BART," said Muhammad, 19. "It could be a producer, or like a commercial director … a rapper, or a singer, or an artist looking for a dancer to be in a music video." Through dancing on BART, Muhammad said he has been offered several dance jobs, including for music videos and community performances.
"BART is a hustle, but it's also where you keep your skills polished," said Levi Allen, 26, who has danced in videos of artists such as Kendrick Lamar and is a member of the crew BA (Best Alive).
Muhammad started dancing when he was 12. He said he gained inspiration by watching his brothers dance at parties. He watched dance videos on YouTube, mostly from Oakland groups like the Turf Feinz, and would try to mimic the moves he saw on his computer screen. He loved the way the performers seemed to glide when they danced, "as if they were skating but with no wheels." Eventually, Muhammad joined the Turf Feinz.
A couple years ago, before Muhammad and his friends started dancing on BART, some of them used to "street show" together in front of the Gap on Powell Street in San Francisco. There were a lot more dancers besides them — too many. They had to split donations with 15 to 20 others, all vying for the same spot, according to Donald Brooks, 22, who goes by the dance name Lavish. "We were making way less money," he said.
Their performances started getting popular, attracting big crowds of tourists and onlookers, which lead to confrontations with the San Francisco Police Department. Some dancers named Bad Influence and Kidd Strobe, along with Brooks and Denzel Harris, 26, who goes by the dance name Zel-Koozi, decided to take their performance to BART, mostly on a whim, according to Allen. "We've been dancing on BART ever since," he said.
Now, with more space to dance and a built-in audience, it's possible for each dancer to bring home more than $100 a day, and even more on holidays. Dancing on BART gives these young men an alternative to low-paying jobs.
Harris said he's done working jobs he doesn't like — especially ones that don't pay him on time. "I've been there and they're like, 'We don't have your check today,'" he said. "I could go out here and get my money right now, you feel me?"
According to the dancers, Friday and Saturday nights are the best times for dancing. Harris said many of the passengers are on their way to bars or clubs, which makes for a more festive environment on the trains. "We basically are the starter of their night," said Harris. The dancers also love holidays, especially Valentine's Day, "because people [are] trying to impress their girl," which leads to better tips for the dancers.
The dancers also try to avoid interacting with BART police. Alicia Trost, a spokesperson for BART, said that while their dancing is protected under the First Amendment, the transit agency does not allow music amplification, which is a routine part of their show. She added that while some entertainers are careful when performing on trains, there have been instances when dancers have damaged train doors.
"There are some people that love it and they just feel that that it's so much a part of the culture here at BART," said Trost, referring to the feedback she's gotten from the public. "Then there's people that just cannot stand it."
Allen, who dances on BART almost every weekend, said if he sees newer dancers on the train, he tries to teach them some guidelines to avoid confrontations with police. He tells them to dance only between West Oakland and Embarcadero stations and to never dance at Powell or Lake Merritt, where the no-amplification rule is strictly enforced. Problems between individual dancers and BART become a problem for the whole street-train dancing community, he said.
"[They] still gotta follow the guidelines so we won't get in trouble as well," said Allen.
Camaraderie among dancers is common. It's not unusual for dancers from different crews to hang out and support one another. They hold the train doors open for each other and stop to catch up during breaks. Sometimes they even perform together. Anti and Carmu, who are from different dance crews, delivered a particularly amazing performance on a recent Friday. While Anti hung from the bars, Carmu jumped up and rode on top of him before flipping upside-down and landing on his feet.
"That was the best I've seen so far," said one passenger, as she exchanged high-fives with the performers.
Back at the West Oakland platform, the dancers rested for about 15 minutes, talking, practicing moves, and listening to music out of a giant handheld speaker. Then, when a train pulled up, the dancers exchanged a look.
"We on this?" said Harris.
"Yeah, we on this," said Brooks, as he picked up his speaker and walked toward the train.
As they danced up and down the aisles, some passengers watched with quiet interest while others clapped and hollered. Some didn't even look up from their phones. "We usually try to go to the most populated areas," said Muhammad, as they moved through the cars.
After a couple more performances, the dancers left the train and sat down on a brick ledge in Oakland's 12th Street station. They looked comfortable, as if they were in their own living room. This time, their break wasn't by choice. Somewhere between Embarcadero and West Oakland, their speaker ran out of batteries, right in the middle of a performance. "These things happen," said Muhammad with a shrug. They decided to take their earnings to The Melt on Howard Street in San Francisco, where they can eat burgers and charge their speaker at the same time.
When the speaker dies, "that's how you know when it's over," said Harris.
But only for an hour or two.
[slideshow-1]