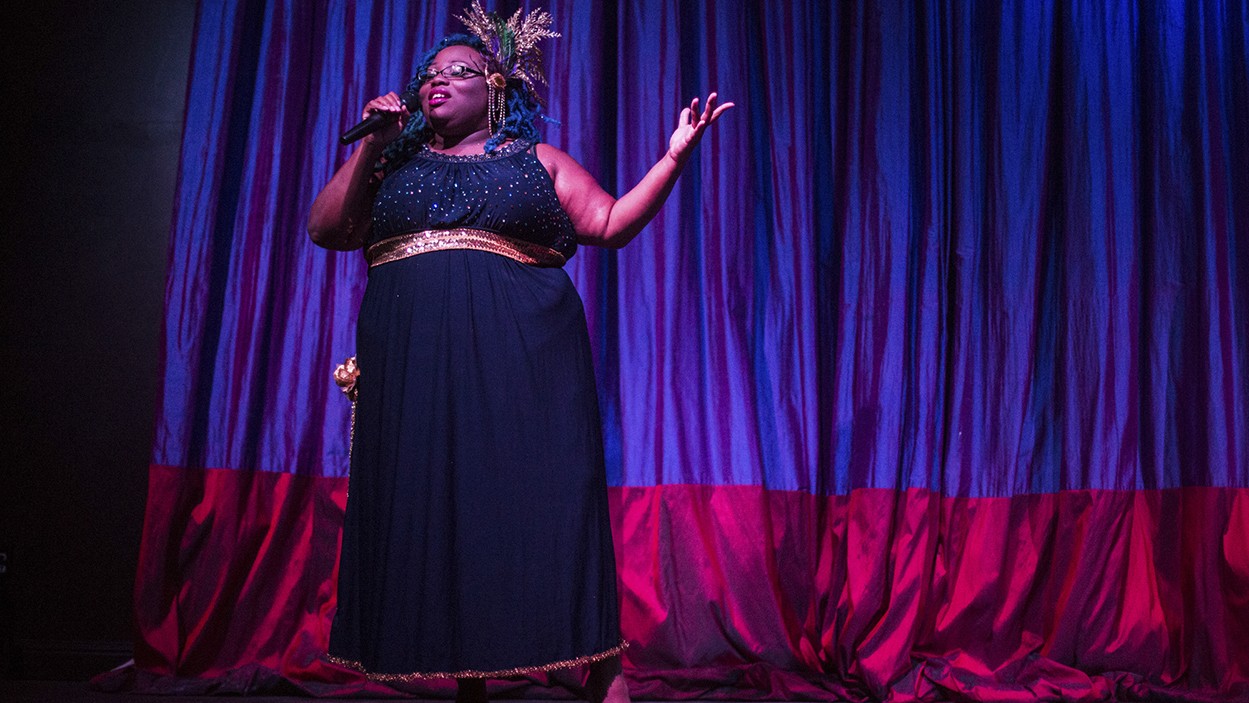 Growing up, Magnoliah Black loved to dance, but she felt like there was no place for her in the dance community. The performance artist said her presence as a bigger woman of color was never welcomed or accepted, no matter how much she exercised, abstained from eating, or threw up.
Burlesque changed that. Black, whose offstage name is Irene McCalphin, recalled a 2015 performance where she dismantled the idea that her body must fit a stereotype in order to be a dancer. She put herself into a cage where she wailed in pain before breaking free and tearing the constraint apart. It demonstrated Black's refusal to be caged by others' views of her body, and after the show, a physical trainer in the audience gave her a hug and said that her performance helped him understand how his views on fatness negatively shaped his work.
"There's something very healing about it — creating change internally by being witnessed in your journey," said Black, an Oakland resident, about performing such personal stories. "After some of these numbers I'm a wreck because it takes so much out of me, of the performers. They're full of power but that power is coming through vulnerability."
That vulnerability is on full display at the twice-a-year burlesque and performance art revue The Body Political, which will be held on June 30 at The EXIT Theatre. The Body Political is more than tits, pasties, glitter, and glam — though you'll likely see some combination of these elements. Its acts delve deep into the emotional labor bodies carry by challenging assumptions and developing empathy, and many of the performers are based in the East Bay.
"A lot of people who go to burlesque shows are going for the fantasy. Our show is very much the reality about what's going on in our bodies," said Body Political cofounder Andi Stardust, a burlesque performer since 2010. (Stardust and some other performers declined to reveal their legal names out of safety concerns.) "We really see the show as a bridge where these experiences that are often unspoken are suddenly being shared with people that are outside your circle."
Stardust and fellow performer Laika Fox, an East Bay native, founded the Body Political as a nonprofit in 2015 after years of discussing the body-focused acts they had already created on dozens of Bay Area stages. Although most burlesque purports to be body positive and inclusive, Fox said the medium has an underlying duplicitous myth where beauty and strength must look a certain way. Instead, the Body Political acts aim to explore the nuances of topics related to bodies, such as race, gender, age, sexuality, disability, mental health, reproduction, weight, and disease.
"Most burlesque focuses on the end product of beauty/perfection, which can be incredibly healing and moving in its own way," Fox told the Express via email. "We're interested in that bit but we also want the bigger picture. We really push our performers to get personal in their acts."
Despite receiving applications from performers throughout the United States and even overseas, some of the Body Political's most resonant acts from the past six showcases have come from local artists. In April 2016, Oakland-based Jet Noir brought issues of gender and race to an act called "I am not a threat." Through a reverse striptease, his provocative spoken-word piece tackled how garments change people's perceptions of Black men. Noir walked onto the stage nearly naked and proceeded to put on a suit and a black hoodie while asking the audience how they would perceive him if they saw him on the street.
"When we understand each other's experience in their bodies, it builds empathy, it builds awareness, and we change our behavior," Stardust said. "What we see on stage impacts us and can have a profound impact on how we interact with our own bodies. As we get to know our bodies, we do less harm in the world."
Black, a Body Political board member and an emcee for the upcoming show, found a past Body Political piece about queer love to be particularly resonant. Performers Katori Knight and Emjay Mercury, both East Bay residents, began by kissing and touching each other, only to be brutally separated by other performers dressed as German police. "It was a shock — you see their humanity, you care about them, you care and see yourself in them," Black said.
Like bodies themselves, which are often funny and awkward, the Body Political also showcases comedic and sexy acts. Fox pointed to a July 2017 piece about hair removal by a performer named Sassy, who straddled a mirror on a chair while awkwardly trying to groom her crotch. "There were a lot of knowing nods in the audience during that act," Fox said.
Similarly, Mary Vice's drag burlesque routine opened with Vice dressed as a giant hot dog and doing a sexy routine to Beyoncé's "Ego." She eventually pulled a foil-wrapped hot dog out of her shorts and ate it while stripping down to a "ketchup" merkin and "relish" pasties.
This year's show will feature a range of new topics and 10 performers, including the Body Political's first international performer, France's legendary Miss Botero, who will do a piece on age. Local talent Ophelia Coeur de Noir will discuss bodily autonomy in her first Body Political performance, while Sacramento-based Mone't Ha-Sidi will reflect on Blackness and stereotypes.
"You'll walk away with a better understanding of the people around you whose lived experiences you aren't living, and you also walk away uplifted even though there is some tough stuff we talk about," Black said.
The forces behind the Body Political also want to empower their audience to make change. Community organizations table at the performances, while audience interviews during the show create a space for discussion about what hits home. Separate from the showcase, Fox and Stardust also facilitate a 90-minute workshop on how to create body-centric burlesque acts.
They hope to take the Body Political show and workshop on the road to different cities, conferences, and universities, where they can empower performers and non-performers alike.
"I started doing political numbers right before I got involved with Body Political, but I always felt like I was taking a chance," Black said. "Being a part of the organization has bolstered me in knowing that I'm not the only performer who is living by the word of the high priestess Nina Simone — that your job as an artist is to reflect the times."
Saturday, June 30, 7 p.m., $20-$40 156 Eddy St., San Francisco, TheBodyPolitical.com