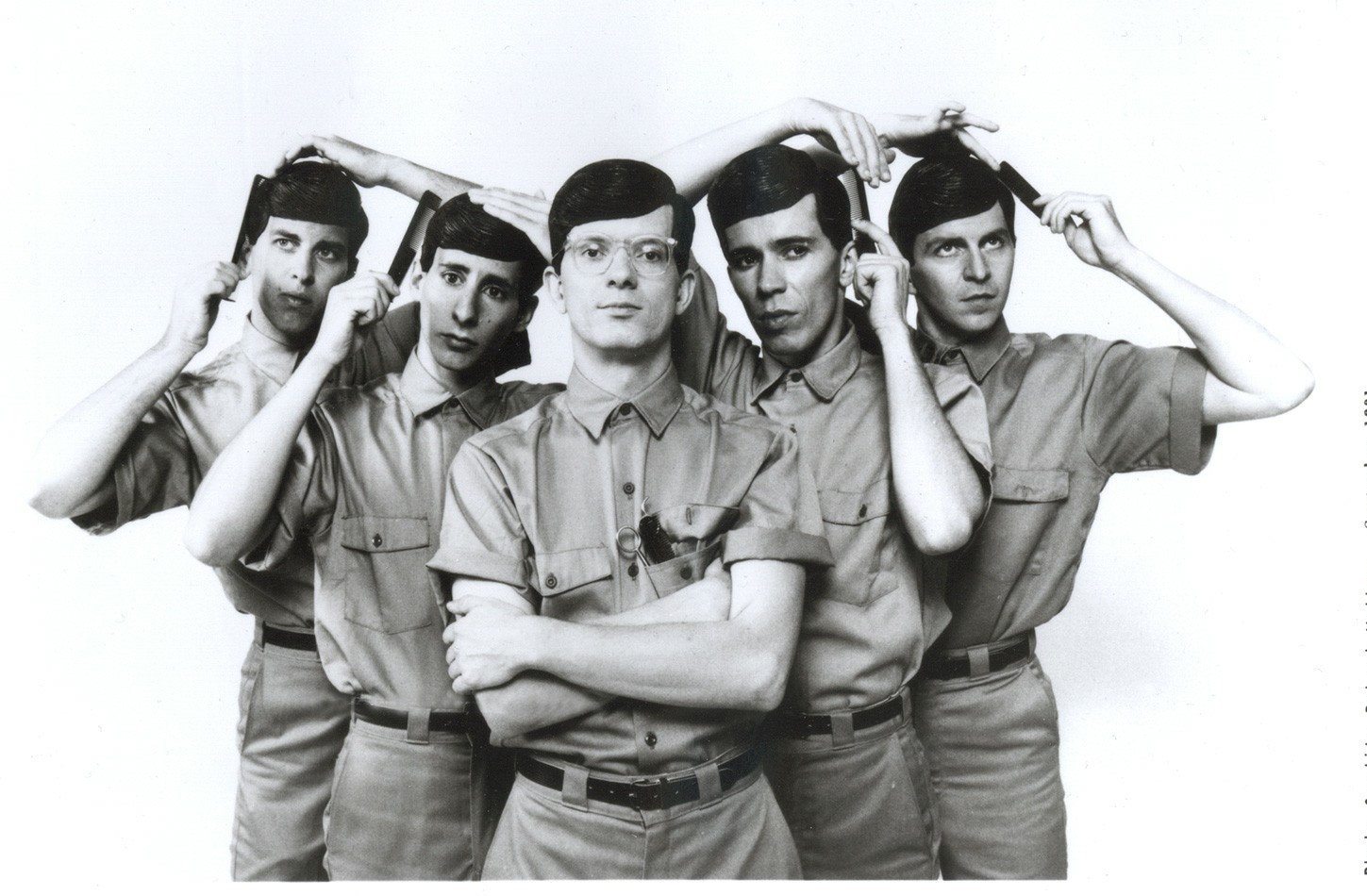 The history of Devo, the misunderstood iconoclast multimedia pioneers of punk, is far complicated than scores composed for Rugrats. Reached by phone earlier this week, Devo co-founder Jerry Casale cut into the grit about Donald Trump without hesitation (or espresso). "He's a blustering, idiotic developer-businessman-entrepreneur who hoodwinked everybody, has been bankrupt four times, gotten himself into a mountain of debt," Casale said, sounding groggy but perking up as the caffeine hits. "It's proof of Devolution of our entire culture."

What exactly is Devolution? Let's go back to May 4, 1970, Kent State University. At the time, Casale was a student organizing with Students for a Democratic Society against the Vietnam War. That's when the National Guard gunned down the student uprising, killing four students and injuring nine. Casale knew two of the slain students, Allison Krause and Jeffrey Miller. For the next year-and-a-half, Casale channeled grief into a project with his colleague Bob Lewis and conceived the concept, Devolution. "We were seeing in western society going down, Devolution," Casale said. "Then one night I decided to make it an art movement, so we wanted to shorten it up. We wanted to do what all corporations did by abbreviating, using anagrams — we wanted to make it like Xerox, rub off letters. … It was Devo from there on out."
It was then that Casale met up with co-founder of Devo, Mark Mothersbaugh, who was a student part-time taking art classes. "We became friends," Casale said. "I told him about all the Devolution stuff. He just went nuts. He was already mentally there with us."
The group elevated their concept from art into music with the help of their brothers Bob Mothersbaugh (Bob1) and late Bob Casale (Bob2), and found their first drummer, the late Alan Myers. By 1977, Devo was ready to leave Akron Ohio behind, and Jerry took a trip to New York booking gigs for Devo at punk clubs CBGB's and Max's Kansas City and pretending to be Devo's manager — rightfully so, at the time no one took them seriously. "Once we played those clubs, suddenly we were on the radar. People on the West Coast — the center of the record business world — were trying to sign us. A&M Records had an A&R man, Chip Cohen (he signed The Tubes two years earlier), he gave us money and had to drive out to California. Then we had to showcase for him in Hollywood, and he promptly rejected us."
Rather than trudging the trail of failure back to Akron, Ohio, they met one last record executive. "He goes, 'Guys, you could march seven naked teenage girls in here and they're all pretty but one's got a weird mole, one's got no tits. What I'm trying to say is, you're not my kind of girl.' I wanted to punch him out. … That's when we left, and I started venting in the parking lot screaming about him, and Alan Myers, our drummer, goes, 'Maybe we don't deserve a record deal.' Ha, and I go, 'Fuck that. That's bullshit. We're going to figure this out.'"
Word began to circulate about Devo's distinctive sound and appearance. The same venue of Devo's debut showcase invited the band back, gaining them local recognition, and attracted the likes of Toni Basil and Iggy Pop, who then gave their tape to Neil Young, who then gave their tape to David Bowie, who brought Devo in touch with Brian Eno, who then produced their debut classic, Q: Are We Not Men? A: We Are Devo! Los Angeles has been their base ever since.
With their debut on Saturday Night Live, Devo was definitely perceived as polarizing by right wing America, especially in late 1970s. "When you're a do-it-yourself artist and you're punk in sense that you hate illegitimate authority, you hate all the gatekeepers — you know what? These people hate us, and we're doing something right."
By 1980, "Whip It" was on heavy rotation on MTV. But soon, MTV shifted its focus and basically became an advertising tool for Top 40, and Devo dropped off the mainstream radar. Yet, the band remained relevant to the underground. "By the 1990s, they weren't going, 'Oh fuck Devo, that fucking 'Whip It' band,'" Jerry said.
There was a shift, and with that shift, the band came out of a hiatus. With Mothersbaugh composing scores for Rugrats, Pee-wee's Playhouse, and Wes Anderson movies, Devo was rediscovered by a new generation, propelled by the tools of social media. "They're like, 'Oh yeah, Devo, Devolution is real.' Of course, it's a foregone conclusion — we're just the house band going down with the Titanic, playing your favorite tunes as we all go down."
With headlining this Burger Boogaloo this weekend, Devo is influential to many artists on this bill, the Mummies, Quintron, and especially the founders of Burger Records. The band itself remains a relevant soundtrack of society falling apart. "We all proved that Devolution is real," Jerry said. "We became the new wave Grateful Dead, with three generations of kids liking our music."
Devo performs at 8:15 p.m. on Saturday, June 30, at Mosswood Park in Oakland for Burger Boogaloo. Tickets here.