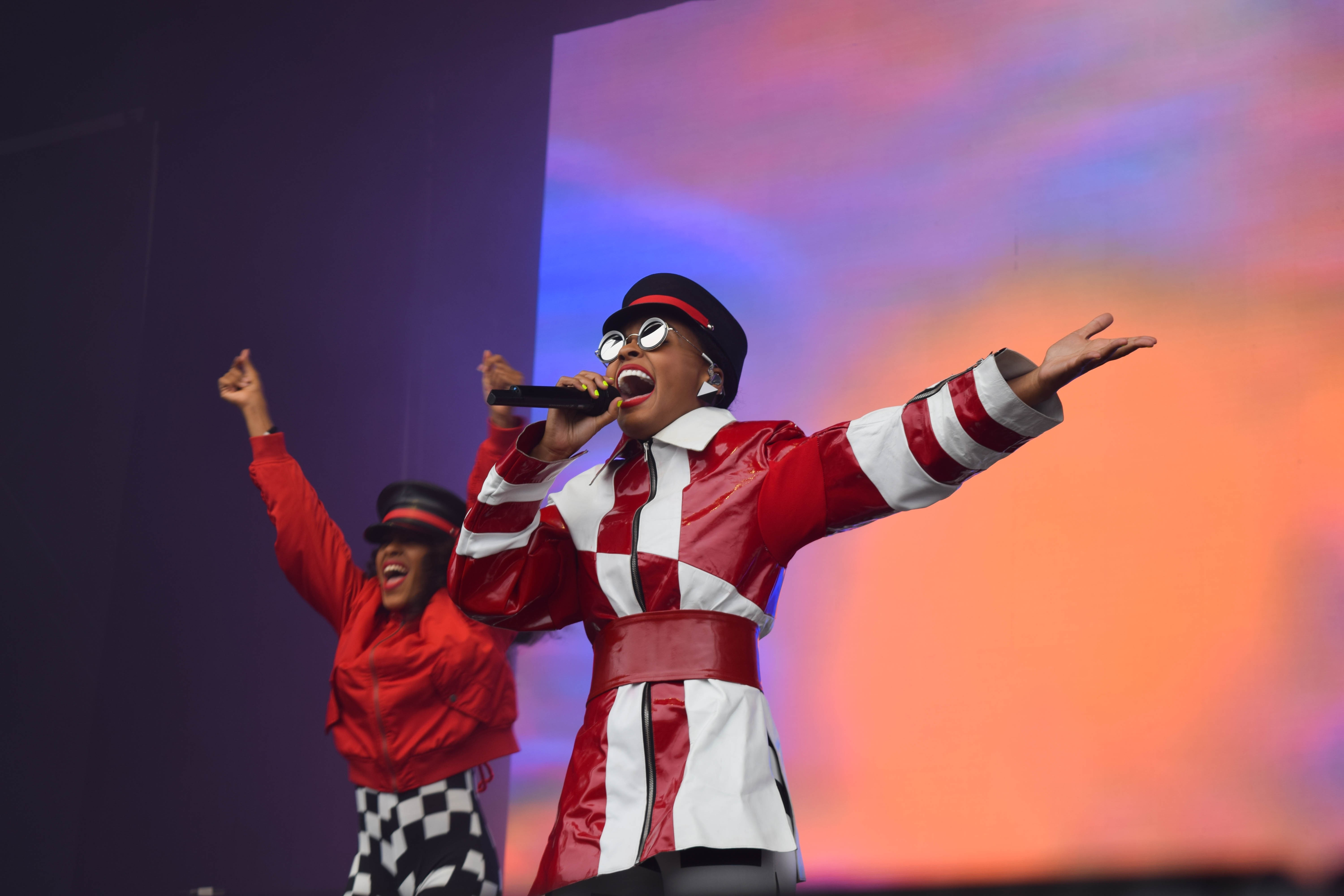 In many ways, this year's Outside Lands felt like a whole new festival. Sure, people still took selfies in front of the Ranger Dave statue, and the food and beverage options once again surpassed those of competitors. But the lineup was its most diverse and inclusive ever — and sure enough, the best performances of the weekend were not from the white male-fronted rock bands of yore but from women, people of color, and queer artists. Artists repeatedly told fans to take care of each other and love each other — or in Tash Sultana's case, "If you've got those transphobic vibes, you can get the fuck out of here!" — and in this political climate, they really seemed to mean it. Here are 10 of the weekend's most memorable sets, in chronological order:

Lucy Dacus
Big pop and R&B acts dominated Outside Lands this year, but mellower rocker Lucy Dacus provided a refreshing contrast of calm beauty. She played two sets on Friday — the first, a smaller show of covers and deep cuts in the dreamy meadow setting of the Cocktail Magic stage (a highlight included her acoustic cover of "La vie en rose"). Her second set on the Panhandle stage drew a fairly small but similarly mesmerized crowd, with her low, rich vocals delivering devastating lyrics over echoey guitar. Dacus seemed a bit nervous on stage, but in a sweet and charming way. "I hope you're having a good day, and I hope you're staying hydrated. I have a lot of hope for you guys," she said. Cathartic break-up song "Night Shift" took on new life live, "You got a nine to five, so I'll take the night shift / And I'll never see you again if I can help it" — the perfect lyrics for spurned lovers to shout at the top of their lungs.


Caleborate
Berkeley rapper Caleborate was the hometown hero of the day, playing his first ever Outside Lands set on Friday, which was also "Probably the first time I've ever been in front of this many people exclusively for me, this is crazy," he told the crowd. He made the set a party, bouncing around stage and insisting on using the mic stand for "Consequences" because he wanted to "perform the hell out of this one" and getting everyone to sing along ("I just wanna chill, smoke, drink an' be cool"). The short, spunky rapper finessed more somber moments of the set as well, such as talking about how his father went to jail ("Bankrobber") and how he lost a childhood friend. Overall, his set was a joy, a triumph for a hungry up-and-coming local rapper playing to the kind of big crowd he deserves.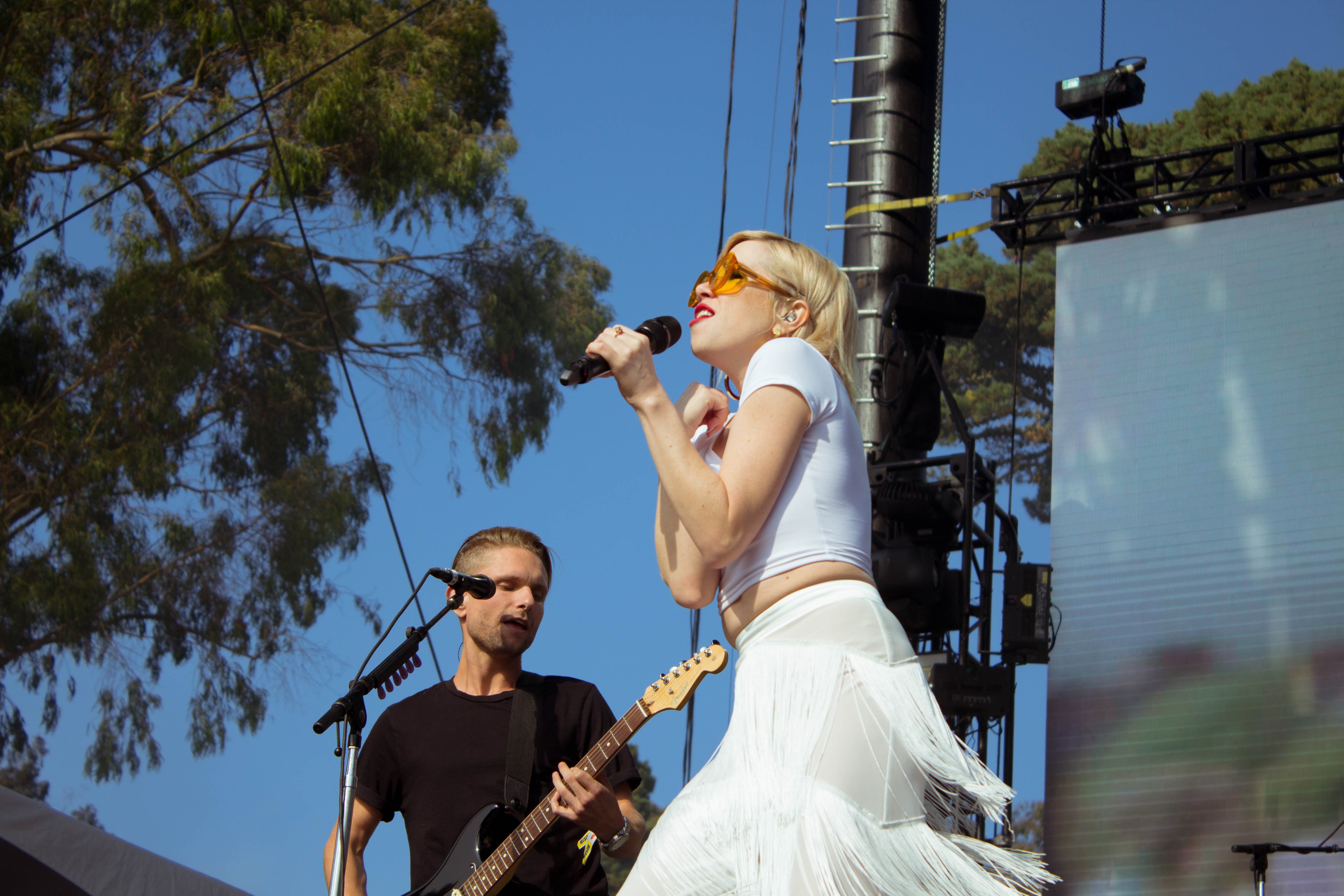 Carly Rae Jepsen
How can you go wrong with pop confectioner Carly Rae Jepsen? Her spotless, sunny hooks soared over the crowd at her Friday late afternoon Twin Peaks set, an absolute ray of light in oversized orange sunglasses and an incredible pair of white fringe pants. She wasn't a headliner, and didn't even play on the main stage — but it felt like she easily could have. Jepsen weeded out casual fans by playing 2012 breakthrough hit "Call Me Maybe" in the middle of her set — but their loss was remaining fans' gain. Her dedicated, largely queer and female cult following tasted rarer treats such as Emotion b-side "Fever," a song about stealing an ex-lover's bike. And, of course, there was the unforgettable rainbow and glitter-saturated guest appearance of dancer Mark Kanemura during closer "Cut to the Feeling." Those who left after "Call Me Maybe" were definitely kicking themselves.
The Weeknd

For anyone who chose seeing Beck over headliner The Weeknd on Friday… why? King of sexy R&B chart-toppers, he kicked off Friday night with epic Black Panther hit "Pray For Me," leaping around stage and causing a flood of wandering festivalers to immediately run headlong toward his set. While girlfriend Bella Hadid watched from the crowd and fire cannons blasted, a largely fratty crowd sang along to every word, from Daft Punk collab "Starboy" to funky, ubiquitous love letter to cocaine, "Can't Feel My Face."
Lizzo
Lizzo's set bursted with self-love and body positivity as the alternative hip-hop artist bounced around in her golden, ruffled leotard and whipped her matching tulle cape back and forth. There was sensual chair dancing, phallic mic stroking, knee pad-clad backup dancers, tequila chugging, and plenty of twerking. "This is the world's largest twerk tutorial right here," she said, as her dancers turned around, bent over, and demonstrated the many dimensions of the artform. She suffused her set with soul, R&B, and gospel, turning the park into a feel-good, weirdos-loving church: "Ya'll trying to have some praise and worship up in this motherfucker?"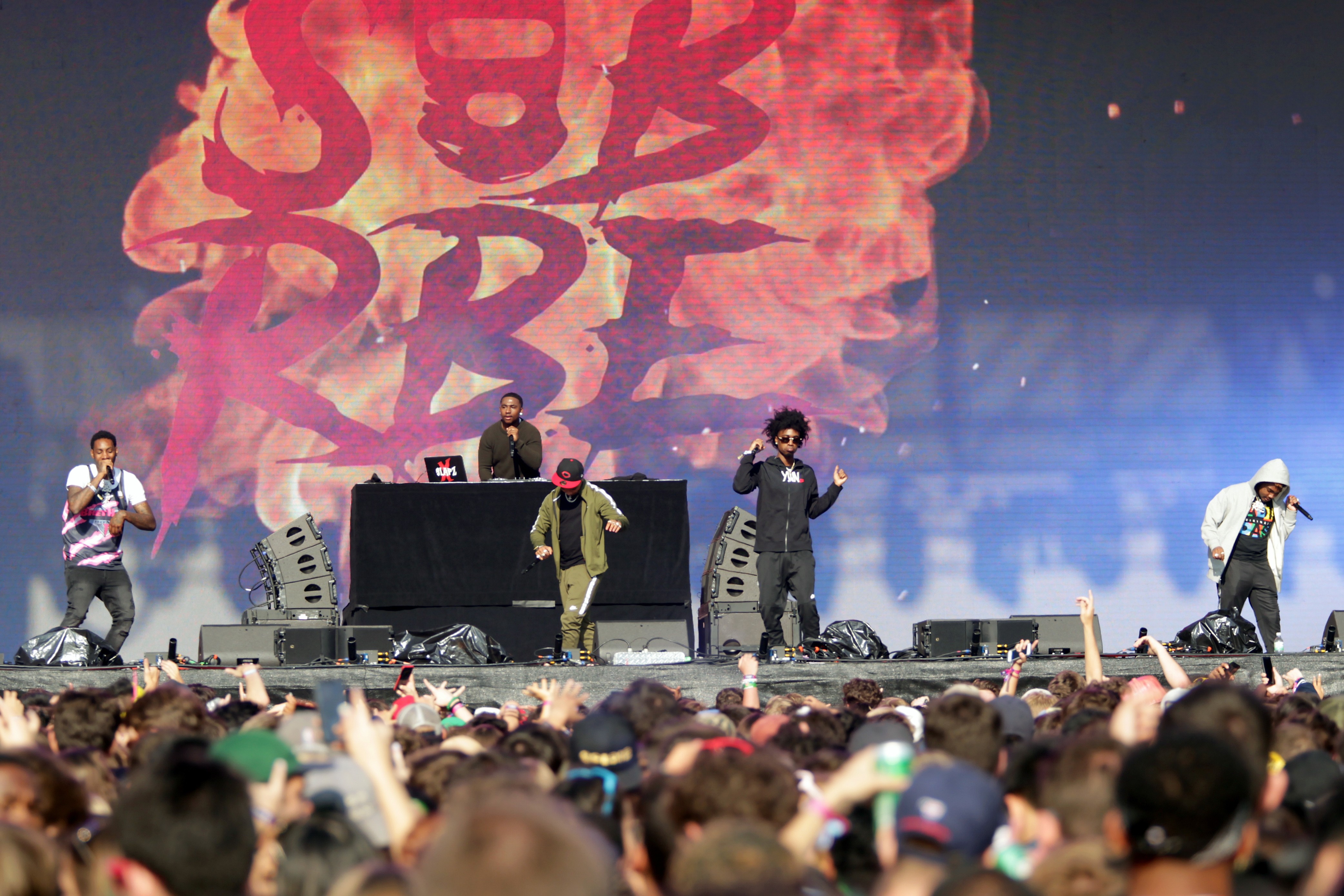 SOB x RBE
The dance party leading into SOB x RBE's set was among the most bumpin' all weekend at Outside Lands — but it came to a quick halt once the Vallejo foursome took the stage. Although they landed a hit track on the Black Panther soundtrack and got repped by Kendrick Lamar, it's easy to forget that the members of SOB x RBE are incredibly young — starting at age 19 — and just getting started. The set took a while to get going, as the rap crew's body language and energy didn't immediately match its frenetic bars. But it built up, and fans stuck with them, eventually getting rewarded with surprise appearances by Nef the Pharaoh and Lil Sheik — and, of course, a bangin' closer of "Paramedic!"
Florence + the Machine
Anticipation was high for Florence + the Machine's historic set as the first female-fronted band ever to headline Outside Lands. It also happened on the day that saw record-breaking attendance at the festival, as well as marked the band's debut of a new stage show to go along with Florence's fourth record, High As Hope. The stage was decked out in pale wood panels and billowing white cloth, with Florence Welsh rapidly spinning in circles like a deranged but graceful ballerina and sprinting barefoot into the crowd as security guards hustled to keep up. In between songs, which included her new single "Hunger" and her breakout hit "Dog Days Are Over," she captivated fans with warm assurances: "I believe in you and I believe people can make change," she said. "Keep doing good in the way that you can. … We all belong here."


Janelle Monáe
Despite apparently throwing up minutes before taking the stage, Janelle Monáe performed what was perhaps the best set of the entire weekend. She was absolutely electric, from literally (and rightfully) taking the throne during hard-hitting rap song "Django Jane" to breaking out the infamous vagina pants for "Pynk," a pastel-colored celebration of female sexuality. For much of her career, Monáe has been an enigma — the unknowable pop android of Afro-futuristic concept albums. But having recently come out as pansexual, she's letting the human being beneath into the public eye more and more. She didn't shy away from acknowledging her newly public identity on stage, encouraging the crowd to love who they love and yelling, "Happy Pride forever!" And beneath flawlessly executed choreography, multiple costume changes, and, of course, her impeccable voice, Monae occasionally dropped her fierce facade to let a huge, genuine smile break out.
James Blake
Perhaps the most jarring thing about hearing James Blake live for the first time is that his quivering, soulful voice sounds exactly the same live as it does on his records. He and his backing band played a Sunday night set of hauntingly gorgeous, fragmented electronic songs to an enraptured crowd of fans dancing with tears in their eyes. The 2013 hit "Retrograde" howled to gravity-defying heights, the buzzing synths and repeating ghostly vocal riff turning the Sutro stage into a spaceship. To close, the rest of the band exited the stage and Blake played a stunning solo cover of Joni Mitchell's "Case of You," peeling back the layers of complex electronica to showcase his hypnotic voice.