Tenant organizations in Oakland have been worried that some landlords would rush to do upgrades on their buildings and jack up rents by August 1. On that date, new citywide rules take effect, limiting the ability of landlords to pass on the costs of capital upgrades to their tenants. And tenant fears that landlords would try to beat that deadline appear to have been justified — at least at one building in downtown.
[jump]
A group of tenants in the 66-unit building at Madison and 17th streets has evidence that the building's new owner, a company called First Class Lodi, is plowing ahead with expensive renovations in order to raise rents before the new citywide restrictions go into effect. Veronica Boutelle and her husband have lived in the building only a year and a half, but some of the tenants have been there for decades, protected from major rent increases by rent control.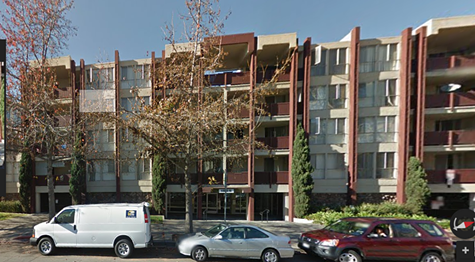 Boutelle said tenants learned immediately after the sale that the new owner plans "capital improvements" and a rent increase to cover them. "I did research with other activist tenants," Boutelle said. "We went to the county assessor's office and found that they got permits for some improvements," including repainting the exterior, installing a gym, and landscaping in the front.
Martin Higgins, principal of The Apartment Group, which is managing the building, confirmed those plans and said the capital improvements will also include "new energy-saving double-pane windows, enhanced security, and facelifts to the exterior and the 1960's era lobby."
The new citywide rules limit property owners' right to pass through capital improvement expenses to 70 percent of the total cost and limit all rent increases to 10 percent a year. Tenant organizations have suspected that some building owners would push through construction plans before August 1 so they can raise rents more than would be allowed under the new rules. They fear the real motive is to force rent-control tenants out so they can raise rents even more.
Higgins, in an email, denied that these are the reasons the owner began capital improvements so quickly. He added, "A good portion of the improvements described will be finished in the next few months and be eligible for a 100% pass-through [to tenants]," while others done later will be subject to the new rules.
As for passing the costs on to tenants, Higgins wrote, "The owner will be raising rents as allowed by Oakland's rent adjustment program." For projects after August 1, these increases will be limited to 10 percent a year. Currently, however, no limits apply. Many tenants in the past have faced rent increases of 100 percent or more when owners "passed through" capital improvement costs. Higgins said the owner is also doing "many deferred maintenance projects," whose costs will not be passed on to tenants as capital improvements.
Boutelle said many "activists" live in the building and "organized really quickly" to try to prevent the threatened rent increases. They went to the city's Rent Adjustment Board to discuss the problems. "They were so not helpful," Boutelle said. Since the tenants have not received formal notice of rent increases, staff members said there was nothing they could do.
Boutelle added that she is especially concerned about tenants who are elderly and/or disabled and those who rent their apartments through the Section 8 program. If the rents increase, she said, many will have to move and will not be able to find housing nearby. "They can't afford Oakland any more," she said. After the first tenant meeting, a woman in her nineties approached Boutelle saying, "Where am I going to go? I have no place to go!"
Boutelle said The Apartment Group's website makes it clear that the company's purpose is to upgrade buildings, raise rents, and then flip the buildings. The company's home page state, "We target Class B and C apartment properties in Northern California that offer unrealized cash flow potential." The mission statement reads: "The Apartment Group's mission is simple: to provide high-yield returns through the acquisition, stabilization, operation and disposition of multifamily properties."
Boutelle said her building in no way is a "distressed" property. "It's not like the high-end uptown apartments," she said, "but it's not like a slum. I have nice walls, floor, carpets."
Tenants say they are determined to keep organizing and fighting to save their homes and prevent their building from being one more falling domino in the cascade of displacement now hitting Oakland.