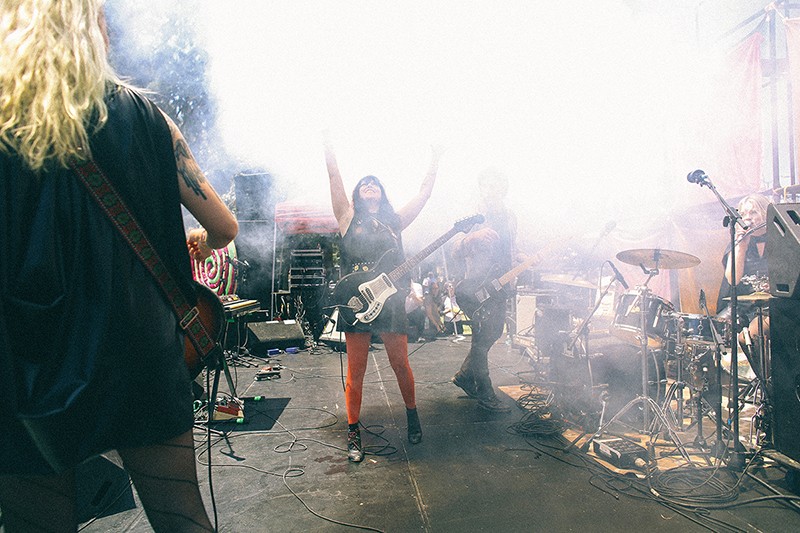 Hiero Day IV

Let's face it: We have been anxiously awaiting Hiero Day since the sun began to set last Labor Day, and the streets between Third and Chestnut started to clear out. The all-day, all-ages fest famously celebrates "all that is good about Oakland"— from food trucks and local vendors, to independent artists new and old. The lesson here is that there's a lot that is good about Oakland. Hip-hop heads have deemed this a sacred holiday.
HieroDay.com
.
Berkeley World Music Festival

There are some who read the words "world music" and immediately run the other way. But don't be a loser. The fourteenth-annual Berkeley World Music Fest is in June, it's free, and it's a tremendous opportunity to take in tunes from across the globe in a welcoming setting, People's Park in Berkeley.
June 10-11, noon-9pm, Telegraph Avenue and Haste Street, BerkeleyWorldMusic.org
.
ID10T Festival + Comic Convivial

It's rare to find a two-day fest as eclectic as ID10T — a rock-and-pop music gathering meets comedy fest meets comic-con. Launched by stand-up comedian Chris Hardwick, ID10T's concert lineup is an interesting intersection of 2000s rock bands, like Weezer and OK Go!, and electronic artists such as Girl Talk, Crystal Castles, and Madeon. Meanwhile, more than fifty comic-book artists and creators are scheduled to appear, which means all sorts of visitors dressed-up in cosplay. Tickets are currently going for $65, but will soon increase to $75, which is somewhat budget-friendly considering how expensive bigger music festivals are nowadays.
June 24-25, Shoreline Amphitheatre, 1 Amphitheatre Pkwy, Mountain View, Id10tFest.com
.
Art & Soul

The annual Oakland holiday is already booked for August 19-20, so be ready for even more music (on multiple stages), and lots of family-friendly fun.
ArtAndSoulOakland.com
.
Oakland Music Festival

Last year's lineup featured some big names — Down 2 Earth, Elujay, Jay Ant, Nick Jame$, Masego, just to name a few. In late September, a whole week of concerts, parties, showcases, workshops, discussion panels, and community events will overtake Oakland's venues and clubs, generating a creative and eclectic music experience.
OaklandMusicFestival.com
.
Burger Boogaloo

This festival is now an essential Oakland summer treat. Where else can you witness John Waters crack jokes and introduce bands, and The Mummies ride through Mosswood Park atop a hearse? That's right, no where. And this year's Burger lineup might be the most impressive yet: NRBQ, No Bunny, Personal and the Pizzas, Wounded Lion, Th' Losin' Streaks, FM Knives. Oh, and headliner Iggy Pop. Oakland might as well move its Fourth of July fireworks up a couple days.
July 1-2, BurgerBoogaloo.com. (Above photo is from last year's fest.)
Berkeley Bluegrass Festival

This quaint, three-day gathering at Freight & Salvage Coffeeehouse in Berkeley is a deep dive into all things fiddle, string, and banjo. Performers scheduled this year include the Lonely Heart String Band, The Bow Ties, Robbie Fulks, and Laurie Lewis and The Right Hands, among many others.
May 19-21, 2020 Addison St, Berkeley, TheFreight.org
.
Outside Lands

Probably the largest music festival in the Bay Area this summer, Outside Lands returns on August 11-13 for its tenth anniversary. This year's lineup is crackin', including Metallica, Lorde, The Who, A Tribe Called Quest, Gorillaz, and many more. "Eager Beaver" three-day wristbands are on sale, for $355, and VIP wristbands are more than double, in case you want your own bar, better bathrooms, and nicer views. Although volunteering information hasn't been released yet, in the past fans without the funds to buy tickets can choose to volunteer and enjoy complimentary admission.
August 11-13, Golden Gate Park in San Francisco, SFOutsideLands.com
.
BottleRock

BottleRock is a three-day event in beautiful Napa. Foo Fighters, Maroon 5, and Tom Petty & The Heartbreakers will headline his year's incarnation of the series, and there's even a culinary stage, which will bring together renowned chefs and musicians for a different festival experience. And you already know that if you're going to a festival in California's legendary wine country, some of the best local wines (and craft beers) will be poured. The party is sold out, though, so you'll have to scalp tickets to swill that vino with your boy Adam Levine.
May 26-28, Napa Valley Expo, 575 3rd Street, Napa, BottleRockNapaValley.com
.
Treasure Island Music Fest

Treasure Island went out with a, well, tsunami-esque storm instead of a bang last year, its tenth anniversary. But the great crew over at Another Planet Entertainment has promised to bring TI back, at an as-yet-determined location, this year. We eagerly await the announcement.
TreasureIslandMusicFestival.com
.