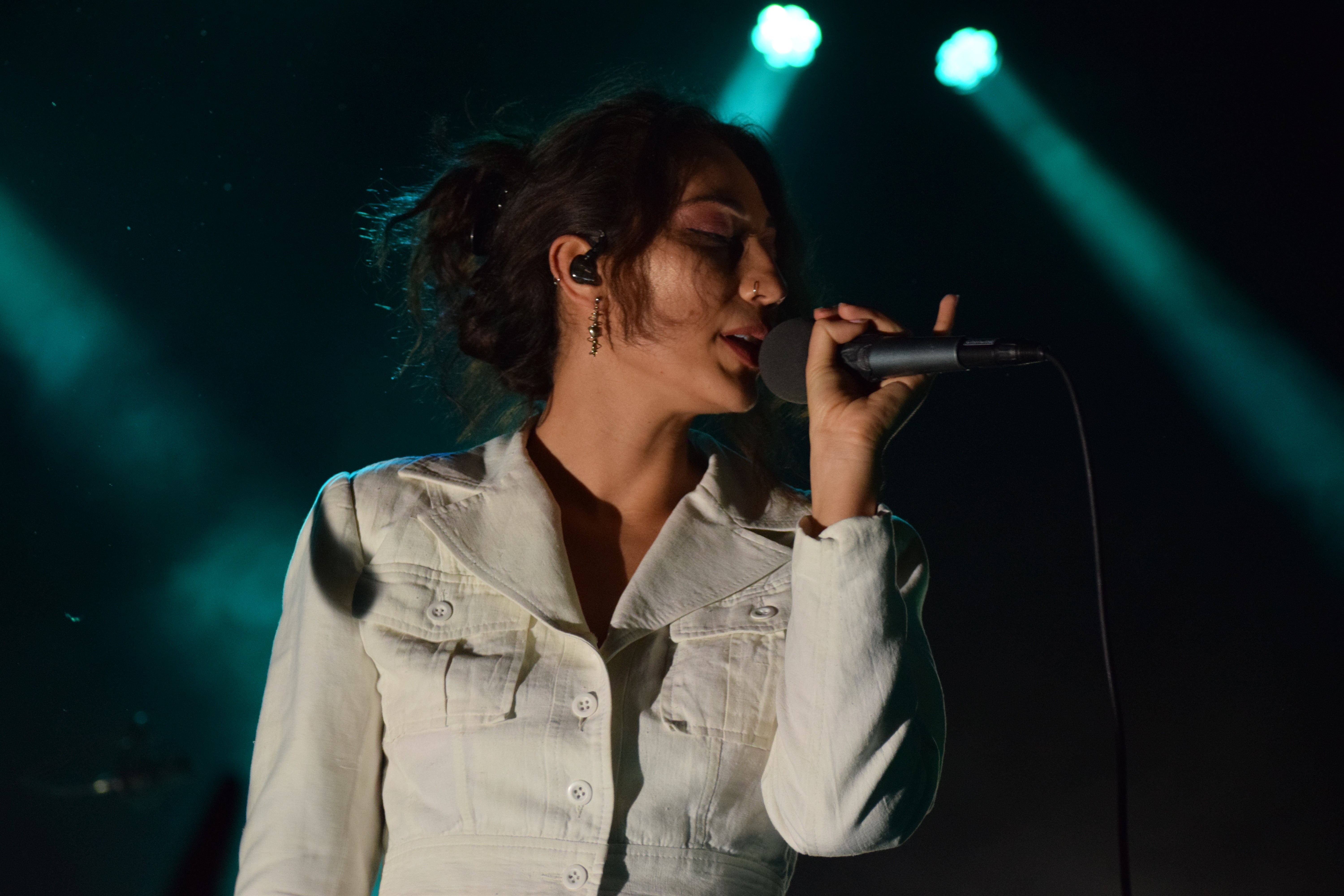 Tei Shi has been known to refer to the type of music she makes as "mermaid music." With her otherworldly, whispering soprano skating effortlessly between the lines of R&B, dream pop, and electronica, she creates a hazy world that certainly sounds like it could be underwater. Last night, on the third day of Noise Pop, Tei Shi headlined Bimbo's 365 Club in San Francisco — probably one of the last times she'll play such an intimate venue before she blows up.
The New York-based, Argentinian-born musician released her debut album Crawl Space last spring, named after a crawl space she forced herself into as a child to confront her fear of the dark. The album is all about confronting insecurities: a tarantula crawls across Tei Shi's cheek on the cover, and interludes between songs show a much younger Tei Shi confessing she's a "bad singer" and how she hopes to one day be "like Britney Spears."
Opening with "How Far," Tei Shi entered gracefully, wearing a cropped white jacket and high-waisted snakeskin pants — perhaps another allusion to facing fears. Over laid-back guitars and fuzzy synthesizers, she crooned vulnerably of two people attempting to change each other in a relationship. Her stage presence was not bombastic — more so a slow burn. She swayed languidly but with a quiet confidence, moving her arms and hips in fluid waves.
Whereas many of her songs are sparse on production, evoking the minimalist guitars of the xx, others are more experimental. During "Justify," descending spaceship sounds skittered behind breathy, short verses. But her sharp delivery eventually gave way to a series of banshee screams — an especially cathartic experience in a live setting.
Tei Shi kept banter between songs short, preferring instead to let the music do the talking. Her performance had the polish of a true perfectionist, sounding exactly like she did on the record. On "Lift Me," another lushly textured number with Little Dragon-esque dissonant synths and saxophone embellishments, the sky-high vocal runs dazzled just as clearly live.
Other highlights included the light and sensual "Como Si," the one song on Crawl Space Tei Shi sings exclusively in Spanish, as well as album closer "Sleepy," which let all production besides a piano accompaniment drop out to put her weary, intimate vocals in the spotlight: Learn fast / That no one gives a shit about the life I live / But tongue tied / They all have a say on the moves I make. The crowd stood still, captivated by the icy landscape Tei Shi painted before them.
But she broke the spell with closer "Bassically," urging everyone to dance. A song from 2015 EP Verde, it was a welcome moment of full-throated sing-along compared to the shatter-if-you-touch-it delicacy permeating most of her set. And whereas before she kept her movements slow and ethereal, Tei Shi allowed herself at last to dance like a maniac.
Noise Pop continues through Sunday, Feb. 25.