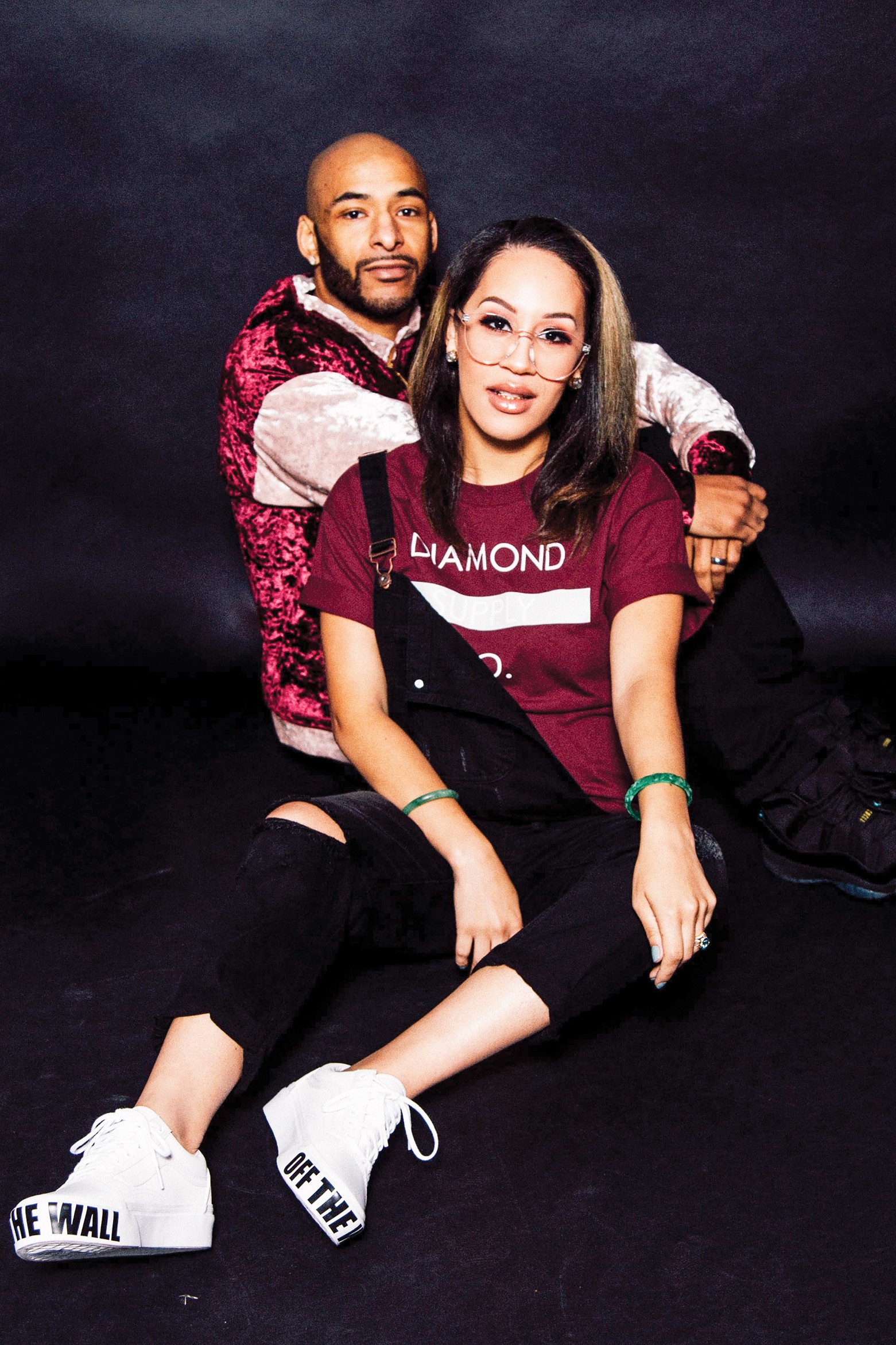 On a Saturday night in mid-October, all three stories of Complex Oakland were packed: Hundreds of folks filled multiple dancefloors, pulsing and grinding to bass-heavy club jams. More omnipresent than music and revelry, though, was art. More than 100 local artists and merchants had set up tables, hung paintings, and set out business cards; their work covered nearly every wall in the venue. Such is the peculiarity of Trap x Art, an event that incorporates an art gallery into a nightclub setting, giving artists and entrepreneurs a platform to network, sell their work, and have one hell of a night.
The event was started by Jesse and Amina Brooks, Bay Area natives who live in the Oakland foothills. The husband-and-wife team started throwing regular club events in 2011 with the hopes of achieving sustainable self-employment. "I didn't want to have to put up with answering to a boss," said Jesse. In 2013, they started incorporating art into a monthly show they hosted at 111 Minna Gallery in San Francisco. They asked several artists to display their work at the event, and it was a hit. The couple landed on the name Trap x Art for the show, and it became a monthly series at 111 Minna. As it grew, the Brookses started contacting, and getting contacted by, artists on Instagram to come display work, and steadily built a network of creators from various backgrounds.
Eventually, the show expanded beyond art and opened its doors to local startup businesses as well. People began selling their clothing, jewelry, makeup, and even assorted food products. In 2016, Trap x Art moved its monthly show from San Francisco to Complex Oakland. The response was huge. "A lot of people coming to the San Francisco events already lived in the East Bay," said Amina, "so our first show in Oakland had more than 1,000 people in attendance."
Although there have been other events that incorporate music and art, Trap x Art stands out because the organizers don't charge artists to display their work, and they don't take a percentage cut from sales. Additionally, there is no application process for getting into the show; anyone who asks to be involved is welcome to come and set up in whatever space is available. "A lot of these artists are talented, but just starting out," said Jesse. "They don't have the funds or access to get their stuff hung up in the galleries. We want to give them an opportunity."
Courtney Marshall, who makes art under the name "Dat," has been coming to Trap x Art events for two years as an attendee and recently started displaying her work at the shows. "It's a great place to come and network. There's no drama here," said Marshall. On the show's open-door policy and model of not charging artists, she added, "Everybody is starting off with nothing and burning they're ass off to make something. This is a perfect place to start."
With their backgrounds in club promotion, Amina and Jesse strive to make Trap x Art something different than the standard nightclub affair by focusing on art and community. "We don't have a dress code, we don't offer bottle service, we don't create an environment where people think they can come and stunt on other people," Amina explained. Some do come just for the party, but many attend to see or buy the art. For the artists themselves, it serves as a networking opportunity. The Brooks hope that Trap x Art will foster collaboration between artists. "We'll see people we know collaborate on projects together and ask how they met," said Amina, "and they'll say, 'We met at Trap x Art.'" The goal is for these artists and startups to be able to build a foundation that one day leads to financial stability — the same motivation that initially drove the Brookses. "We have an entrepreneurial spirit," said Jesse, "and we're trying to share that."
Although it's still based in Oakland, Trap x Art has expanded nationally. Over the past year, the Brookses have brought events to Los Angeles, Detroit, New York, and Atlanta and are planning to introduce their show to more cities in the near future. The brand itself has also branched out and now includes runway fashion shows promoting local designers, called Trap x Art Runway, and a quarterly magazine, simply titled Trap x Art, composed of fashion and art photography as well as interviews with artists.
Jesse and Amina also aren't afraid to address social issues with their show, which features a different theme each month. Earlier this year, they held a show called "Trap Lives Matter," where artists displayed works pertinent to Black identity, culture, as well as the racially driven violence that gave birth to the Black Lives Matter movement. "Art is made in response to what's happing in the world," said Amina, "so regardless of what the theme is, we usually get a lot of art that addresses Black Lives Matter or gentrification or whatever else is affecting society." Other themes have been less political, including an erotic showcase titled "Who Doesn't Like Sex," as well as several tributes to influential hip-hop artists such as Biggie Smalls and Cardi B.
The Brookses are currently gearing up for their next show in Oakland. The Dec. 9 event, "Trap x Art Oakland," will include works in tribute to the city that many of them are from. Expect it to be even more Oakland than usual.
Trap x Art Oakland takes place Saturday, Dec. 9, at Complex Oakland, 420 14th St., Oakland. 9 p.m., $20. ComplexOakland.com