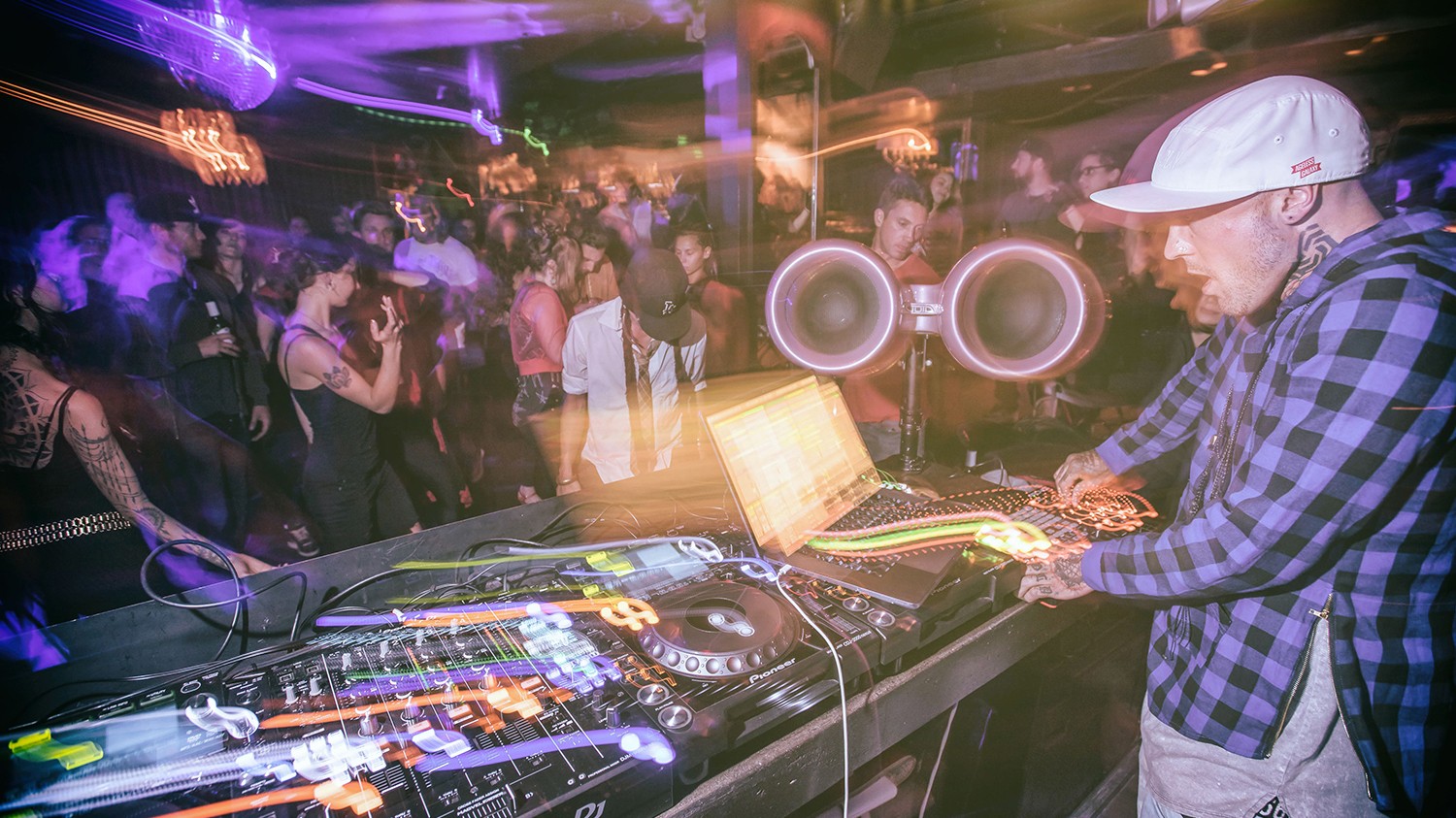 It's Thursday night, which is basically Friday, and you're dying to get an early start on the weekend — but something stops you. Is showing off that new arsenal of killer dance moves you've learned from watching reruns of So You Think You Can Dance really worth dealing with the seedy, sweaty vibe of a nightclub? Good news: getting down to head-throbbing beats doesn't have to mean subjecting yourself to the sleaze.
Enter Sub Society, an events production group that throws house and bass shows every third Thursday of the month. The Third Thursdays series started in San Francisco, but now, Sub Society has moved the series to Oakland and given it a brand new name: Social Alchemy.
"We wanted a classy atmosphere," said Joshua Lee, Sub Society co-founder.
After much deliberation, he decided on year-old Temescal restaurant Copper Spoon as Sub Society's Oakland spot, shortly after it debuted a funky new lounge space behind its main bar and dining room last month.
"We really value an establishment that puts a lot of craftsmanship into their cocktails and food menu," said Lee. "We want to create an experience that's going to be fulfilling for people who come out of their way to attend our events."
Copper Spoon checked all the boxes: laidback but hip and bohemian decor, a welcoming staff, late-night food, an extensive mezcal selection, and an intimate space. Fortunately for Sub Society, Copper Spoon co-owner Vita Simone was on board.
"We've had multiple DJs and promoters ask to do parties with us, and if I don't enjoy having a conversation with them, I'm not going to have that energy in the spot," said Simone. "The fact that Joshua is very conscious and respectful of the space as well as really about the artists was important."
Social Alchemy seems to be just the start of more music events entering Copper Spoon's new lounge space, from DJs to karaoke nights. Formerly, the building was home to Art's Crab Shak, and has been a prominent community location for over 50 years. Simone said that before her team remodeled the building, there was a jukebox that used to turn on by itself all the time.
"Music is a part of the building. It always has been," she said.
But Social Alchemy shows aren't only about music. The series also features local artists and vendors. Last month's show featured a live painter and jeweler, and the holiday-themed December show, which takes place this Thursday, Dec. 20, will feature clothing vendor Vapor Closet alongside guest DJs Spekt1 and General Noa and Sub Society resident DJs Danis and Maya.
It's important to Lee to highlight the artists of the night in the same way as the DJs.
"We want to uplift them and put them on the flyer like they're another act of the show. They're artists too and need to be represented," he said.
So, how does the night go down?
Walk in the front room and browse local art, chat with vendors, and then head to the back room to grab a cocktail and join a full-on dance party.
"We start with house music and break into bass music after, so you can go on a little journey," said Raeya, one of Sub Society's resident DJs.
Typically, the house and bass scenes have been viewed as separate entities in the electronic dance music community. But Sub Society takes pride in bringing the two genres together. Lee, who comes from a house background, started throwing parties in his native Eugene, Ore. that combined the music he liked with the music his friends liked. People loved the combination of warming up the dance floor with faster tempo house beats and then sliding into more melodic, experimental bass later in the night, so he brought the winning formula down to the Bay.
"We really love to shed this idea that you're 'just into house' or 'only into bass,'" Lee said. "We're really trying to get people who are in that mind frame to open up."
The Third Thursdays series may have originally been held at clubs in San Francisco, but Lee said that it's better suited to the East Bay nowadays. Not only does he believe Oakland needs more love electronic music-wise (San Francisco is dominant in this scene), but he also sees the community-oriented vibe of Social Alchemy as something intrinsic to The Town.
"Third Thursdays is bringing it back to our roots by doing an event for the community and for the artists," said Lee. "Most of the artists live over here."
While shifting its smaller, more intimate shows to Oakland, Sub Society is taking a two-pronged approach by also expanding its scope in San Francisco. This means they can throw shows in the city that are targeted toward bigger crowds and larger headliners while still maintaining their original laidback, underground ethic with Social Alchemy — because there's a certain energy to these events that you just can't replicate in a giant nightclub.
"All of these elements really have to come together to make the event pop," Lee explained. The term "social alchemy" encapsulates that concept precisely. "It just really communicates what it takes to create that magic in a social setting and that chemistry on the dance floor."
Thursday, Dec. 20, 10 p.m.-2 a.m., 4031 Broadway, Oakland, Facebook.com/SubSocietyEvents