Until 1958, Oakland had a system of streetcars that shuttled passengers from across the city to its Western edge, where they could catch ferries or commuter rail to San Francisco. Half a century later, streetcars may be coming back to Oakland.
On Tuesday, the Oakland City Council approved a consultant contract for a study into the viability of an extended "Free B" Shuttle route and electric streetcar system. The goal is to facilitate connections between transit hubs and commercial centers along Broadway, from the Jack London District's Amtrak station to MacArthur BART, said Zach Seal, economic development specialist for the city. "We really see this as an opportunity to solidify Broadway as a corridor that's a major destination for shopping and retail," he said, "and a place where major development activity is happening."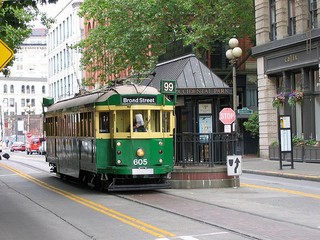 Ian Fisher
Seattle streetcar
For Oakland Mayor Jean Quan, the project is also about elevating the city's regional presence. "Transportation tends to be San Francisco-centric," she said. "The reality is that Oakland is the center." She believes the city's central location makes it a natural transportation hub for the Bay Area.