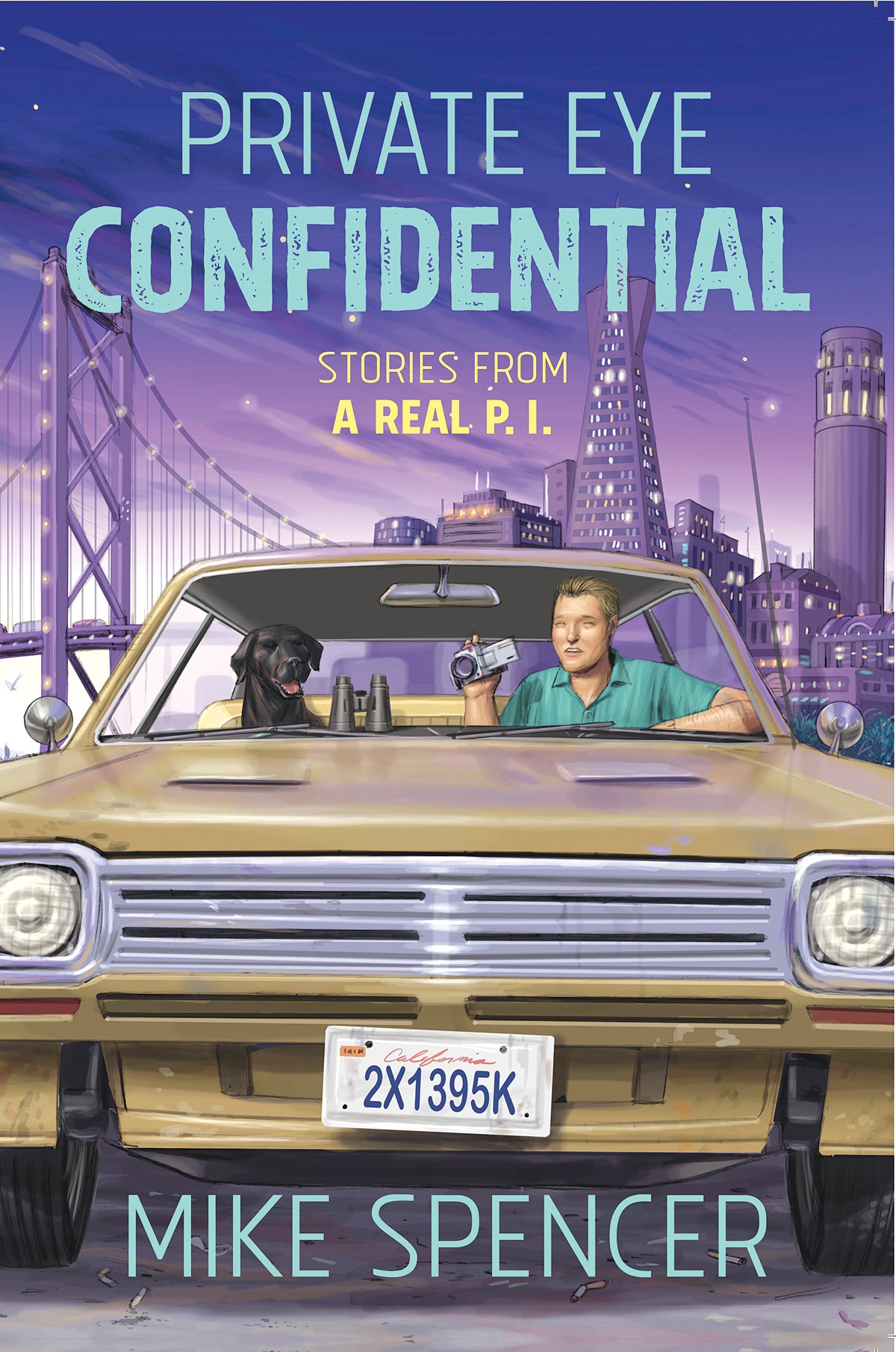 Mike Spencer could have ended up the patsy in a murder plot. In the early 2000s, the licensed private investigator was hired by a woman to surveil the father of her grandchild. The child's mother had died, and the grandmother wanted custody of the kid. She believed that the father, Gary Murphy, was tied up in a life of crime, so she paid Spencer and another Bay Area dick $15,000 to prove it. But the two gumshoes saw no detectable wrongdoing.
After Spencer dropped the case, Murphy was gunned down by a masked assassin in a San Francisco halfway house. Spencer went to the cops and told them everything he knew. To this day, the killing of Murphy remains unsolved. But it's tales like these that give Spencer's first book, Private Eye Confidential: Stories from a Real P.I., the grit that distinguishes the best true crime stories. In the same vein, Spencer writes about investigating Oakland con artist families and valiant, although futile, efforts to get justice for a man brutally beaten in a Reno hotel by professional UFC fighters.
But the reality of being a private detective, according to Spencer, is that it's 95 percent process and 5 percent "Aha!" Often, the work is "pedestrian," — Spencer's word for it.
A former resident of Berkeley and Oakland who worked as an investigative reporter in the Bay Area and Florida, Spencer now lives in Fremont with his wife and Labrador. And yes, he still works as a PI. In an interview last week, Spencer said that he wrote the book to combat the media stereotypes about private investigators. He's tired of getting the same misguided questions from people when he mentions his profession — that he investigates cheating spouses à la the reality show Cheaters.
A more flattering, but equally inaccurate stereotype is that PIs crash through life-solving murders and jewel heists while cracking cold cases bungled by cops.
According to Spencer, the grind of a PI does sometimes involve spying on jilted lovers. And sometimes investigators are drawn into dangerous webs of crime and secrecy.
But the work also means sitting in a car for eight hours in a strip-mall parking lot, resulting in information that's no more useful than the fact that a person went shoe shopping and bought Chinese take-out for dinner. It can involve staring at thousands of pages of criminal and civil records. Sometimes PIs buy expensive information from a data broker only to learn mundane details about people's lives.
Being a PI also means being a cog in the criminal justice machine. Spencer is fully aware that he's part of a system that's biased toward providing those with the most money the greatest access to justice. As a detective, Spencer has to pay his bills by taking on well-heeled clients, or at least clients willing to spend thousands for the right video or evidence that answers their question.
But over the years, like other PIs, Spencer has also taken on low-paying cases out of a sense of duty. Assigned to investigate cases for attorneys representing indigent clients in criminal proceedings, he writes, "I see the realities of police work. It reminds me in many ways of deadline journalism." It's geared toward showing probable cause and making an arrest so that a case can get charged. Errors are made.
The only criticism of Spencer's book is that it's too short. He said, half-joking, that he wanted to keep it brief because "people don't read anymore." But some of the stories are fascinating and could use more ink. Spencer is a good writer.
In the nuts-and-bolts explanation of his job, his brevity works. He doesn't pee in a bottle in his car while on a surveillance gig; instead, he relies on his encyclopedic knowledge of where public bathrooms are. Technology is taking over the profession so data is now the main currency of a PI. No surprise there. It's difficult to tail someone in a car through a city and not get mad, or lose them.
Spencer is also brutally honest about his profession. It's been tainted by more than a few hucksters and bad guys: PIs who dip into crime to make a buck for, or off of, their unsavory or naive clients.
But the average PI is an honest and ethical servant. This service involves lots of tedious and precise work sifting through information, and occasionally things get hairy. Spencer is protective of his profession because he loves his work, and it's the possibility of helping a client that he loves the most.
And while he's diligently helping his clients, he keeps building his files of bizarre, silly, and occasionally dangerous cases, some of which make for fascinating stories. Hopefully, someday he'll write more of them down.
Private Eye Confidential: Stories from a Real P.I will be available on Sept. 15.