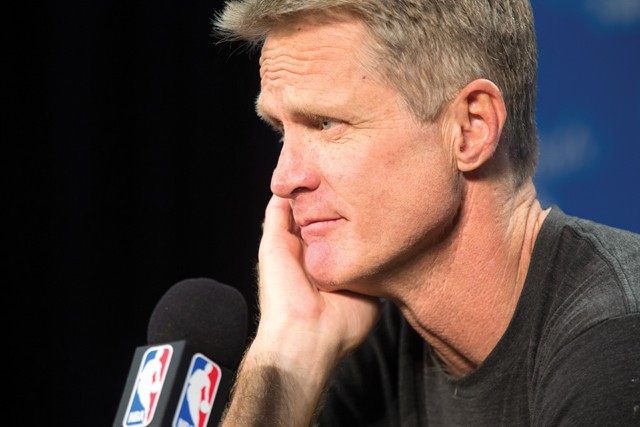 If we're going to start considering nonpoliticians like Oprah for president in 2020, I hereby call for Steve Kerr to throw his hat in the ring. The Warriors coach has spent much of the past year weighing in on a wide range of issues such as Donald Trump, social media, Martin Luther King Jr., the state of sports media, and the declining quality of political discourse.
Kerr's recent comments in which he knocked LaVar Ball and the knee-jerk sports media that rewards his attention-seeking ways, is another reminder of how lucky we are to have him as the Dubs' coach. Kerr urged ESPN to ignore Ball's latest batch of regrettable quotes, in which Ball said the Lakers should fire head coach Luke Walton after a recent losing streak. Kerr questioned why ESPN would send reporters to Lithuania to interview Ball when the media giant had recently laid off 100 employees. "So, this is not an ESPN judgment, it's a societal thing more than anything," Kerr said. "Where we're going is we're going away from covering the game, and we're going toward just sensationalized news. It's not even news, really. It's just complete nonsense. But if you package that irrational nonsense with glitter and some ribbon, people are going to watch."
Kerr also has joined fellow NBA coaches, Stan Van Gundy, and Gregg Popovich in sharply criticizing President Trump. And Kerr might have topped himself on Monday — Martin Luther King Jr. Day — when he told The Athletic's Anthony Slater that Dr. King would "be less than inspired by our (current) leadership." Kerr took a shot at social media, noting that so much of the anger seen on Twitter and Facebook cheapens our political discourse because people can spew hate without facing consequences. (Citing Kerr's outspokenness,
Oakland Magazine
, the
Express
' sister publication,
recently named him its 2017 East Bay Person of the Year
.)
Can we just nominate Kerr for president already? Even if you don't agree with him, few national leaders, let alone sports figures, offer takes as thoughtful and eloquent as the winning Warriors coach. When the franchise's championship run ends, I'll miss Kerr the most. …
Longtime Dubs fans endured years and years of awful basketball and a towering pile of losses before the 2012-13 team started this current playoff run. That's why it never gets old watching the amazing feats of Steph Curry, Draymond Green, Kevin Durant, Klay Thompson, and others. Watching their nightly on-court genius is a dream come true for anybody who suffered through the likes of Todd Fuller, Bimbo Coles, Felton Spencer, and Vonteego Cummings – just to name a few unbelievably forgettable old-school Warriors. Every day, I check the NBA standings and I see the Lakers again are a losing team that will miss the playoffs and the Warriors have the best record in basketball. Is this real life? It's an understatement to say I'm not a fan of the franchise's impending move to San Francisco, which has muted my ability to fully root for the Warriors. But they're so fun to watch, I'm just going to enjoy them while I can …
Speaking of the bad old days for Oakland's basketball team, give yourself a post-Christmas gift and start following this Warriors-themed Twitter account: @Thisdayinsuck. It celebrates — darkly but humorously — past Warriors transactions involving terrible players, serving as a daily explanation of why the pre-Steph Curry Warriors were absolutely awful. Here's one recent example: "1/13/2001 — Warriors sign Chucky Brown to a 10-day contract which sets an NBA record for Brown by playing with his 11th NBA team." Wow. The Warriors really were unwatchable back then, and that tweet by itself explains it all. Give @Thisdayinsuck a follow, if only to appreciate how wonderful the Dubs are now. ….
It was nice to see A's president Dave Kaval and former A's player and studio analyst Shooty Babitt represent the Green and Gold in the Oakland Ballet's annual Nutcracker performance last month. Kaval's and Babitt's onstage appearance reminded me of the Athletics' early-1990s heyday, when the Haas family owned the franchise. That's when the A's won big on the field, routinely packed the Coliseum with fans, and, not coincidentally, embraced Oakland and made themselves a big part of the East Bay community. In those days, then-manager Tony La Russa and several A's players routinely performed with the Oakland Ballet. Kaval & Co. are smart to mimic the late Walter Haas Jr., who remains the gold standard for Bay Area sports owners. …
The A's deserve similar kudos for their new Jack London Square office, to which they recently moved. The swanky headquarters offer stunning views of the Oakland waterfront and contain several displays celebrating the franchise's rich 117-year history. A number of rooms in the office are named after Oakland neighborhoods, such as Laurel and Jingletown, and the A's' #RootedinOakland slogan appears on TV monitors throughout the new facility. Inside the office, it feels like a new era for Oakland baseball. Hopefully, that vibe translates into more wins — on and off the field — for the Athletics.
Unfortunately, the A's' offseason roster moves have been lackluster — sorry, adding Stephen Piscotty to the outfield and Yusmeiro Petit to the bullpen won't move the needle. I know Billy Beane has built his reputation by parlaying under-the-radar winter moves into unlikely summer success. But would it kill the A's front office to give fans some extra reasons to get excited for 2018? And if the A's truly are rebuilding with youth, then why are high-priced veterans like infielder Jed Lowrie and outfielder Matt Joyce still on the roster? Lowrie had a great 2017 season, which should have driven up his trade value. And though he's a solid player — let's be honest — the A's can lose 87 games or more with anybody at second base. (The A's finished 75-87 last year — a poor season, yet their best record since 2014.) Lowrie, who turns 34 in April, will earn $6 million this season. The A's could clear out Lowrie and give his at-bats to Chad Pinder, who was solid as a utility player last year. Also, prize infielder prospect Franklin Barreto could be called up sometime in the '18 season. The Red Sox could be a good trade target, as they might need an infielder like Lowrie if Dustin Pedroia's knee surgery recovery takes longer than expected. Likewise, Matt Joyce is set to earn $6 million and the 33-year-old vet is the definition of expendable. The A's have lots of promising outfielders on the roster, whether it's youngsters like Dustin Fowler, Boog Powell, and Renato Nunez, or veterans like Piscotty, Mark Canha, and Jake Smolinski. Joyce rebounded from a dreadful first half last year and finished the 2017 campaign strong, swatting 25 homers and 68 RBIs while playing solid defense. He has some value and the A's would benefit from a trade, if only as a salary dump. Bottom line: If the A's are undergoing a youth movement, then they don't really need Lowrie or Joyce and would be better served by moving the pair of vets. …
Count me as unenthusiastic that Billy Beane has joined the ranks of international soccer co-owners. Beane is part of an ownership group that recently purchased Barnsley F.C., a second-tier English club in a small city set hundreds of miles north of London. Barnsley's stadium, Oakwell, was built way back in 1887, making it nearly 80 years older than the Oakland Coliseum. (Like the Coliseum, Oakwell was renovated in the 1990s.) If Beane's baseball history is any indicator, Barnsley fans can look forward to an annual tradition of Billy selling the club's best players to Manchester United and other rich soccer clubs. …
Raiders owner Mark Davis is just as small and petty as Al Davis ever was. Just months after the team announced they're deserting the Bay Area for Las Vegas, according to The Athletic, the Raiders reportedly complained that their Bay Area flagship station, 95.7 The Game, was talking more about Jimmy Garoppolo and the 49ers than the soon-to-be Las Vegas Raiders. …
Some things never change. Loyalty for Davis and the Raiders is always a one-way street.
Chris De Benedetti, a co-founding member of Baseball Oakland, writes a regular sports column for the
Express.