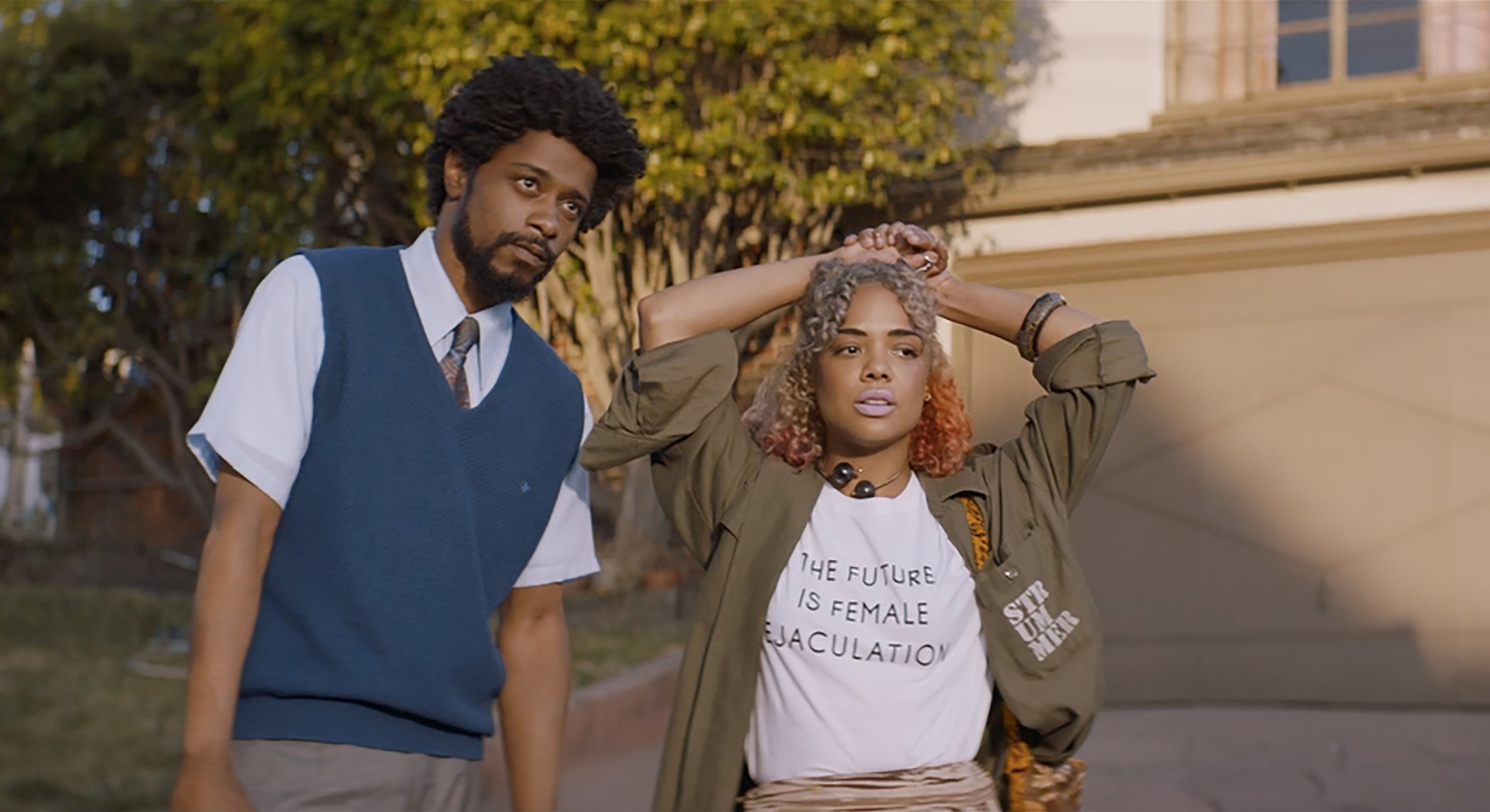 The setting of Boots Riley's
Sorry to Bother You
is Oakland. Not the Oakland of five years ago, or even of last week, but the Oakland of right now, at the precise moment you're reading this. It's a place where even the young, gifted, and Black — and everyone else, of course — are so crazy from trying to make a living and hang onto their little patch of ground that they concoct insane fantasy scenarios full of nightmarish beings and situations. Like the half-man, half-horse Equisapiens, or a TV show called
I Got the S#&* Kicked Out of Me
. But all the while they've got real lives to lead.
Free-thinking Black man Cassius "Cash" Green (Lakeith Stanfield, in a slyly nuanced performance) and his girlfriend Detroit (Tessa Thompson), an artist whose day job is as a sign twirler on a street corner, reside in the garage of a home owned by Cash's uncle Serge (Terry Crews). They're so behind on their rent, and Serge is so behind on his house payments, that soon they're all going to have to find a new place to live.
In desperation, Cash accepts a telemarketer job at a miserable commission-only boiler room where the only bright spot, aside from a couple of sympathetic colleagues (Jermaine Fowler and Danny Glover), is the presence of a labor organizer named Squeeze (Steven Yeun). Squeeze's egalitarian philosophy appeals to Cash, but suddenly a dilemma arises — Cash gets promoted to "Power Caller" status and offered a chance to effectively sell his soul to the company for more money. Which road will he choose, taking a union stand with his workmates or cashing in the golden ticket as a token "house Negro" in the stable of CEO Steve Lift (Armie Hammer, the ideal Designated Insufferable Whitey)?
The bare synopsis has an antique flavor to it, like something from a silent melodrama made 100 years ago. But writer-director Riley, the well-traveled Oakland rapper whose group, the Coup, has used beats to make political points since the early 1990s, obviously sees Cash and Detroit's predicament as the story of our times.
Sorry to Bother You
is that rarest of satires — a nimble, imaginative, non-clichéd bucket of socially aware indignation that doubles as a street-level panorama of the 21st-century urban experience, Oakland style. And, despite its skepticism, the writing is funny as hell.
Riley, his cast, and crew scatter comic grace notes in great profusion. The drearier the prospects — voluntary live-in slave labor at the WorryFree corporation, horse-hybrid workers on an assembly line, the "Have a Cola and Smile Bitch" ad campaign — the bigger the laughs. Because, unfortunately, we recognize the landscape. Kudos to Stanfield, Thompson, Yeun, Hammer, and Michael X. Sommers (as the telemarketing line boss), alongside cameos by W. Kamau Bell and Forest Whitaker, and the voice talents of David Cross, Lily James, and Patton Oswalt. Two scenes stand out for their painful implications: Cash's "N— Shit" rap, and Detroit's "performance piece" humiliation at the gallery opening. Bitter stuff, necessary viewing. And then there's the "white voice" sales technique.
Two years before filmmaker Riley was born,
Putney Swope
filtered into urban cinemas as a dead-accurate send-up of most of the same attitudes Riley pillories in
Sorry to Bother You
, with remarkably similar rapid-fire putdowns and cool-but-outraged cultural analysis. That 1969 release was written and directed by Robert Downey Sr. (father of the actor) and starred Arnold Johnson in the title role, as a Black executive in a
Mad Men
-type advertising agency who suddenly gets promoted to head of the firm. In interviews, Riley says he never saw
Putney Swope
, but the resemblance is striking and we recommend it, to him and to you.
The more things change, the more they remain the same.
Sorry to Bother You
only reiterates a popular pessimistic argument in many movies today, that almost nothing can stand up to the corruptive combination of money and power. That "almost" is where Cash and Detroit come in. See Riley's invigorating new film and renew the discussion.