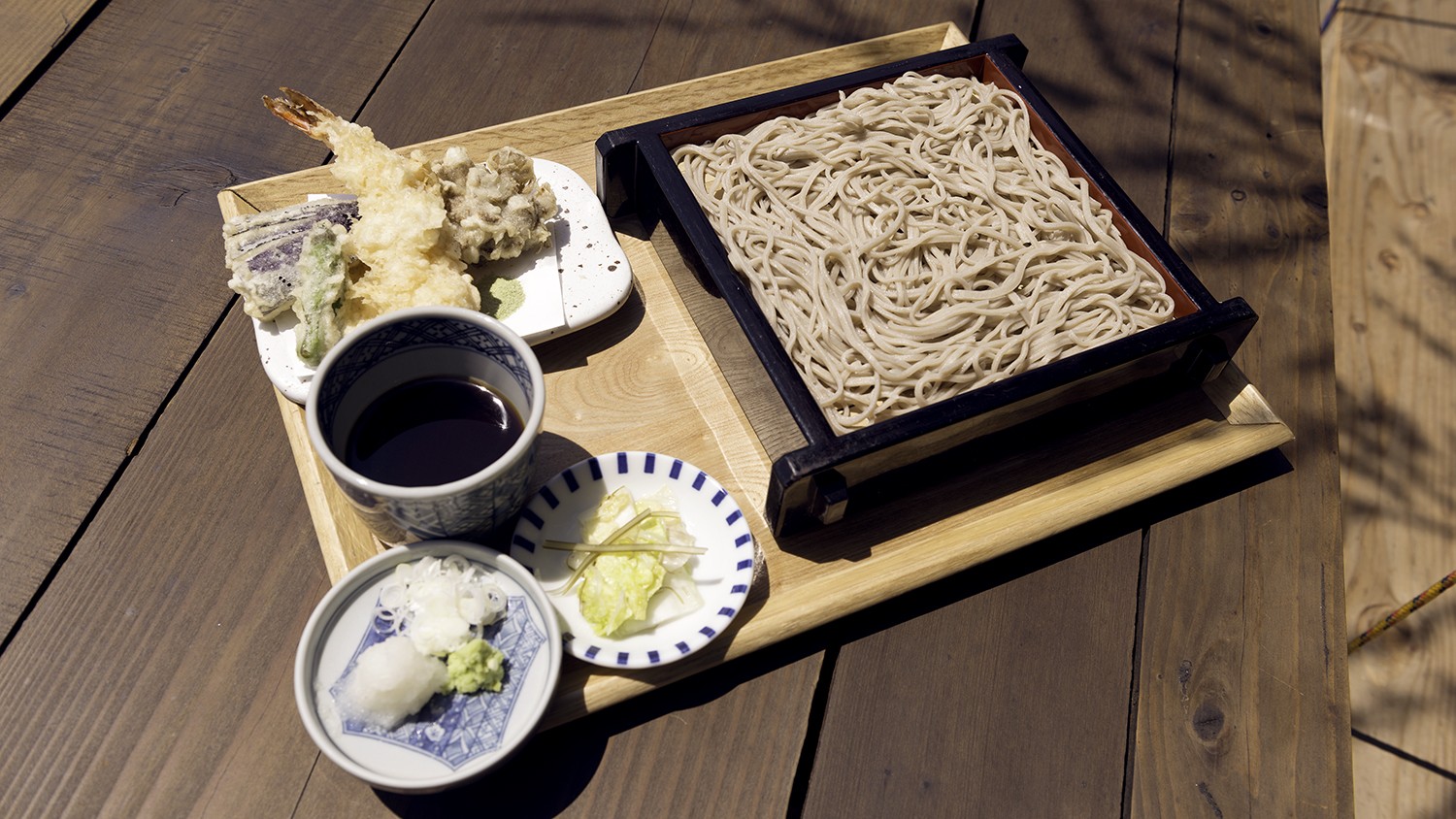 Walking into Soba Ichi feels simultaneously exciting and sad. Exciting because it's the Bay Area's first restaurant to make fresh soba noodles from scratch — and among few restaurants to do so anywhere in the country. At the same time, it's difficult to appreciate its existence considering its location.
Soba Ichi sits on a quiet stretch of Magnolia Street in West Oakland. For five years, the space housed FuseBox, the beloved Korean fusion restaurant run by West Oakland residents. Last spring, FuseBox's lease neared its end and co-owner Ellen Sebastian Chang told reporters there was "lease jockeying" with the landlord — the husband-and-wife team had actually planned to expand the restaurant but opted to close once the five-year lease was up. Soba Ichi quickly announced it'd be moving in, as one of its partners, Paul Discoe, owns the building and the surrounding O2 Artisans Aggregate complex.
So it's hard to not be at least a little peeved at Soba Ichi's existence — even if you're also a huge fan of the concept. The setting alone teems with tenderness and pain. In this slice of West Oakland, longtime residents are actively facing displacement. Just two blocks away, Alena Museum, the arts center focused on providing space for folks of the African diaspora, is battling eviction. At the same time, the amazing level of craftsmanship at Soba Ichi is undeniable.
On a recent Thursday afternoon, crowds descended onto the two-month-old restaurant from who-knows-where, but probably not West Oakland. They piled out of cars, rushed toward the waiting list, and patiently sat outside for roughly 45 minutes until a table was ready. On Saturdays, people start showing up an hour before the restaurant even opens. Early sell-outs are commonplace. If you arrive after noon on a Saturday, you're likely eating elsewhere.
The restaurant comes from the folks behind popular Berkeley izakaya Ippuku. Discoe, an ordained Zen Buddhist priest and master wood craftsman, designed the peaceful, minimalist space with pale wood, a bamboo fountain, and mismatched string lights. As you stroll toward the small dining room, you pass a tiny, enclosed workshop space dedicated to making soba noodles. Chef Koichi Ishii shipped a stone grain mill over from Japan so he can mill his own buckwheat flour using a high-grade variety from Washington known as Kitawase — he prepares both the flour and noodles by hand every day. The attention to detail is palpable and impeccable.
Ishii makes two kinds of soba: jyuwari soba, which is made from 100 percent buckwheat flour, and nihachi soba, which is 80 percent buckwheat and 20 percent wheat flour. Co-owner Shinichi Washino explained that nihachi soba is the most popular variety in Japan, but some people prefer the grittier, more intense flavor of jyuwari. That said, Soba Ichi only makes about 20 servings of jyuwari per day compared to 80 of nihachi — the restaurant sells out of jyuwari so quickly that I never got to try it.
But the nihachi noodles were lovely. You can best appreciate their delicate nutty flavor and bouncy chew when they're served cold, dipped in a simple sauce made from dashi, two kinds of soy sauce, mirin, and sugar. The sides of lightly pickled cabbage, wasabi, grated daikon, and slivered scallions added subtle nuance. You can also add a small side of tempura, which arrives light and crisp with matcha salt. Another variation, the bukkake soba, comes with natto, the slimy and ultra-fragrant fermented soybeans that are certainly not to everyone's taste — I admire Soba Ichi's guts in serving them at all.
While the noodles slowly lose their suppleness in a bowl of hot broth, the hot soba dishes benefit from the excellent pureness of Ishii's dashi, which is made from kombu, dried shiitakes, and three kinds of bonito flakes. I especially enjoyed the version showered with earthy nameko mushrooms and scallions.
Given that Soba Ichi is only open for lunch, most diners only order hot or cold soba before heading back to work. But the restaurant's other dishes are worth experiencing as well. As Washino explained, soba restaurants in Japan double as drinking establishments, so they also serve snacky small plates to pair with booze. The goal is for Soba Ichi to eventually open for dinner — Ishii only just hired another cook to help out — and offer more small plates. Ideally, folks would come in, order a round of drinks, nibble on some pickles or tamago, order more drinks, and then finish the meal with soba. Washino, the bar manager, stocked the bar with beautiful, traditional glassware as well as Japanese beer, sake, and shochu.
Of particular note are the dashimaki, an idealized form of the cold Japanese rolled omelet, with barely distinct, custardy layers; mushidori, plain but soft poached chicken draped with an intense pickled plum sauce; nishin misoni; briny herring perfumed with miso; and a spinach salad covered in shaved red onions, fried soba seeds, and thin slices of succulent duck cooked in a style similar to sous vide. I only wished the baby spinach was more evenly dressed. Still, the common thread here is delicate, subtle flavors executed with precision.
The single dish that most blew me away was actually the restaurant's lone dessert, sobacha mousse. Buckwheat tea infuses the soft, creamy mousse with a remarkable amount of flavor. A brown sugar jelly adds slippery sweetness, and a final sprinkle of fried buckwheat groats delivers crunch. At $6, it also felt like one of Soba Ichi's most reasonably priced items.
Alas, that's part of the inevitably strange feeling that comes with dining at Soba Ichi. It's easy to appreciate the arduous work that goes into the fresh noodles, and how Ishii trained for three years as an apprentice in Japan to prepare for Soba Ichi's eventual launch. It's also reasonable to shrug off the sometimes frantic service — the place is perpetually swamped, not to mention very new. But the prices — lunch for three with no drinks came to $110 after tip — are bound to alienate many neighbors in West Oakland. It raises some questions: How does a restaurant contribute to gentrification? Does a restaurant, especially when it's one of few in the area, need to serve its neighborhood? (While some may have had similar concerns about FuseBox, that mom-and-pop restaurant also felt more affordable, and the owners lived in the neighborhood.)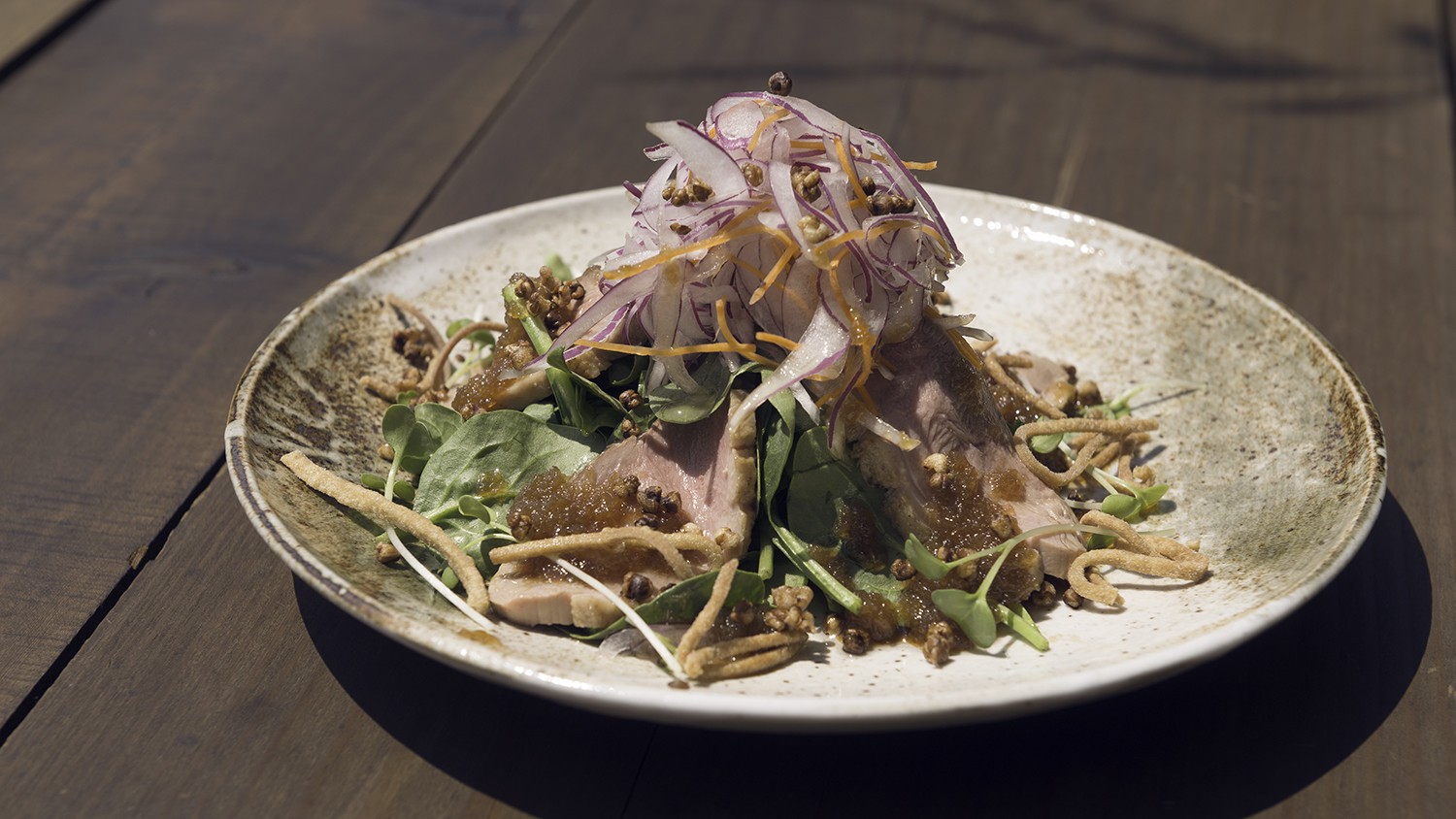 To Soba Ichi's credit, the owners do seem aware of the concerns. With working-class neighbors in mind, Discoe mandated at least one affordable option on the menu: a $6 duck rice bowl. Discoe said the team wants to do more, but the kitchen is so small and staffing is so difficult that they haven't been able to produce more food — and more affordable food — in the space thus far. So, they've recently turned to hosting independent pop-ups on the patio. A Hawaiian shave ice stand has taken up residency, and okonomiyaki and katsu sandwiches have also made appearances. "We're open for anybody interested in doing that," Discoe said. "It's our intention to have something that people can come to after work that's on par with a taco truck around the corner. It's something we want to happen, but we're working toward it slowly."
Soba Ichi
2311A Magnolia St., Oakland
SobaIchiOakland.com
Hours: Tue.–Sat. 11 a.m.–sell out
Cash, all major credit cards
Sample Menu
Regular cold soba … $14
Cold soba with tempura … $20
Hot soba with mushrooms … $17
Mushidori
… $10
Dashimaki
… $7