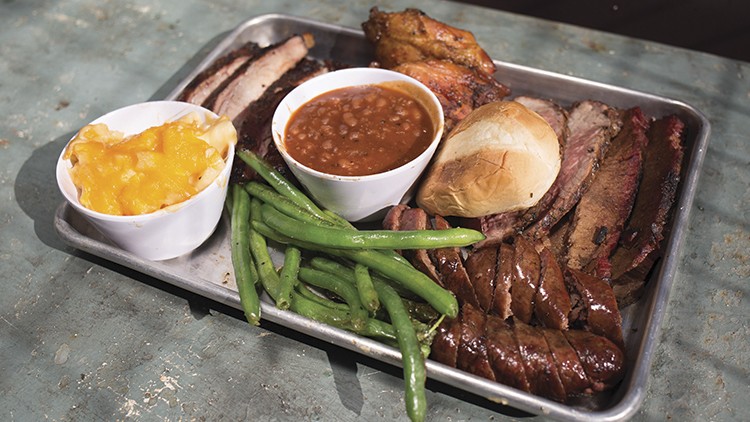 It's not every day that you encounter a beef rib the size of your forearm.
Such was the food coma-inducing lunch I ordered on a recent Friday at Smokin' Woods BBQ, which gave me fuzzy, Flintstones daydreams. It's unfortunate that I can't revisit those beef ribs closer to my bedtime, but that's what happens when a new restaurant is so good that it becomes prone to selling out early.
It's an exciting development for local barbecue fans, who have seen a slew of beloved joints close over the past several years, with few arriving to fill the void. That's changing quickly, though. In addition to Smokin' Woods, there's relative newcomer Stay Gold Deli, which is scheduled to open a second location in Temescal next week, and Roderick's, a brick-and-mortar turned food truck turned brick-and-mortar 2.0. There hasn't been a better time in recent memory to feast on smoked meat.
In September, catering company Smokin' Woods took over the small cafe at Forage Kitchen in Uptown. It's in pop-up mode with no end in sight — given the immediate popularity, owner James Woodard guesses he'll linger for at least a year or two, even while he already looks for his own full-fledged brick-and-mortar. He has his sights set on a downtown or Temescal location with ample outdoor and indoor seating.
Those beef ribs are only available on Fridays, and they're usually gone by 2 p.m. In addition to being a tough-to-find cut at barbecue restaurants, the beef rib is cooked beautifully, with a peppery, blackened crust; the all-telling fuchsia smoke ring; and soft, juicy meat. But the most impressive cut is the melt-in-your-mouth brisket, which is the best I've tried in California. Smoked for 12 to 14 hours, it's incredibly rich and savory, with a depth of flavor that begs you to skip the barbecue sauce entirely, even though the house-made sauce is absolutely delicious. I could find no flaws in this gorgeous cut of meat.
I rarely have strong feelings about a barbecue spot's links, but Smokin' Woods' beef links were something else — charred, smoky, and unusually substantial. Woodard wouldn't reveal his source, only saying that they're locally made. The chicken was nice as well, rubbed with lively Cajun spices. But the smoke flavor was most stunning on the St. Louis-style spare ribs, which were tender with a slight pull. Again, I didn't even think about the barbecue sauce.
The only significant misstep was the tri-tip, so dry and bland that it wound up being the one item from Smokin' Woods I left behind.
Using a mix of cherry and oak wood, Woodard describes his "Bay Area barbecue" style as a sort of cross between Texas and Kansas City traditions. You see that Bay Area influence the most, though, with the sides. There's an unusually high number of vegetables on offer, and he cooks many of them to order so they remain light and crisp. I especially appreciated the just-blistered green beans and asparagus, although both could have used a dash more salt. The collard greens were cooked nicely, but I longed for a vinegary pop or more smoke from the shreds of turkey.
The best sides, though, were truly excellent. The baked beans, amped up with stewed beef, balanced sweet and savory just right. The mac 'n' cheese featured a crispy layer of baked cheese on top. And it's tough to imagine a more ideal version of potato salad — golden and creamy with a lovely tang.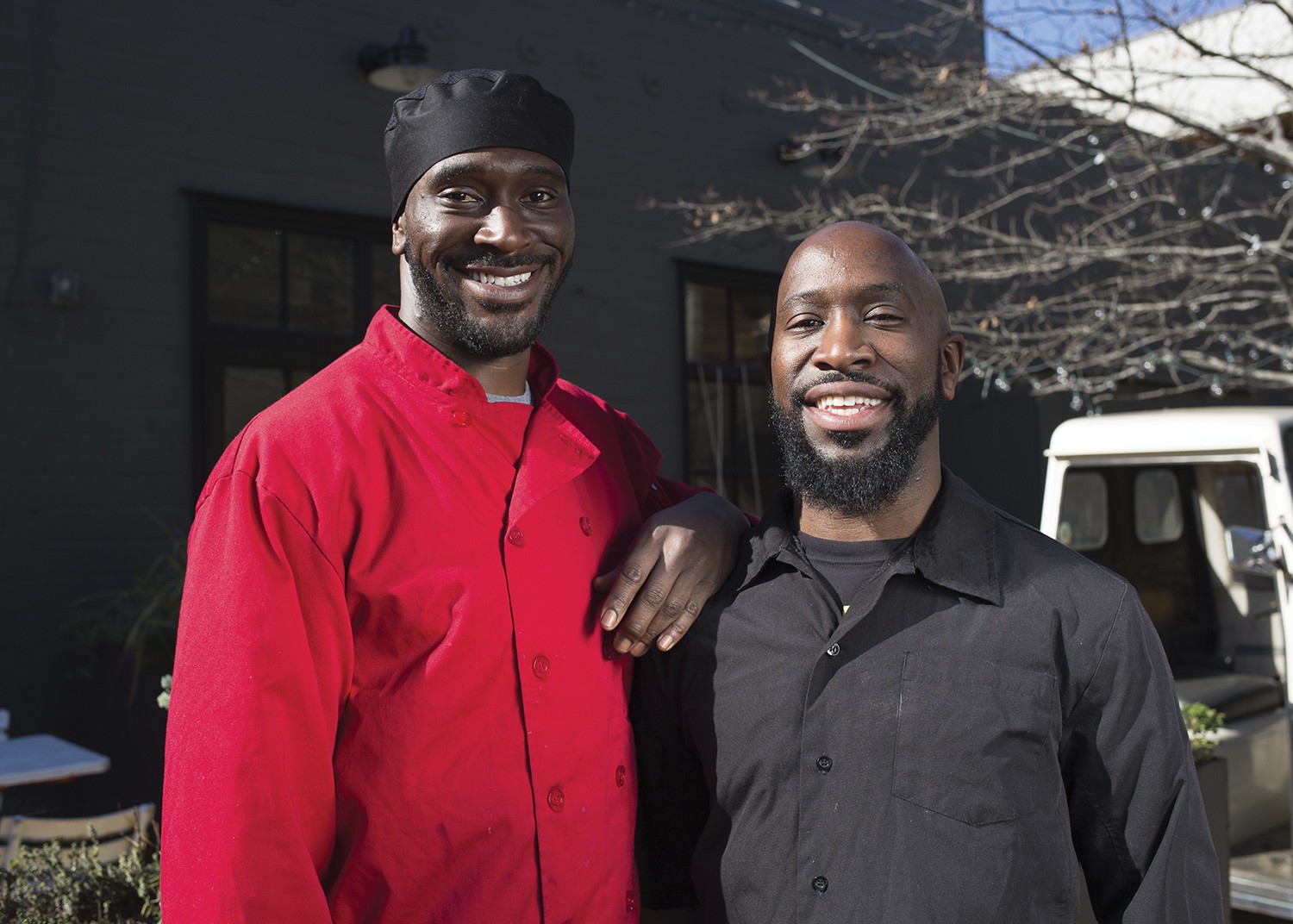 Meanwhile, Roderick Williams launched his namesake restaurant in December. You might recognize Williams from Roderick's BBQ & Seafood in Pleasanton, which he closed during the Great Recession in favor of a more cost-effective food truck. That food truck proved so popular that he decided to try a brick-and-mortar again, this time in an underserved part of deep East Oakland, near Bishop O'Dowd High School.
The new restaurant is simple but comfortable with a spacious patio, and the menu echoes the no-frills aesthetic. For lunch, you can opt for a couple sandwiches, fried catfish, or smoked chicken. Williams raves about his Cajun-spiced catfish, and while it's certainly tasty, light, and generously portioned, it felt on par with a number of soul food destinations around the East Bay. Instead, the stand-out was the pulled pork sandwich's helplessly soft meat.
At dinner, all the smoked meat options come out, and the ribs were king — remarkably juicy and tender after being smoked for four hours over oak and hickory. The succulent chicken served as a reminder that chicken can, in fact, be even more satisfying than beef.
The brisket was also quite good and flavorful but slightly dry in parts. The links were more of your standard variety.
Across the board, the sides are solid and classic, though the collard greens were exceptional. Williams insisted he didn't do anything fancy with them — just stewed the greens with chicken broth, onions, and smoked turkey — but the result was gloriously savory and meaty.
Williams calls his style a cross between Kansas City and Alabama barbecue — his mom hails from Alabama — though Williams has yet to unveil an Alabama-style white sauce, which is mayo-based instead of the usual tomato-based versions. Instead, he douses his meats with a sauce that balances sweet and sour well. I only wished there was slightly less of it, particularly on the delicate brisket.

I'd happily return to either of these restaurants for delicious 'cue, in part because they're family-run operations with affable owners. Woodard's brother is usually taking care of guests at Smokin' Woods, while Williams smokes and serves alongside his son. At both spots, the fast-casual service is warm and personable — feel-good vibes served with feel-good food that's primed to send you into the most delicious of comas.
Smokin' Woods BBQ

478 25th St., Oakland
510-423-8634
SmokinWoodsBBQ.com
Hours: Mon. 11:30 a.m.–8 p.m., Thu.–Fri. 11:30 a.m.–8 p.m., Sun. 1–8 p.m.
Cash, all major credit cards
Sample Menu

Brisket $15.95
Three-meat combo $22.95
Everything smokin' platter $45.95
Roderick's

2708 98th Ave., Oakland
510-564-4648
RodericksFoodTruck.com
Hours: Tue.–Thu. noon–2 p.m.,
4:30–8:30 p.m.; Fri. noon–2 p.m.,
4:30–9 p.m.; Sat. 4:30–9 p.m.
Cash, all major credit cards
Sample Menu

Pulled pork sandwich $10
Half chicken dinner $14.75
Rib dinner $20
Four-way combo $38.50