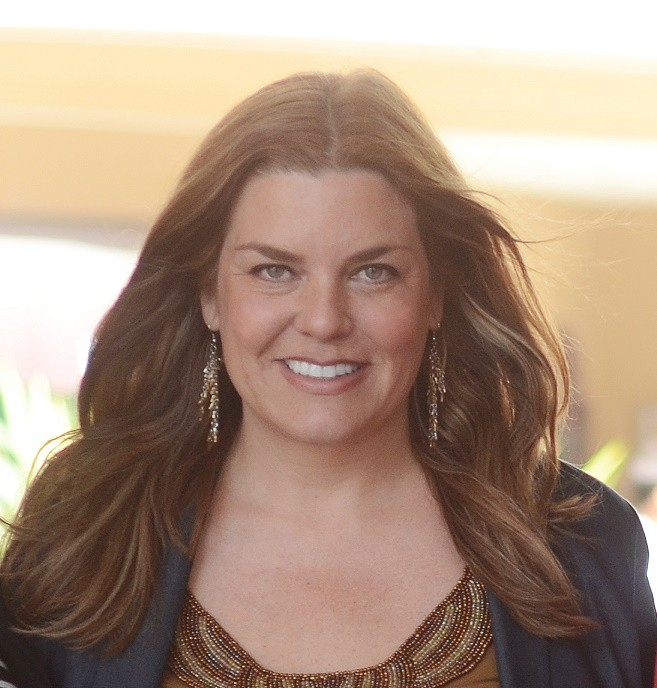 Jill Broadhurst, the City Council candidate leading the polls in the race to represent the Oakland Hills, has used the Sierra Club's logo without its permission, according to the organization. The Sierra Club, which has endorsed Broadhurst's opponent, Annie Campbell Washington, has sent a cease-and-desist letter to Broadhurst saying that her use of the club's logo is a violation of federal copyright law and also incorrectly implies that the organization has endorsed her in the District Four council race. 
The letter from Norman La Force, legal chair of the Sierra Club's San Francisco Bay Chapter, demanded that Broadhurst stop distributing literature with the club's logo, saying: "Please be advised that a lack of timeliness on your part to our cease and desist demand, or future violations of the letter or spirit of it, will be cause for legal action." 
[jump] From Campbell Washington's campaign, here are two Broadhurst mailers that include the Sierra Club logo (both say "proud supporting member"):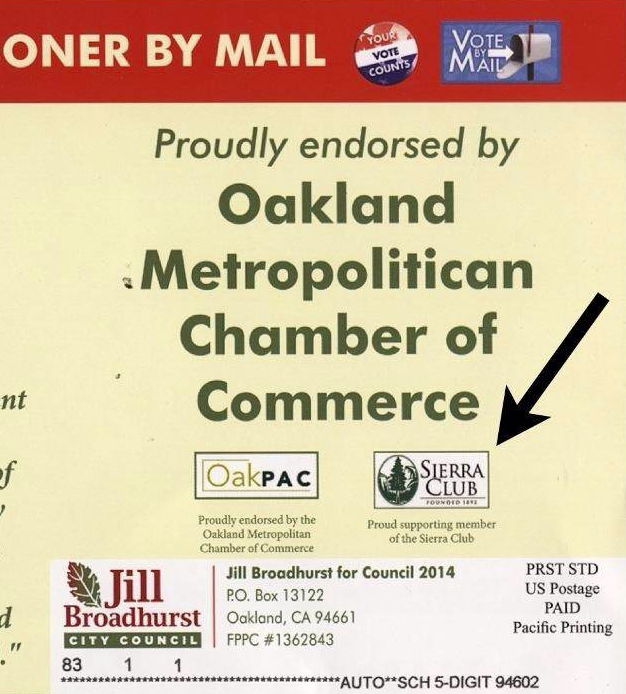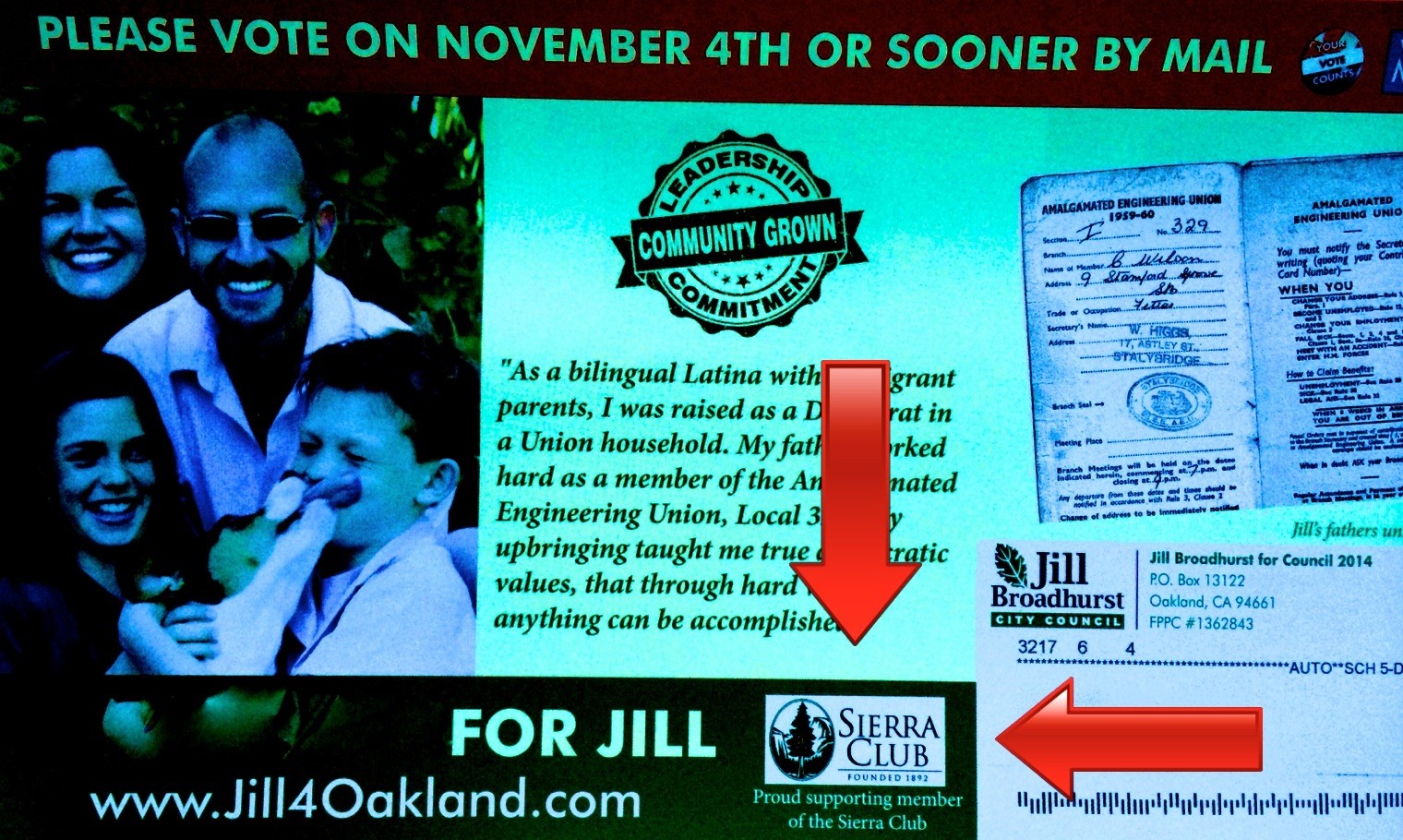 In two polls released in September, Broadhurst had a substantial lead in ranked-choice voting scenarios — earning 60 percent of votes compared to Campbell Washington's 36 percent in one poll, and and 52 percent compared to 37 percent in another. For more on the race to replace City Councilmember Libby Schaaf, who is running for mayor, check out this week's
election story in print
. Broadhurst, who ran for the seat in 2010 and lost to Schaaf, is currently the executive director of the East Bay Rental Housing Association, a nonprofit group that represents landlords. Campbell Washington is a current school board member for District Four and has a long history in Oakland city government, including stints as chief of staff for then-mayor Jerry Brown and Mayor Jean Quan. 
Update, 10:37 a.m.:
Broadhurst just responded to my request for comment and told me that her campaign won't include the logo on any additional mailers. She pointed out that the flier specified that she was a "member" of the Sierra Club (while the Oakland Metropolitan Chamber of Commerce logo next to it said the organization had endorsed her). Still, she said, "We're following their request. … We accept responsibility and it won't happen again."
Here's the full letter from the Sierra Club: 
Dear Ms. Broadhurst:

It has come to our attention that a mailer or other campaign literature attributed to your campaign for the Oakland City Council, District 4 includes an unauthorized usage of the Sierra Club name and logo.

The Sierra Club did not endorse your candidacy for the City Council. We endorsed another candidate for this office. Therefore, your campaign's use constitutes unauthorized use of our name and logo. The name and logo are legally trademarked. Therefore your actions could subject you to sanctions under applicable federal trademark statutes. Moreover, your illegal use of the Sierra Club give the appearance that the Sierra Club has endorsed you. This is a misrepresentation of fact.

The Sierra Club demands that you immediately cease the circulation of these or any other materials bearing the Sierra Club logo, name, or any other branding material and desist from any further distribution of such material or any literature bearing it. Please notify us in writing by Noon on Monday, October 6, 2014, certifying that you have acknowledged receipt of this letter and have taken appropriate steps to comply with our demand. Send certification by email to: [email protected]

In addition to violating federal and state laws, distributing the Sierra Club logo and name violates the candidate pledge that you signed as a condition to being considered for a Sierra Club endorsement.

This pledge made it clear that such circulation is impermissible. It may – and is likely to – mislead voters into believing that the Sierra Club has endorsed your candidacy.

We are deeply disappointed in your and/or your campaign's actions, which have or may have led to irreversible damages to the Sierra Club, and look forward to your prompt remedy of the situation.

Please be advised that a lack of timeliness on your part to our cease and desist demand, or future violations of the letter or spirit of it, will be cause for legal action.

Sincerely,

Norman La Force

Legal Chair, San Francisco Bay Chapter