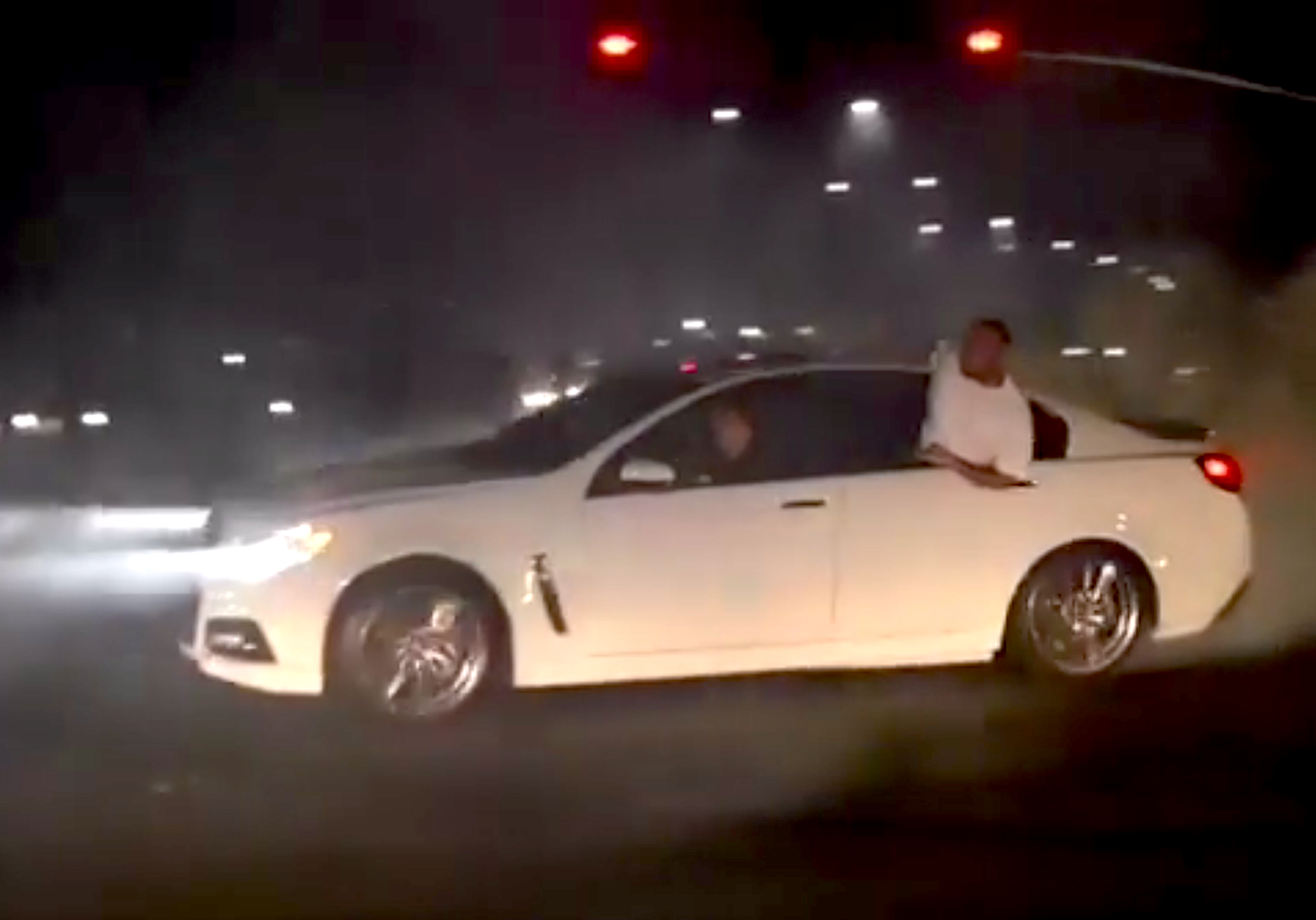 You probably heard it Saturday night? The Town was lit with multiple roving sideshows involving more than 100 cars and hundreds of spectators, some of them flashing green lasers, detonating fireworks, and spraying celebratory gunfire into the night sky.
For hours, the cars rumbled through East Oakland, taking over intersections like 35th Avenue at MacArthur Boulevard and 42nd Avenue at Coliseum Way. The spontaneously organized festivities went well past 4 a.m.
For the uninitiated, a sideshow is a mischievous ritual involving vehicular stunts and auto-matadors who walk into clouds of smoldering rubber smoke to palm-slap car fenders as they skid by like high speed metal bulls on a rampage.
It's like a drag race crossed with a bullfight surrounded by a street party.
[embed-2]
The performative nature of a sideshow is paramount. No one just watches. Every other person is filming these brazen roadway takeovers. Some attendees have Instagram and Youtube accounts where they post curated images and videos of their exploits, often set to hyphy soundtracks. Others simply livestream the bacchanal to Facebook.
Oakland is the birthplace of the sideshows, which originated in the 1980s, and it's still the venue for the biggest gatherings. But these days, many attendees drive in from the Central Valley, and even as far away as Southern California. Like pilgrims to a sacred rite, they travel great distances seeking out these dangerous street ceremonies. The shows are organized informally over social media and by word of mouth. The faithful are many.
[embed-1]
Of course the shows are also illegal. Oakland police and the California Highway Patrol have been trying to shut them down since they started.
Many Oakland residents also dislike the sideshows because of the noise and dangers they present.
Two years ago, when a similarly giant a swarm of sideshows converged in Oakland,
Mayor Libby Schaaf held a press conference with OPD and CHP
 officials who vowed to crack down. Schaaf said sideshows present "unacceptable levels of destruction and harm" and would not be tolerated.
But judging by Saturday night's performance, the cops aren't winning this war. That's despite an anti-sideshow operation earlier this month that resulted in 13 tows, 12 citations, and two arrests, according to OPD. Police even made examples of people's confiscated whips on Twitter to discourage drivers from coming to Oakland.
[embed-3]
But the deterrent doesn't appear to be working. The shows are going strong, and the police are outnumbered.
During the really big sideshows, like the mayhem this weekend, the cops have to contend with hundreds of participants who congregate simultaneously at multiple intersections along Foothill, Bancroft, International, and MacArthur. Spectators park in the middle of streets, blocks away from the action, creating impassable barriers that prevent police and tow trucks from getting close to the maelstrom of twirling Cameros and Mustangs. Far outnumbered, and also having to contend with Oakland's steady drip of assaults, robberies, shootings, and other emergencies, police often have to hang back and watch.
Over the weekend, OPD deployed "chemical munitions" to break up some of the gatherings, according to police radio communications. And when the shows mustered, OPD attempted several times to funnel the sideshows onto freeway onramps. From there, OPD wanted the CHP to block exit ramps ahead of these mobile swarms. This tactic is designed to funnel the revelers out of Oakland.
But that didn't work out so well on Saturday night.