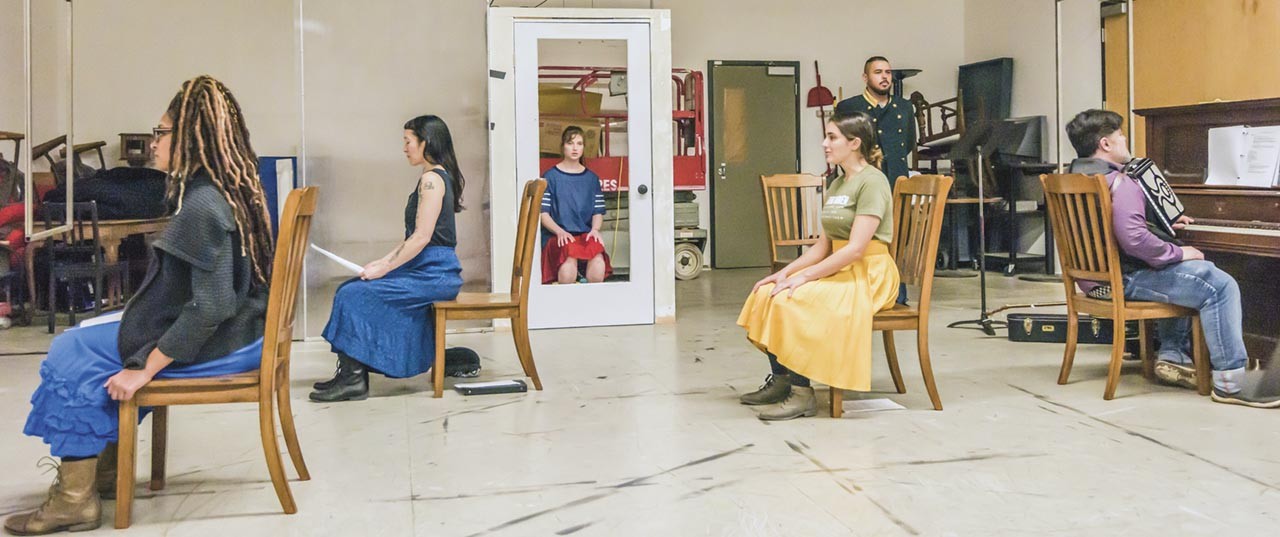 It's safe to assume that most theater-going Americans don't associate productions of Anton Chekhov's plays with a woman wildly playing the accordion. But according to Mark Jackson, maybe they should.
"Our traditional view of Chekhov's plays has been shaped by the British view of them," he said. But the productions Jackson has seen in Russia and Poland were far from staid museum pieces. "There's a lot of singing," he said. "They expand upon the text. It helps to explain the comedy as well as the tragedy."
Jackson is co-directing a riff on Chekhov's Three Sisters with longtime partner Beth Wilmurt at Berkeley's Shotgun Players, opening Mar. 29 and running through Apr. 21. The title alone — Kill the Debbie Downers! Kill Them! Kill Them! Kill Them All! — is a dead giveaway that it will not be dragged from the archives of the Moscow Art Theatre, where Three Sisters premiered in 1901.
Though both co-directors, along with the six-person cast, are hands-on in all aspects of the multi-discipline show, Wilmurt is focusing on the music and dance elements, while Jackson handles text. "But we cross over a lot," Wilmurt said. "We talk about the work while commuting on BART everyday." For example, the stage movement of the musical numbers was done primarily by Wilmurt, while Jackson worked on the monologues, always, incorporating input from the actors as the scenes took shape.
Wilmurt and Jackson have a long history with Three Sisters. In 2005, they began evolving a theater piece in Berlin that became Yes, Yes to Moscow. Wilmurt went on to create a cabaret act called Olga — A Farewell Concert, most recently seen last December at the Aurora Theatre Company.
What is it about this play, a story of three sisters living in a provincial military town who long to return to an imagined ideal life in Moscow, that inspires Jackson and Wilmurt so much? Jackson admitted that his initial reaction to re-reading Three Sisters in Berlin was boredom. "But at the end of working on the text for three weeks, I found it fascinating," he said. "It feels like a lot of what is going on in our world right now — what will happen to [the sisters] in the future … the issue of privilege … their way of life is coming to an end."
So, in creating Debbie Downers, which includes text from the 1997 Paul Schmidt translation of Three Sisters, new text generated in rehearsal, live music, and choreography, the directing pair have explored those themes, along with contributions from actors Nathaniel Andalis, Gabby Battista, Amanda Farbstein, Sam Jackson, Erin Mei-Ling Stuart, and Billy Raphael, whom Wilmurt describes as "multidisciplinary artists." The directors' job, she said, "is making sure we give the best prompts" and asking the right questions as the project evolved.
That process started with casting. Those who know Chekhov's original script will realize that it features many more than six characters. But the Debbie Downers actors are not playing multiple parts. During auditions, Wilmurt and Jackson watched to see which characters from Three Sisters "showed up," and then used those characters, which of course included sisters Olga, Masha and Irina, to explore the play's ideas.
Chekhov commented about his characters experiencing their lives as real people do, not as oversized cartoons on stage. "People are sitting at a table having dinner, that's all, but at the same time their happiness is being created, or their lives are being torn apart," he wrote. His regarding the plays as comedies has sometimes puzzled modern audiences, but makes more sense looked at simply from the standpoint of the absurdity of life.
Jackson noted that in Three Sisters, the entire town catches on fire, while at the same time the characters are dealing with "embarrassing personal emotions," as one sister is defending herself from a bullying sister-in-law, another, trapped in a marriage to a man she doesn't love, is having an affair, and the third, a dreamer, is being pressured to marry for security.
In Debbie Downers, the audience also will have the opportunity to see the connection to the world outside the play, Jackson said. By presenting a sort of deconstruction of Three Sisters, modern audiences will get insights into it in a new way. In his acting classes at San Francisco State, he uses the play while working on creating physical action, and has found that "young people really respond to the characters" under those circumstances.
This fits well with the Shotgun Players goal of reaching new theatergoers. The company will offer its "M.A.D." (Make A Difference) $7 ticket pricing for those 25 and younger from Apr. 4-25. Jackson also emphasized that it isn't necessary to have any knowledge of the original Three Sisters or Chekhov to enjoy the production, although those who do may get some of the slyer references.
"It's something of a balancing act," Wilmurt said. "We want to provide an experience that allows people to engage with these human characters," said Jackson. "[At the same time], it allows them to engage more of their imagination by living in the question, not the answer."
Through Apr. 21, $7-40, Shotgun Players, 1901 Ashby Ave., Berkeley, 510-841-6500 x303, ShotgunPlayers.org