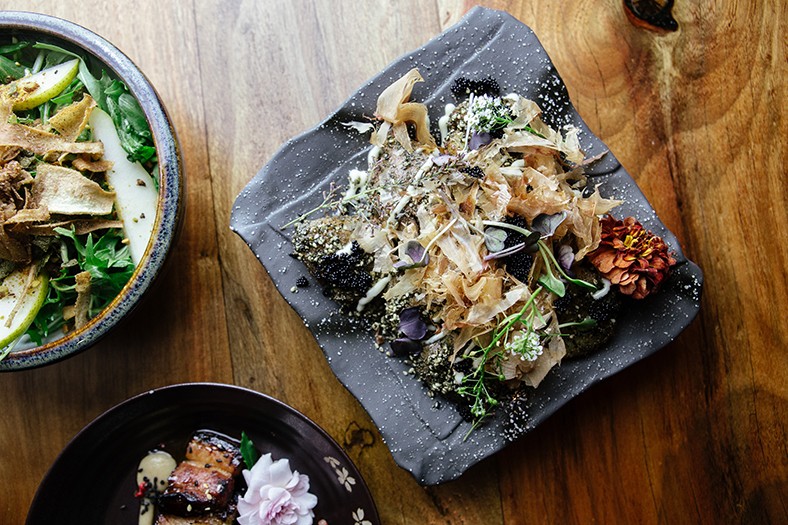 Jerrod Doss had big ambitions for Shinmai, a new Japanese-inspired restaurant in Uptown Oakland. With a Michelin-starred, fine-dining background, the chef planned to pull from his upbringing in rural New Mexico and the spirit of Oakland to create a fresh, modern take on the izakaya — all while showing respect for Japanese traditions.
When I visited Shinmai shortly after it opened in July, I found the results somewhat lackluster, but I didn't take it too seriously given the timing. A few weeks later, however, Doss (formerly of The French Laundry and Aziza) quit to head up San Francisco's August 1 Five. I wondered if Shinmai's direction would change. How would a new chef be able to execute a lofty vision that even its own creator hadn't perfected?
Sous chef Vincent Bryant (formerly of Hopscotch) was apparently very much up to the task. He stepped in as executive chef and, since Doss didn't leave any written recipes behind, tinkered with every dish on the menu. Most are still rooted in Doss' original work, but some new items belong entirely to Bryant. (Visit on a Friday or Saturday night for his rotating specials like lobster or abalone.) Overall, his reimagined plates are exquisite and the flavors are huge.
Shinmai has quickly emerged as a wholly memorable destination kind of place at prices that aren't as outrageous as you might expect — nothing on the menu tops $16. It's the sort of restaurant I'd love to hit up anytime I had an excuse to dine in Uptown, but that I fear will soon become far too popular to snag a table on a whim.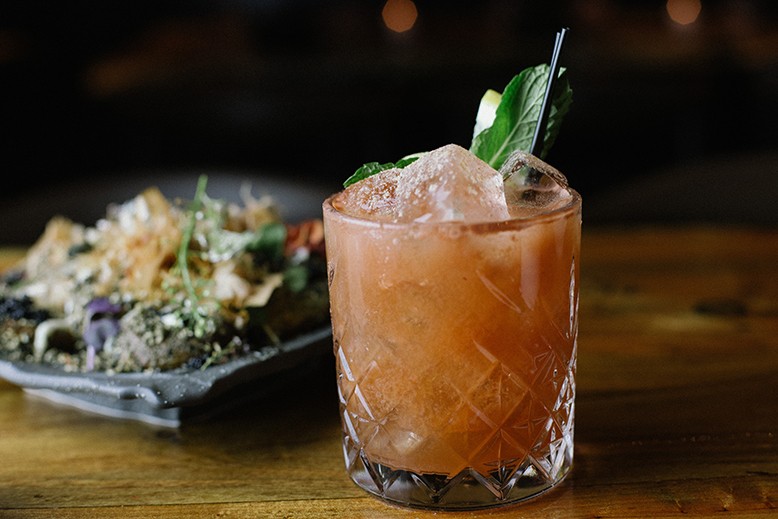 Even on a recent Monday night the place was packed with the reservation-less spilling out onto the sidewalk. The low, wood-slat ceilings created a cozy atmosphere despite the spacious design, with 100 seats spread across private tables, a booze bar, a noodle bar, and a large communal table. The decor feels intentionally hip and only vaguely Japanese.
Some diners flock to the noodle bar to scarf down one of three bowls of ramen in view of Shinmai's bustling kitchen. Others linger over cocktails and small plates at a leisurely pace. I prefer the latter, although Shinmai's bowls are certainly strong competitors in the local ramen game.
The restaurant comes from Yingji Huang and Andy Liu, who worked together at Huang's other restaurant, Kakui, in Montclair. Liu recently took a crash course in ramen in Japan and also functions as Shinmai's lead ramen chef. Comparisons already abound between the velvety tonkotsu ramens at Shinmai and Ippudo — a compliment in itself. While Ippudo may get more points for firmer noodles, more tender pork chashu, and a more umami-packed spicy paste, Shinmai's soft-boiled eggs consistently arrived perfectly creamy.
I was actually more impressed with Shinmai's vegetarian ramen, in part because it's so difficult to find a satisfying version at all. I loved the blistered cherry tomatoes, crispy-fried lotus root, and soothing, shoyu-style broth. The green spinach noodles are thick and springy. And if you ask to remove the egg, it's vegan.
But Shinmai's biggest strength lies in its dozen izakaya-style plates.
Take the potato salad, for example. Lightly smashed, deep-fried chunks of potato are covered in furikake, black paddlefish caviar, and dancing bonito flakes. Mixed with a subtle truffle aioli, the dish managed to hit briny, tangy, savory, and sweet notes all at once — a fine-dining interpretation of a down-home American classic with Japanese ingredients. It's light-hearted, whimsical, and brilliant.
For similar reasons, I loved the grilled pork belly paired with funky fish sauce caramel, earthy red curry, and a sweet purée of roasted apples. The flavors meshed together beautifully, feeling both new and familiar.
The most popular dish is probably the chicken karaage, and it's an excellent version of an izakaya standard. Boneless, skin-on chicken thighs provide maximum crunch, flavor, and juiciness. They need no adornment, although the two dipping sauces are delicious, too: tangy miso tartar and barbecue sauce spiked with tsuyu, the trifecta of soy sauce, bonito, and kelp.  
Bryant veered completely away from Japanese flavors with his plump mussels bathed in a creamy Thai curry, rich with lemongrass and coconut. It felt a bit out of place on an otherwise conceptually harmonious menu, but that didn't stop me from scraping bread across every inch of the bowl.
In addition to the ramen, vegetarians actually have some decent options here — a rarity for izakayas. Grilled king trumpet mushrooms walked a fine line between boring and simple, but the light, refreshing ponzu and whole pink peppercorns made it much more interesting. A better value was the generous serving of tempura-fried okra — chewy, soft, and crisp — with sumac and a bright aioli.
Although the sizes of the dishes vary, you may need to order as many as three dishes per person to make a full meal. The raw fish items offer just a few bites, for example, while items like the fried chicken are more filling. Judging by what I saw at other tables, splitting a couple of small plates and ramen seemed like a popular move.
Don't overdo the ordering though, because you'll absolutely want to order Shinmai's lone dessert: a dense, creamy panna cotta with a striking sweet-salty balance. Jammy figs, black sesame, honey, and sea salt all do their parts while shiso oil provides the je ne sais quoi.
Izakayas are inherently drinking institutions, and Shinmai stocks wine, sake, a mix of Japanese and local beers, and a few cocktails. Those cocktails are primarily the work of Adam Stemmler of Farm League Restaurant Group (Gio's Pizza & Bocce, East Bay Spice Company). I appreciated the infusion of Asian ingredients such as Sichuan peppercorns, miso, and five spice bitters. The sweet cocktails, though, were cloyingly so. And the paper straws that accompany some drinks inevitably broke down, which made me think that the bar might be focusing too much on style. Shinmai's opening bar manager, Brian McMillan (Penrose, Sidebar), recently departed, so the program could see some changes soon.
Service seemed generally smooth, although it once took a full 30 minutes for someone to notice my order hadn't been taken. "I guess I'm your server," he said after making eye contact with my hungry, pleading gaze. After that hiccup, however, the rest of the evening was flawless. The parade of dishes steadily arrived and undoubtedly impressed. You'd never know you were dining in a restaurant once so focused on the credentials of its opening, quickly departed chef.
Shinmai
1825-3 San Pablo Ave., Oakland
510-271-1888
ShinmaiOakland.com
Hours: Wed.–Sat. 5–10 p.m., Sun.–Mon. 5–9 p.m.
Cash, all major credit cards
Sample Menu
Fried potato salad $10
Chicken karaage $13
Tempura fried okra … $6
Vegetable ramen $15
Panna cotta $8