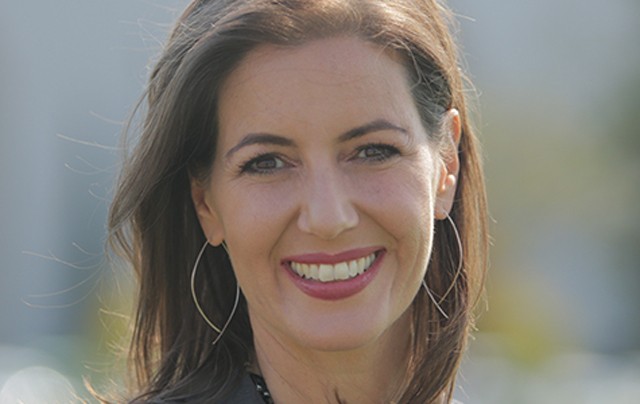 Oakland Mayor Libby Schaaf has spent just over $100,000 on her reelection campaign this year, but she's still got another $322,307 in the bank. It's a commanding fundraising edge over her opponents in this year's race.
Last Friday, candidates running for mayor, city council, and other offices filed disclosure statements providing a closer looks at their sources of financial support.
Schaaf, who is finishing up her first term in the mayor's office, said in a recent interview with the
Express
that, if reelected, she hopes to leverage her relationships with the region's leaders and Sacramento to address problems like homelessness and affordable housing, and to bring in more county, state, and philanthropic funding for the city.
Some of the contributors to Schaaf's campaign over the past three months who provided maximum $800 contributions include Brook Turner of the Coalition for Better Housing (a large landlord group mainly active in San Francisco politics), Todd David of the San Francisco Housing Action Coalition, which advocates for building more housing, and the Pacific Merchant Shipping Association, which represents the big shipping and stevedoring companies at the Port of Oakland.
Schaaf also received a combined $400 from Andrew Savage and Jack Song of the Lime electric scooter company. The city of Oakland is currently drafting proposed fees and regulations for Lime and similar scooter companies.
Kimi Kean of Aspire Public Schools, a charter school organization seeking to purchase public land from the city to for a new school campus, made a $200 contribution to Schaaf, as did other supporters of Aspire's plan such as communications consultant Isaac Kos-Read, who gave $400.
Mayoral challenger Cat Brooks reported raising $58,000 in the past three months and spending about $61,000, leaving her with $44,594 in the bank.
Brooks is raising money from smaller individual contributions than Schaaf, according to campaign finance data. The average contribution amount made by a Brooks supporter is $138 whereas Schaaf's average contribution amount is $395.
Civil rights attorney Pamela Price is, alongside Brooks, considered the main competition for Schaaf. Price reported raising $57,000 in her bid for the mayor's office. This includes a $25,000 loan Price made personally and through a real estate investment company she controls to her campaign.
Saied Karamooz loaned his own campaign $181,000 earlier this year. According to his most recent campaign statement, he hasn't raised funds from any other sources since then.
Marchon Tatmon has raised $17,684 and he has about $16,000 in the bank. Pamela Price contributed $500 to Tatmon's campaign.
Other candidates for mayor, including Nancy Sidebotham, Cedric Troupe, Jesse Smith, Ken Houston, and Peter Liu, did not report raising any money since July 1 for their campaigns.