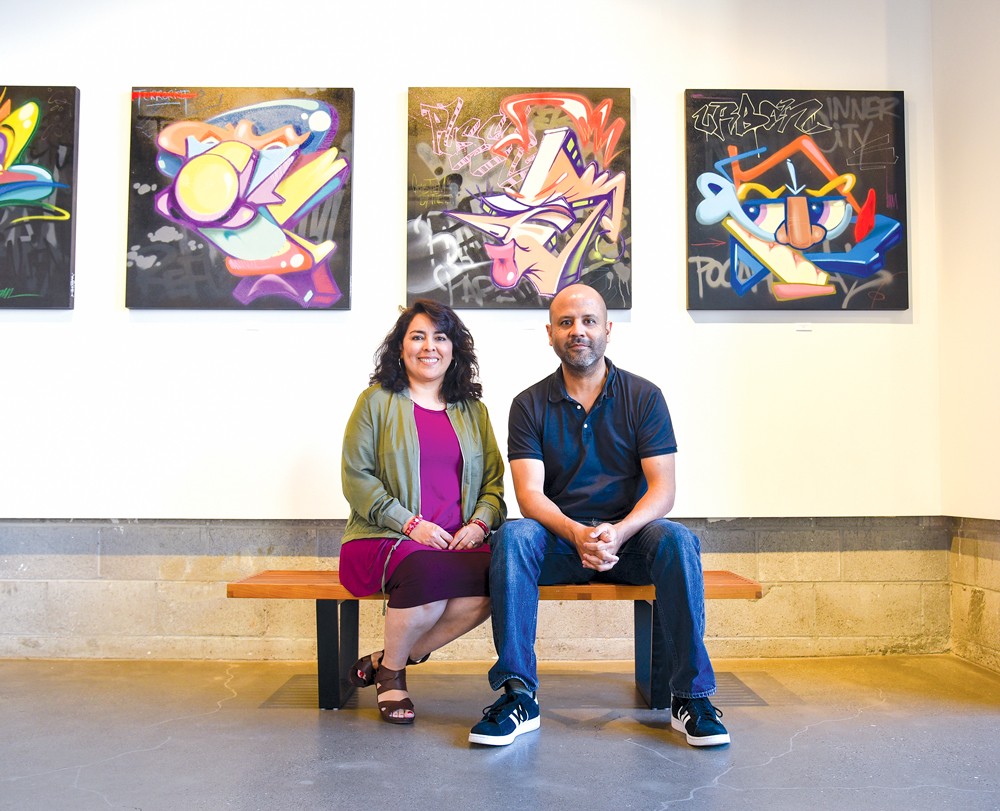 The former HC Capwell building is the most visible epicenter of downtown Oakland's booming new development. Across the street, an art gallery and adjoining coffee shop blend in with the new scene outside — but, inside, is a different story.
Sanchez Contemporary
, which shares its space with
Tertulia Coffee,
is the vision and labor of love of Tim and Maria Sanchez. An Oakland native with both Mexican and Puerto Rican heritage, Tim previously served as a naval officer in the reserves. His wife, Maria, is a Redwood City native who has worked as an art collector, focusing on Latinx artists for the past fifteen years.
It was during Tim's last tour in Afghanistan in 2013 that he decided he wanted to do something different with his life. The couple share a love of the arts, so the idea for a gallery was a natural extension of their interests. As for the coffee shop: "Revolutions were started out of cafes in Europe," Tim told the Express.
The couple set out to find the perfect space, one that would put them in one of the busiest intersections in downtown Oakland. They settled on a location below the Uptown Apartments on the corner of Telegraph Avenue and 20th Street, making them the spot's first tenants since it was built in 2008.
When it came time to choose a name for the coffee bar, the couple kept going back and forth on different Spanish names, finally finding inspiration in a book from Maria's collection, titled
The Sunday Tertulia
. The term
tertulia
refers to a gathering of likeminded individuals who get together to discuss arts and politics, which is common in Spain and Latin America.
And so, in June 2016, Tertulia Coffee and Sanchez Contemporary became a vision realized — a space where folks can hang and sip coffee, and a catapult for emerging artists of color to display and sell their work.
[pullquote-1]Maria's extensive background as a curator, artist, and founder of
Arteabla.Ning.com
, a website that archives work by Latina artists, shaped the space's look and purpose. "Artists of color are usually shut-out from traditional galleries, because the people behind those galleries feel like the artists don't have a certain pedigree," her husband explained. "Latino and Black artists are usually self-taught."
As of today, Sanchez Contemporary has put on eleven shows, with work by more than 100 emerging artists. Their latest exhibit, which opened June 3, is titled
Chingona rEvolution!
. It showcases art pieces that depict the history of Mexican and
Chicana
women, from the
soldaderas
who fought in the Mexican Revolution, the
pachucas
, a marginalized group in the Unites States in the 1940s, cholas, and the modern day
chingona
woman.
Sanchez Contemporary has also garnered the vocal support of veteran artists such as Ester Hernandez, Patricia Rodriguez, and Irene Perez. The encouragement of such influential creatives has been a major assist for artists with work on display at Sanchez.
At a time when Oakland is rapidly changing and more people of color are getting displaced, Tim wants to plant his flag firmly. "I'm from Oakland. I wanted to plant a flag on ground zero. We want to make sure that old Oakland, the real Oakland, is always represented for as long as we are on this corner."
He told the Express that he has noticed people are surprised to learn that Sanchez Gallery and Tertulia coffee are owned by a Latino couple, one of whom is an Oakland native. He figures some have avoided the place entirely, perceiving it to be owned by gentrifiers, by default of its location, and maybe even criticized the coffee shop and gallery's names as instances of cultural appropriation.
Tim is on board with making sure that both the coffee shop and the gallery remain as Oakland as possible. The coffee beans used at Tertulia come from a local importer, World Coffee, and are roasted in West Oakland.
Tim and Maria's space will continue to be a platform for underrepresented Latinx and Chicano artists in Oakland. And, eventually, the couple wants to take their vision to other areas of the country that lack art spaces for artists of color.
"We are trying to do our part to represent," Tim said.