1/7-2/3
Perhaps you have a charming pet name for your significant other. Yes, there may well be a special Snugglepants or Freckle Face in your life. But unless you also obsessively photograph your sweetie posing with machines, then mount an exhibition of those images in a gallery that he owns, Melissa Harmon is a couple points ahead of you in the spousal reverence game — and she's been doing it for about thirty years. Her show, Michael Schiess/Robomaster, is all about her main muse, a mechanical genius and kinetic art instructor at the Crucible — if it's broke, he'll fix it. Harmon, a local artist who is "not afraid to call herself a feminist", is also not afraid to share these intimate pictures of her partner in his many moods, such as a serious, somewhat reproachful Mike at Sandia Labs in 1976, posing with a hand on a replica of the "Fat Man" atomic bomb (below).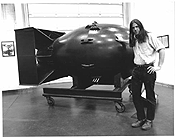 What better place to hang such an exhibition but at the Robomaster's own Lucky Ju Ju Pinball/Gallery, that temple to the mechanical marvel that is pre-1979 pinball? The show opens Friday with an artist's reception from 6 p.m. to midnight, and runs through February 3. 713 E. Santa Clara Ave., Alameda. (The gallery can be difficult to find, so see UJuju.com for hours and directions.) — Nora Sohnen
Thu 1/6
Peels Off
Let loose upon the Ivy
There's been a bit of radio silence since ex-Seattle fashion band the Peels first busted onto the SF scene with all the style and balls-out fury of, well, an SF Weekly cover. Signed to Capitol? Check. Massive amounts of equipment stolen from the van? Check. Fall tour with the Von Bondies and Auf der Maur, including a CMJ stop? Check. And then … nothing. Until now, anyway: Lane Rider, the band's curly-haired, guitar-wielding secret weapon, dons his solo suit for a show this week at the Ivy Room (858 San Pablo Ave., Albany). He's in good company, too. Also on the bill are the Mike Therieau Band (with buddy Dave Gleason on guitar) and Mandrake frontman (and occasional Richard Thompson soundalike) Liam Carey, who'll show you what kind of blues-folk hollers and ballads he has up his sleeves. 9 p.m. start time, $5 cover. 21 and up. 510-524-9220. — Stefanie Kalem
1/10-2/25
Say Blood
Andres Serrano dunked a crucifix in urine for his Piss Christ. Jean-Michel Basquiat and Andy Warhol used semen in a series of '80s paintings. And now a group of East Bay artists are working in blood, feathers, fingernails, and similar bodily products. Deciphering the Code: Translations in Blood by 11 Artists is the name of the show — part of the annual "Taking the Leap" exhibitions. January 10-February 25 at the Heritage Square Building, 6121 Hollis St., Emeryville. Info: 510-653-1655. — Kelly Vance
Sun 1/9
Piratecore, Eh?
Arrrr on the island
Canadians are the new pirates. How's that, you say? It seems that Canadian jokes are overtaking pirate jokes in popularity. There isn't enough room in this space to share one, but the key to them is the use of "eh?" in place of "arrrrrr" in the punchline. Thankfully, though, John Patrick's (1813 Park St., Alameda) is keeping the scallywaggin' love alive with its Pyrate Nights every second Sunday. Starting at 5 p.m. tonight, sample a buccaneer's platter of hardcore, metal, punk, and rock from Deathtoll, Laudanum, Instant Asshole, and Hot Black Desiato. Bring your own grub for the barbecue, and if you have a Canadian joke, send it to [email protected] — Stefanie Kalem