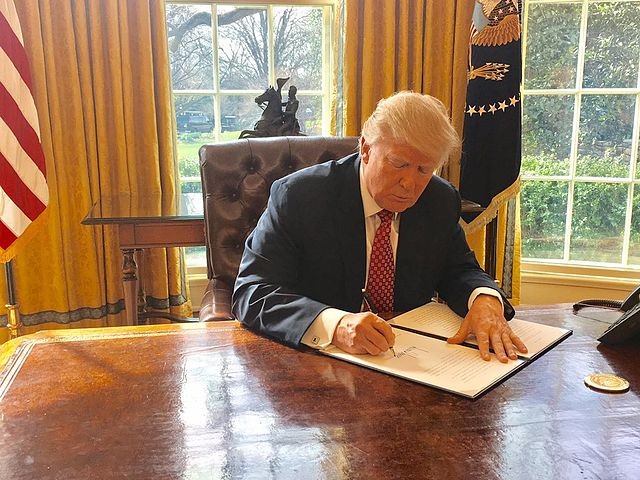 The city of Richmond is taking President Trump to court.
This afternoon, officials announced that the city filed a lawsuit challenging Trump's Executive Order 13768, which was issued on January 25 and that would deny federal funding to "sanctuary Jurisdictions" that don't abide federal immigration policy.
At a press conference, Richmond Mayor Tom Butt argued that "statements by the Trump administration suggest that Richmond will be targeted for protecting our residents," and that Trump's "harmful approach" won't stand.
"We will not allow intimidation to disrupt our commitment to our residents and their safety," Butt said.
Richmond has one of the most racially diverse populations in the United States, if not the country, and police Chief Allwyn Brown said that the city "uses the proven, effective community-policing model, which recognizes that everyone is safer when there is trust and free interaction between the police and its residents."
Joseph Cotchett, one of Richmond's attorneys, called Trump's order unprecedented abuse. "With a wave of the pen, they can cut off funds that were granted by Congress."
Richmond has been a sanctuary city since 1990, and receives approximately $77 million annually in federal monies annually, most of which is spent on affordable housing.
Cotchett added that the phrase "sanctuary jurisdiction" has no legal meaning, and that Trump's order is so broad that the administration could withdraw federal funding at any time, even without a hearing, and with little justification.
Funds for police protection and public education also could be withheld under the executive order. Medicare and Medicaid could also be cut off, a possibility that has the hospitals especially worried, Cotchett said.
The Richmond lawsuit states that, specifically, the order violates the Fourth and Tenth amendments, the separation of powers and spending clauses, and the due process clause because of vagueness.
Richmond is the second Bay Area city to sue President Trump over his sanctuary city threat.