Three months after Plum embarked on its sudden — and mostly smooth — transition to serving Japanese-inspired California cuisine, the restaurant now known as Ume (2214 Broadway, Oakland) launched weekday lunch service earlier this week.
The lunch menu, which will be served Monday through Friday, from 11 a.m. to 2:30 p.m., will be fairly streamlined: a handful of seasonal salads (one current option features tomatoes, green beans, and a miso vinaigrette), the two ramen dishes from the dinner menu (priced a few dollars cheaper for a slightly smaller portion), a yakitori-style turkey meatball sandwich, and a selection of onigiri (aka Japanese rice balls) with fillings that range from roasted eggplant with chile and mint to yuzu kosho barbecue chicken. Nothing on the current menu is priced at more than $13.
[jump]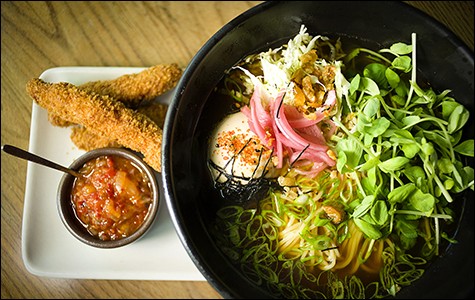 Fried chicken ramen, now available for lunch.
According to a spokesperson for the Daniel Pattterson-owned restaurant, service at Ume will be quicker and much more casual during lunch hours — order at the counter, pour your own water, and so forth. The whole menu is available for takeout, and there are also a handful of tables outside for diners who want to enjoy the late-summer sunshine.
Ume joins what is now an increasingly robust Uptown Oakland lunch scene, particularly for those whose tastes skew toward Asian (or Asian-inspired) cuisines: In addition to James Syhabout's rice bowl standby, Hawker Fare, there's also the lunch-centric Taiwan Bento (412 22nd St.), which just announced that it will open for business early next week.