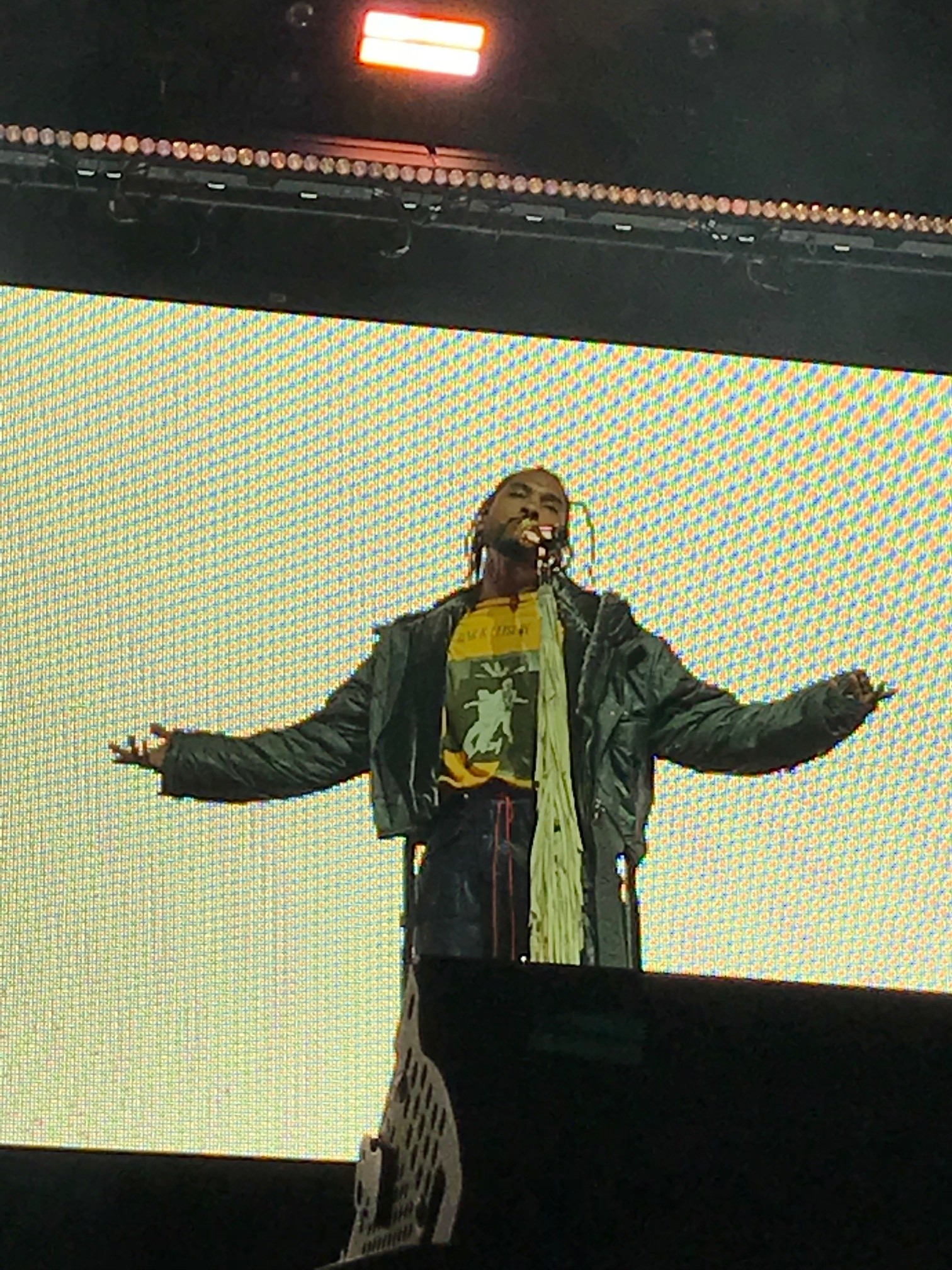 "I'm a simple guy, and here are my five basic necessities," Miguel told the sold-out crowd at the Greek Theatre last night: "smoke, food, sleep, laughter, and f *ck." This was the perfect segue into his song "Simple Things," off his 2015 album
Wildheart.
Miguel's performance was equal parts sensual and social justice-focused. While some artists choose to stay silent amid the chaos within the current administration, Miguel uses his platform to bring awareness among his fanbase: The mistreatment of immigrants, the talk of building a wall, and the killings of Black men at the hands of police officers are topics that Miguel takes seriously.
How can he not? Miguel Jontel Pimentel, a native of Los Angeles, comes from this dual world currently being attacked: His father is a Mexican immigrant from Zamora, Michoacán, and his mother is a Black woman from Inglewood, Calif.
Miguel knows that when he sings, his fans listen. Rather than beginning the show with your typical grand entrance, Miguel greeted fans with a powerful clip of his visit to the San Bernardino County Detention Center.
The video was accompanied by the song "Now" — a fitting choice considering the lyrics:
CEO of the free world now/Build your walls up high and wide/Make it rain to keep them out/That won't change what we are inside.
The video ended with a message indicating that a portion of the sales from the tour's merchandise would be donated to the Black Alliance for Just Immigration.
Miguel's advocacy is the real deal, and he wanted us to make sure that although we were there to have a good time and swoon over his falsetto, romantic lyrics, and sensual dance moves, we have to pay attention to what our government is doing.
He delighted the crowd not only with tracks off his latest (and most political) album,
War & Leisure
, but also with hits from his older discography, including fan favorite "Coffee" and "P***y Is Mine," off 2012's
Kaleidoscope Dream
.
With his incredible vocals and guitar skills, Miguel doesn't need any heavy production behind him. On stage with him was a bassist, a guitarist, a drummer, and a DJ who complemented his vocals perfectly, giving Miguel a dose of rock stardom. As part of the tour, Los Angeles band SiR and Miguel's younger brother, who performs under the name Nonchalant Savant, served as the openers.
In continuing to play with the duality of his life, Miguel performed "Caramelo Duro," a song that he sings completely in Spanish. He also paid homage to his city by performing "City of Angels."
Miguel continues his
War & Leisure
tour with a stint at Coachella, followed by other music festivals: Essence on July 6 and Afropunk Brooklyn 2018 on August 25.