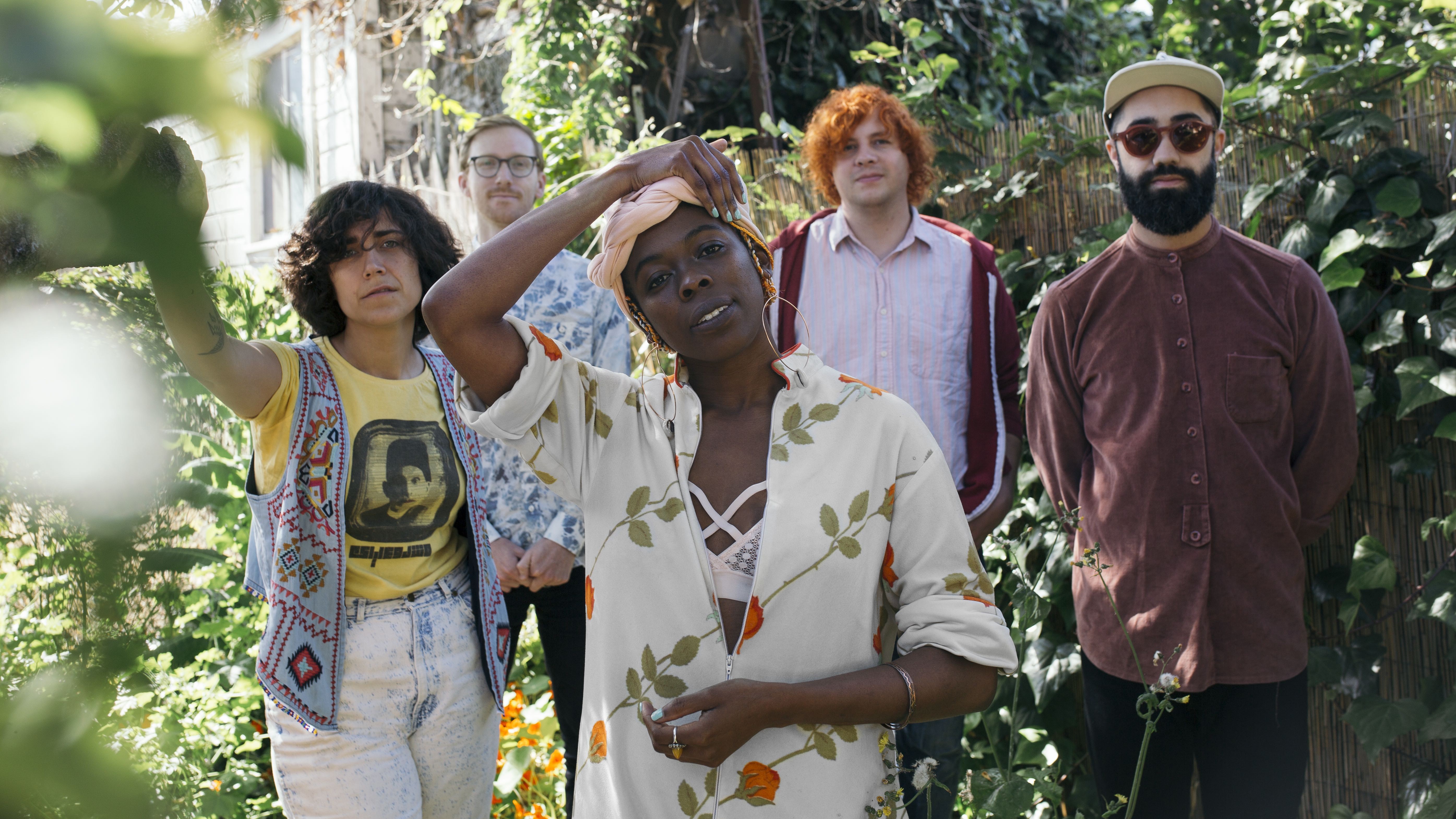 "It's a sexy, quirky Thursday night," Bells Atlas singer Sandra Lawson-Ndu announced to the crowd midway through the band's set at the New Parish. Last night was fully both of those things, even before the band took the stage for their hometown EP release show.
Lalin St. Juste, who sings in San Francisco-based six-piece electrosoul band The Seshen, opened the night with a solo set. Her dreamy, quirky melodies were accompanied by nothing but a sample pad yet still were absolutely mesmerizing. The second opener, Chanti Darling, turned up the energy in the room. The Portland-based R&B singer, who mixes modern electronic textures with retro soul, dressed in cheetah print and urged the crowd to get funky to '80s throwback vibes.
Headliner of the night Bells Atlas indulged in both the sexy and the quirky, Lawson Ndu's jerky interpretive dance moves being the visual manifestation of the band's sea of unexpected melodies and polyrhythmic percussion. The night was an introduction to the band's new EP,
Salt and Soap
— four songs that act as a preparation for a full-length sophomore album coming early next year.
On stage, Lawson-Ndu explained the EP as "a ritual to ready myself to tell those stories." She added, "I was thinking of bathing rituals and preservation when I thought of
Salt and Soap
." Fittingly, the band was selling scented soaps as merch at the show.
The set was a mix of old and new, the new songs standing out as more overtly experimental. "The Mystic," which is the last song on
Salt and Soap
, sounded like a robot marching into battle with its chunky drumline and blooping synths. "Downpour," which the band released last week, contemplates the consequences of releasing all the secrets that are weighing you down. Lawson-Ndu showed off her ability constantly to use her voice as an instrument, unafraid to experiment with syllables and sounds playfully to express emotion where clearcut lyrics might fall short.
But the highlights of the show were songs the audience seemed to actually know — some of the band's older, poppier numbers that lent themselves better to dancing. A crowd favorite was 2016 single "Spec and Bubble," which Lawson-Ndu introduced as a song about trying to make a relationship work and finding acceptance when it doesn't. Bells Atlas ended the show with "Be Brave," a song about remembering to trust your instincts, which they released in June as a bridge between their old and new material. Like many of their songs, it's eerie but catchy — like what you might imagine hearing echoing from the distant pop radio station of an alien planet.