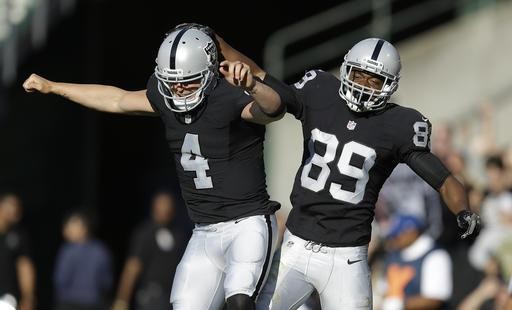 It's Thursday night at the Coliseum, the first day of September and the last day of the Oakland Raiders preseason. A remnant of the Athletics' painful existence — fittingly in the form of dirt — still leaves its mark on the field. It's a mellow affair for an NFL match-up, let alone a "Raaiidderrss" game. The starters won't see a snap. And the fans, what with their yalping and unequaled pre-opening day optimism, kept their tailgate juju relatively in check. Which means it's quite possibly the most inconsequential Raider game of 2016.
So … what better time to offer up my own very non-essential (and admittedly questionable) insight into the team's forthcoming season! 
Here are three things the Raiders absolutely must do to win AFC West and make the playoffs for the first time in … well, who's keeping track:
Derek Carr Must Turn 40
If you care about the Raiders — and I'm fairly certain that I'm alone in this camp here at the
Express
 editorial department — then you're aware that expectations are perhaps the highest they've been since Rich Gannon was starter in 2004. And this is very much because 25-year-old Derek Carr is coming off rookie and sophomore seasons in which he stayed remarkably healthy and also tossed the second-most touchdowns in NFL history. That's right, this is no fact-check fuck-up: Carr hurled 53 in in the past two years, trailing only Dan Marino among every single QB in the history of this planet.
That's fantastic — but Carr will need to dial in his game further to ascend to the top of the division.
There's room to improve. Consider: Last year, his completion percentage inside the 20-yard line was just 43 percent, and he tossed only seventeen TDs inside that red zone. By comparison, Blake Bortles' stats are 51 percent and 25. In other words, Carr needs to get clutch if he's going to improve from 32 passing TDs to forty.
Carr also allowed his wing man Amari Cooper to disappear during too many stretches last season. Surely the coaching staff won't allow such AC-DC power outages this year?
I'm also hoping that offensive coordinator Bill Musgrave's schemes will show an increased sophistication. What I mean by that is: It'd be great to see fewer plays calls that half the fans in Oakland and most of the defenses saw coming from as far away as El Cerrito.  Time to get modern.
Power Run, Power Run, Power Run

Of course, an improved power-run scheme from Musgrave will spread the field and facilitate better looks for Carr inside the red zone — and, well, basically anywhere. Fourth-year back Latavius Murray, who notched a 1,000-yard season, got plenty of touches last year — but the team failed at pounding the rock inside in the tradition of, well, hometown legend Marshawn Lynch (not that is by any means a fair comparison).
Despite all of Murray's touches, the Raiders didn't push the rock on the ground sufficiently to see him or others break out; they ranked just 24th in the league in run-play percentage. That's an unhealthy mix. A replay of last year's run game isn't going to cut it.
I'm high on the good news: rookie DeAndre Washington, a young set of wheels who can complement Murray with fresh legs in the second half. Let's get fast!
Secondary Chances, First Impressions

I won't pretend that I stopped everything in my life to watch each cut and sprint by Raiders rookie safety Karl Joseph during this preseason. I did see him smack Eddie Lacy in the Packers game. And I also read this ESPN news bit on him, where
Ken Norton Jr. referred to the West Virginia standout as a "pack of dynamite."
 That's encouraging: Last year, the secondary looked like all those drivers in
MarioKart 64
 who slip on banana peels and get burned by Yoshi.
I'll spare you any further dad jokes or lame analogies. But let's just say this year's secondary is, at least on paper, vastly improved. Sean Smith is a veteran of Kansas City's shutdown D. And Reggie Nelson is coming off of an eight-pick year in Cincy. And, perhaps most encouraging, DJ Hayden isn't starting!
The Raiders D is going to put pressure on the QB. No question. And they're going to have a sporting chance and shutting down the run. But it remains a passing league, and the team can't afford any additional second-half pass-D meltdowns.
The Raiders have had numerous secondary chances in the past decade. But this year, if they want to take the AFC West, it's critical that this new-look crew make a helluva first impression.
And, now, my AFC West predictions:
1. Oakland Raiders, 10-6
: The team overcomes a tough opening road schedule and 2-2 start to finish 8-4 and take the division, the highlight being a string of four consecutive home wins after Halloween. 
2. Denver Broncos, 8-8
: Broncos dip into post-Super Bowl spells intermittently throughout the year, capped with a New Year's Day loss at home to the Raiders (just like last year).
3. Kansas City Chiefs, 8-8
: Chiefs will get hot after a 2-5 start, but run out of time. Injuries will hurt their run game, again.
4. San Diego Chargers, 3-13
: They're terrible.
I'll do my best to share more thoughts on the Raiders each week. Email me at [email protected] if you want me to stop.