When director Ayodele Nzinga stepped onto The Flight Deck's stage to introduce Lower Bottom Playaz' rendition of playwright August Wilson's Radio Golf, she warned the audience to watch out for parallels to Oakland's struggles with gentrification and displacement. Indeed, Lower Bottom Playaz' production of the 2005 piece — which is set in Pittsburgh, Pennsylvania in 1997 — delves into issues of race, class, and power that resonate deeply with the East Bay's sociopolitical situation. Although its allegorical elements are less than subtle, Radio Golf is timely and accessible, and the Lower Bottom Playaz' skilled cast lends its thought-provoking script an immediate emotional poignancy.
Radio Golf is the final play in Wilson's American Century Cycle, a ten-play series that purports to chronicle one hundred years of Black issues in America. Lower Bottom Playaz is now the first theater company to ever stage the ten plays chronologically, a feat it began in 2010. The play's protagonist is Harmond Wilks (Stanley Thomas Hunt, II of Licks fame), a successful Black real estate developer and mayoral candidate. He faces myriad moral conflicts as his plans to develop Pittsburgh's historically Black Hill District threaten to illegally displace its longtime residents. His ambitious wife, Mame Wilks (Venus Morris), and social-climbing business partner, Roosevelt Hicks (Koran Streets), both urge him to pursue power and money. Meanwhile, two eccentric elders, Sterling Johnson (Pierre Scott) and Joseph Barlow (Adimu Madyun), warn him against perpetuating the disenfranchisement of his own community for the sake of profit.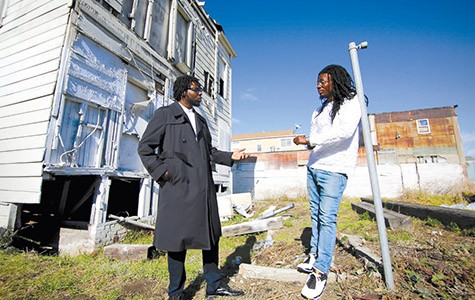 Throughout the play, Wilks — who comes from a more privileged background than the other characters — grapples with the meaning of success and confronts the realities of systemic inequality. His heated, high-stakes discussions with Mame and Hicks add to the plot's tension, but the most rewarding interactions to watch are his conversations with Johnson and Barlow. Adimu Madyun delivers a particularly spirited performance as Barlow, who adds comic relief to the plot while providing unexpected insights. His character's levity is a welcome respite from the otherwise heavy and densely packed dialogue.
While not all the plot points in Radio Golf reach tangible resolutions, Hunt's emotive performance as Wilks lends the script a sense of catharsis. With his short dreadlocks and numerous hand tattoos, he doesn't have the clean-cut look of an aspiring politician but portrays one valiantly nonetheless. Part of the charm of Lower Bottom Playaz' rendition of Radio Golf is its DIY feel rather than its verisimilitude. And as an all-Black theater troupe composed of Oakland and Berkeley natives, the company's rendition of this topical play feels necessary and urgent.