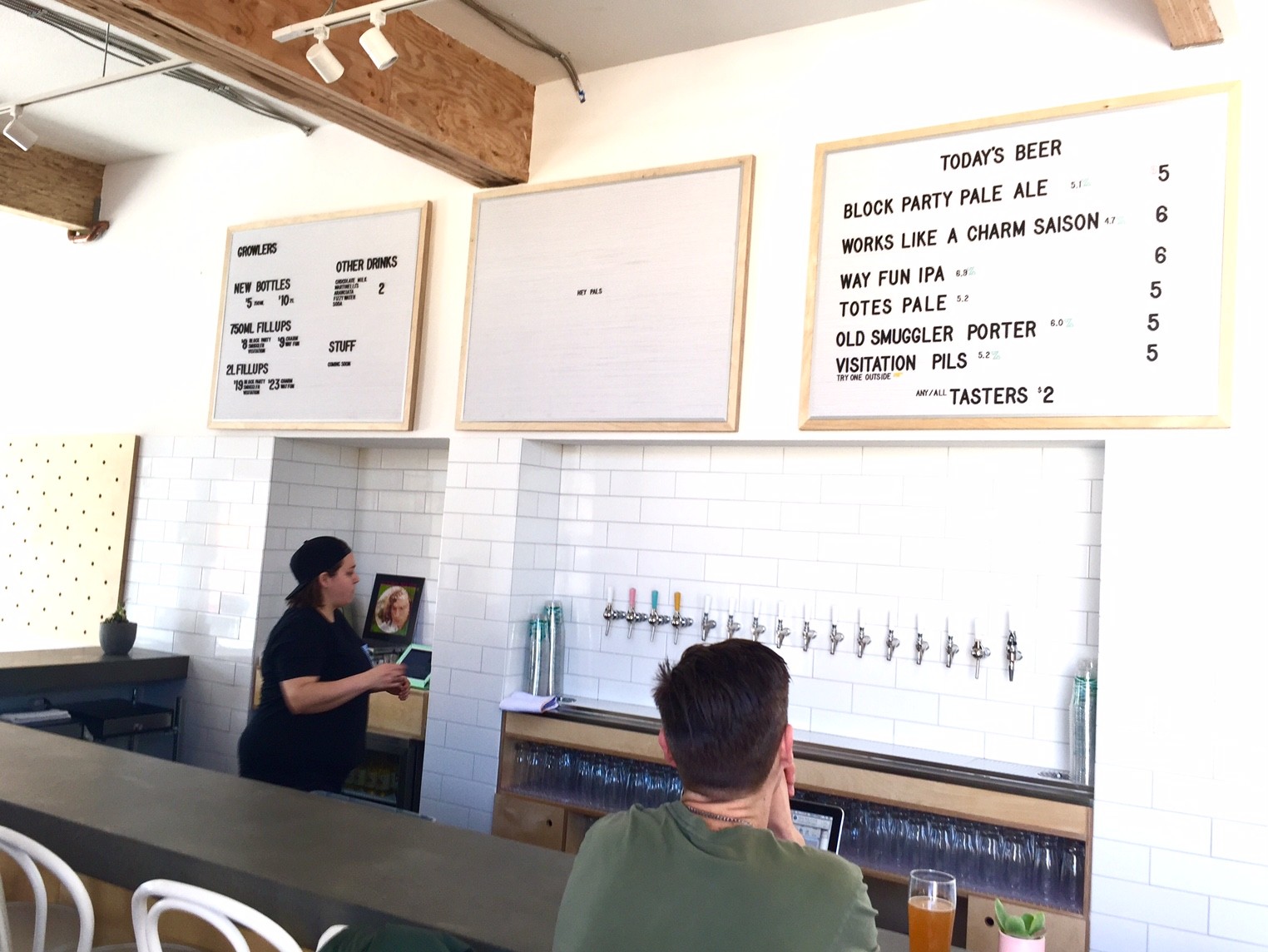 The much-anticipated
Temescal Brewing
opened its doors this past Sunday — and did not disappoint. Subdued but flavorful and nuanced, low-alcohol pale ales ruled the day — yes! — but the surprise find was a refreshing lager-style ale, Visitation Pils. In all, six brews were on draft, and the three that a I sampled instantly vaulted Temescal into the upper rankings of must-visit Bay Area breweries.
[jump] Temescal is lead by owner Sam Gilbert and head brewer Wade Ritchey. During the inaugural year, they aim to keep a fast rotation of brews, never repeating the same beer twice. Gilbert also promised a small run of cans or bottles in the future … but didn't share any details yet.
The location is modern and hip, complete with lots of natural light, white tiles and cafe-style seating inside, and a also expansive patio with communal picnic tables and umbrellas for outdoor chilling.
Temescal is open Thursdays through Sundays for now, but is already filling growlers to go.
The
Express
 chatted with Gilbert via email this week:
What style of beer would you like to see East Bay drinkers embrace?

Pale ale! Drinkers are incredibly excited about IPAs at the moment, but seem to have a lot of hesitation as soon as you take the "I" away. Pale ales have a much more pleasant fermentation, and as a result are so much more drinkable, approachable, and can highlight hops in incredible ways. 
Tell me about the style or approach for Temescal beers? 

We want to experiment, hone in on recipes and approaches that we love, and evolve our brewing in dialogue with our drinking community, and so at least for our first year, we will never brew the same beer twice.
You will see common threads throughout our beers, however. We tend toward refreshing, lower alcohol offerings. We appreciate soft, well-rounded beers, doing everything we can to smooth out rough edges and harsh flavors. We like subtlety.
Are you ready to decide on a personal favorite Temescal beer yet?
That's like picking between children! Though I will say I am in love with Visitation Pils, our first lager. A lot of love, and late nights, went into brewing that beer, and I couldn't be happier with the result — I think it perfectly represents the sort of approach I'd mentioned above.
I dig how the Temescal beers I've tried so far are true to classic styles, but also very modern in approach (such as the low-alcohol hoppy beers that are dry and gently bitter, but also earthy or citrus-y or tropical, and always delicate). They walk the line very well between classic and modern. Thoughts on this?
I think that speaks directly to Wade Ritchey's background. Most people around here know him as a brewer from Cellarmaker, where he learned a ton about modern approaches in brewing, especially when it comes to the hoppy stuff. But he really developed his brewing personality through apprenticeships at breweries around the world — places like Hill Farmstead, Birrificio Italiano, Brasserie Thiriez. These are remote breweries, institutions, where the idea of chasing trends or brewing the flavor of the week is very foreign. As a result, Wade has a deep appreciation for tradition, and subtlety, that still makes it's way into our more "trendy" offerings.
OK, so what was the beer that got you in to craft beer?
Harpoon IPA! I started my craft beer drinking on the East Coast, and harpoon was the beer of the day.