When he first saw the boarded-up East Oakland storefront four years ago, a Field of Dreams-like vision came to Emad Ghobrial. The building, a long-abandoned pizzeria, was located on a residential block of High Street with no other restaurants in sight, and Ghobrial immediately thought about breakfast. He envisioned pancakes and omelets and sausage patties. If he built it — this place he wound up calling Pyramids Restaurant & Grill — the people in this restaurant-starved neighborhood would surely come.
But Ghobrial also wanted to make his food — not just eggs over-easy, but the recipes he'd internalized as a kid who loved nothing better than to hang around his mother's kitchen in Alexandria, Egypt. As a result, Pyramids, open since August, is a personal and idiosyncratic restaurant, where classic American breakfast foods coexist with home-style Egyptian specialties — the same way paintings of the pharaohs and Great Pyramids shared the walls, during my mid-November visits, with the kind of cheesy Thanksgiving cutouts you can find at any elementary school.
For those well-versed in the vocabulary of kebabs and falafel, the very fact that the East Bay is now home to a genuine Egyptian restaurant is cause enough for celebration. Previously, the closest thing we had was Royal Egyptian Cuisine, an Oakland-based food truck. At Pyramids, the Egyptian section of the menu looks identical to what you'd find at any generic Middle Eastern/Mediterranean spot, but often Ghobrial serves a version of a dish that's unique to his home country — and, in at least one instance, to his hometown.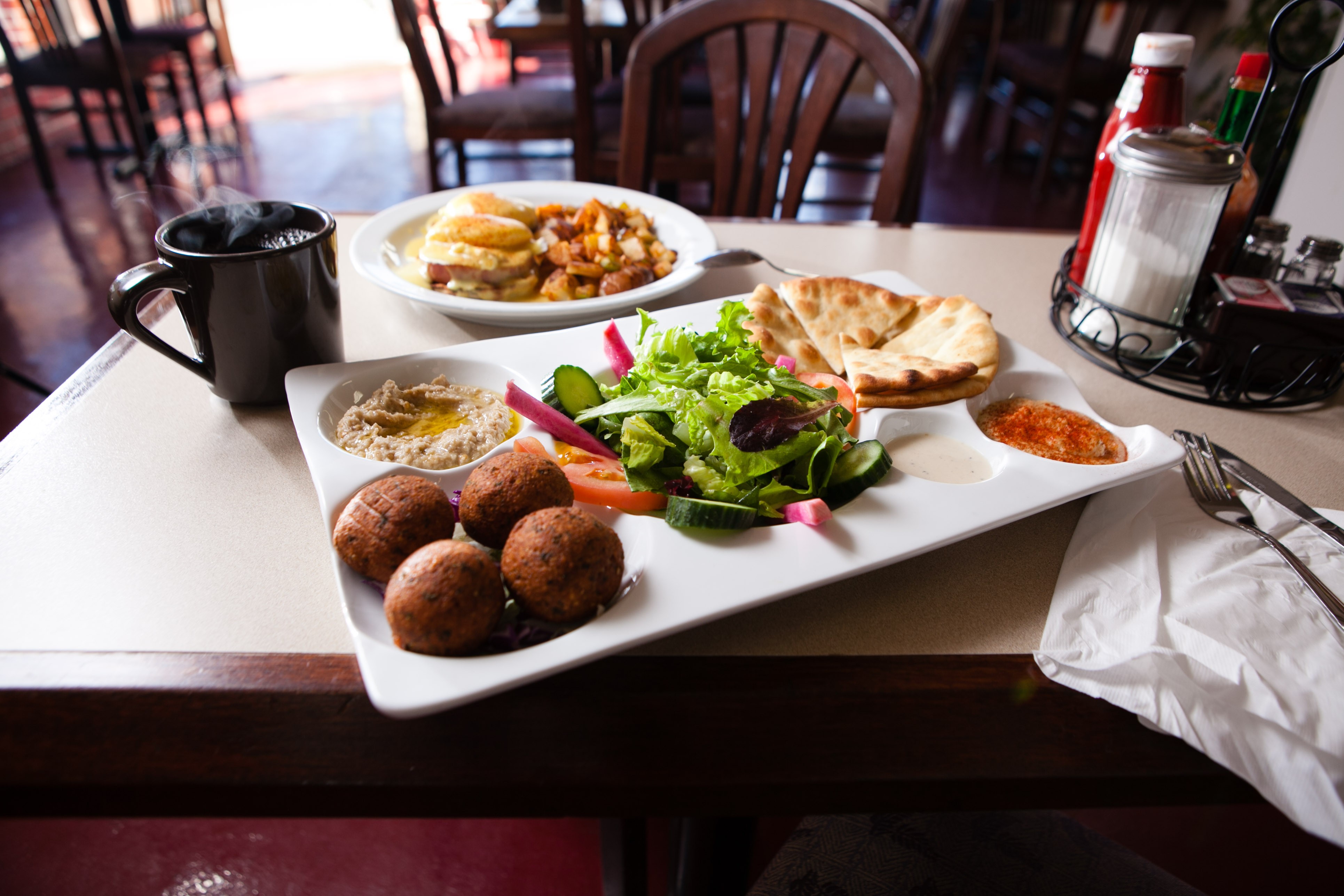 Take the dish listed on the specials board as the "Egyptian Breakfast," aka ful mudames, a mash of soft-cooked fava beans that Ghobrial said 95 percent of Egyptian people eat for breakfast every day. That might be a slight exaggeration, but after having tried the version at Pyramids, I'd happily make the trek over once a week, at least, and start the day off right with a plate of Ghobrial's ful (pronounced "fool").
At its essence, ful mudames is a big plate of bean mush, cooked soft enough that you can smear it on a piece of grilled pita like you would hummus. Ghobrial simmers dried favas overnight over the lowest possible flame — soaking them more than really cooking them, he explained. The simplest ful is tossed with little more than olive oil and lemon juice, perhaps with some garlic, cumin, and tahini added for good measure. But Ghobrial serves the zestier Alexandrian version of the dish known as ful eskandarani, which is spiked with vinegar and chopped tomatoes and onions. Again, the comparison to hummus is apt — except soupier, brighter-tasting, and more texturally interesting. You'll almost certainly need extra pita to finish it off, and, happily, Pyramids is the kind of generous, hospitable place where the server will refill your plate without you having to ask.
The other highlight of the Egyptian menu was a cumin-spiced lentil soup that was similar to what you'll find at other Middle Eastern restaurants, with one notable embellishment that Ghobrial said is his own twist on the recipe: During the last step of the cooking process, he adds chopped onion that has been fried until it's burnt. The little nubs of onion infused the soup with an earthy smokiness, and they were so luxuriously soft and rich that I mistook them for pieces of pork fat at first. (The soup is, in fact, entirely vegan.)
On the other hand, the gyro meat, available in a wrap or as part of a platter, was standard Mediterranean deli fare. It was fine, but you're better off ordering this at restaurants where the cooks shave the meat off a vertical spit. Instead, consider sharing the abundant mazza plate, a spread of dips and small bites that shows off the Egyptian variations of several well-known dishes. It came, for instance, with three falafel balls, which I found somewhat dry and dense, though I liked the falafel's almost cheese-like richness and its distinctive dried herb flavor. (The main difference, Ghobrial said, is that he uses a mix of fava beans and garbanzo beans, rather than just one or the other.) The dips were more interesting to me: a lemony hummus and a baba ghanoush that was one of the silkiest and most flavor-packed I've had — garlicky enough to make me thankful for the after-dinner mint that arrived with the check.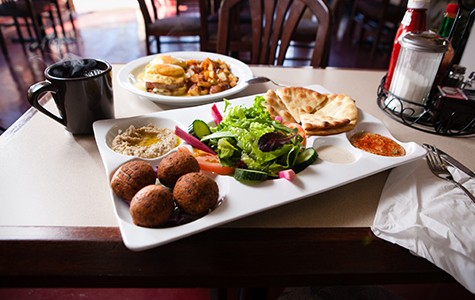 As tasty as all the Egyptian specialties were, at the end of the day, the restaurant has stayed true to Ghobrial's original vision. It's still a short-order breakfast spot first and foremost, and most of the customers around us were drinking coffee and eating omelets and toast. In that regard, I'm happy to report that Pyramids is solidly above average. The only fault I could find with the eggs Benedict was that the Hollandaise was a little thin. In every other important respect, it was a flawless rendition: the eggs poached just right, the craggy cut surfaces of the English muffin griddled until they had just the right amount of char. A side of hash browns were well-crisped if a little underseasoned. Meanwhile, the pancakes were buttery and fluffy and wide as a dinner plate: You'd be hard-pressed to find a more all-American version.
The only mistake I may have made when ordering was passing on the French toast, which Ghobrial said is by far the restaurant's most popular item — made with thick Texas toast and exceedingly fluffy, he promised.
Ghobrial, who spent most of his career running banquet programs for luxury hotels and briefly owned a Chinese eatery in San Francisco, said he hopes to add dinner service sometime in the new year. He has already found another Egyptian cook to help him, and he plans to add a number of other traditional dishes: Egyptian-style stuffed grape leaves, for instance, and a kind of meat-stuffed bread called hawawshi, which Ghobrial likens to Egypt's take on pizza.
For now, though, it is enough to take pleasure in the odd mix of cultures that Pyramids represents — where a cumin-spiced lentil soup might serve as precursor to a plate of pancakes, or where you use your last few sips of coffee to wash down a piece of flaky, honey-drenched baklava.